Odysseus Positions Paper Essay Sample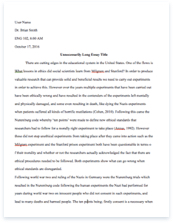 The whole doc is available only for registered users
OPEN DOC
Pages:
Word count: 889
Category: odysseus
Download Essay
Get Full Essay
Get access to this section to get all the help you need with your essay and educational goals.
Get Access
Odysseus Positions Paper Essay Sample
Of all the events in Homer's Odyssey (Dover 1999), the most significant event is the manner in which Odysseus carries out his retribution of the maids and suitors. Odysseus disguises himself and lies to everyone he cares about to see who is loyal to him and who is not. He tests the qualities of others, all the while showing none of them himself. His untrustworthy behavior makes him hypocritical when it comes to proving others loyalty. Odysseus is not justified in his retribution of the maids and the suitors because of his ignobility.
Odysseus is not justified in his slaughter of the suitors and the maids because of his self-serving nature. Odysseus cares for himself more than anyone else. He believes he deserves the best, and deserves to do whatever he pleases. While on the journey at sea, Odysseus and his men are to pass the Sirens, Scylla, Charybidis, and the kine of the Sun. When they first pass the Sirens, Odysseus tells his men "only [himself] she bade to hear their song" (117). Odysseus acts very duplicitous when he makes sure everyone's ears are stopped, while he gets to listen safely to the music, showing he cares more for his own pleasure than others around him. Also when the men are to dock on the island with the kine of the Sun, Odysseus only warns them once not to eat the kine. Once he finishes with his little warning, he prays "the gods to show [his] homeward way" (120), suggesting that even if all his friends die at least he will survive.
Odysseus allows himself certain pleasures and advantages that he will not allow others to enjoy, These selfish acts show his lack of equanimity when making the important decisions a leader needs to make. Not only is Odysseus not justified in his slaughter of the suitors and maids because of his self-serving nature, but also because of his lack of indifference, or inability to make a descision. Odysseus uses fate and free will to his convenience. The gods use their powers to lead the fate of Odysseus. When Odysseus is warned by one of the gods, telling him that "if [he harms] them I predict the loss of ship and crew" (102) he only forwards this message to his men once. Instead of holding his ground and fighting for the lives of his men, he goes to a cave and prays for himself to be able to come home. As soon as Odysseus sleeps, he omits himself from any situation he does not want to be in. Odysseus lets himself be taken control of by the gods when he needs them to do his bidding. By omitting himself from situations, Odysseus lets fate take care of his problems. However, Odysseus can in no way be a judge of an others' fate when he will not let his own fate be judged.
Odysseus' qualities of self-serving nature and lack of indifference make him unfit to exact retribution on others; furthermore, his quality of deceit proves that he is unfit to exact punishment to his enemies. Odysseus makes up several stories during the stay at Eumaeus's home. As Odysseus tries to test Eumaeus' integrity, valor, and loyalty he shows he has none of those qualities himself. He makes up lies that "[he] was born, a rich mans son" (136), Eumaeus showing that Odysseus has to lie to get his way. As the stories flowed Eumaes believes that Odysseus is just trying to win him over. This illustrates the idea that while the "old man" is speaking he is also building trust and friendship, a friendship that means close to nothing to him, in turn showing a lack of loyalty. Odysseus makes up many lies and makes many disguises for the new person he has become. Instead of coming up and telling the truth to find out the answers to his suspicions the right way, he dresses up as another person, showing his lack of valor in the ways that he is not brave enough to face his wife and to ask the truth. During the time while Odysseus is staying with Eumaeus, one can see Odysseus' duplicitousness magnified.
It can be said that Odysseus is fit because of his quality of loyalty. After all he shows himself to be suffering as "[Athene] wished more pain to pierce the heart of Laertes' son, Odysseus" (200). This act of faithfulness could make him justified in slaughter. Nevertheless, it is clear that his self-serving ways, his lack of indifference, and his deceit create in him the quality of dishonorablility. All his suffering is for the benefit of himself, because in the end he would know who was not loyal to him. While at sea, Odysseus is unfaithful to his family when he "approached the beauteous bed of Circe" (97), this suggests that Odysseus is being deceitful to his family, while testing if they were dishonest to himself. This quality makes Odysseus unfit because he is no way a right man. He lied to his friends and family to see who was not loyal to him, while not being loyal to his own truthful wife, Penelope. All in all, the slaughter of the suitors and the maids was unjust because of Odysseus' deceit to his own family.