Of Mice and Men Paper Essay Sample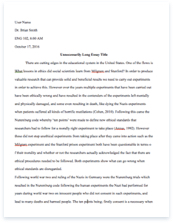 The whole doc is available only for registered users
OPEN DOC
Download Essay
A limited time offer!
Get a custom sample essay written according to your requirements urgent 3h delivery guaranteed
Order Now
Of Mice and Men Paper Essay Sample
"Steinbeck's Of Mice and Men shows us the importance of friendship and dreams, especially in difficult times. Explain how the author has created a range of characters to develop his story".
It is a basic human instinct to dream and to have life long ambitions. John Steinbeck's classic novella, Of Mice and Men tells us the story of George Milton and Lennie Small, two ranch workers searching for new job possibilities in California during The Great Depression. Of Mice and Men portrays the characters longing for something more than the monotonous lives in which they are stuck. Steinbeck uses such characterization techniques as descriptive and dramatic style and colloquial language to develop the characters in his story.
The character of George shows true friendship towards Lennie despite the conflicting fact that Lennie is mentally disabled. George jokes, "God a'mighty, if I was alone I could live so easy" but we know Lennie is not the only one who benefits from their friendship. Lennie with his child-like perceptions of the world relies on George to keep him out of trouble. George needs Lennie, not only as a companion, but also as a protector and a moral compass. George could have left Weed and started a new life for himself without Lennie, but the fact that he did not reveals his unconditional love for Lennie.
George and Lennie's bond is displayed most explicitly in their dream to own their own land and to be totally self-reliant, having no one to tell them what to do. When George talks about the dream it makes Lennie happy and excited. Lennie dreams of tending to rabbits; George uses this almost as an incentive to keep Lennie out of trouble. "But you ain't gonna get in no trouble, because if you do, I won't let you tend the rabbits." Their dream gives them something to aspire towards and keeps them motivated during difficult times.
Old, handicapped Candy wanted to be apart of George and Lennie's dream. Candy is lonely, his only real companion being his old, smelly, blind dog, before Carlson shot him. After losing his dog, Candy seeks companionship in George and Lennie. Candy offers his life savings to the plan and makes himself sound ironically, handy. "Tha's three hunderd, and I got fifty more comin' the end a the month. Tell you what—s'pose I went in with you guys. Tha's three hunderd an' fifty bucks I'd put in. I ain't much good, but I could cook and tend the chickens and hoe the garden some." Candy comes off as desperate, but all he really wants is company and the to opportunity to share in their dream.
Being the only woman on the ranch and thought of as merely an object or prize to her violent, arrogant husband, Curly's wife is lonely. "I never get to talk to nobody. I get awful lonely." She seeks friendship in the ranch workers, but in all the wrong ways, often having ulterior motives to talk to them. Every opportunity she gets she tells the story of her lost dream to become an actress and of the man who said he would make her a star and never wrote her back. Curly does not show his wife attention or affection so she seeks it from the ranch workers to make herself feel better. Curly's wife thinks of herself as a victim of her circumstances. Theoretically, Curly's wife's own self-obsession is what kills her.
Most of the characters in Of Mice and Men had no family or friends; nobody to share their lives with. No one shared as intimate a bond as George and Lennie or Candy and his dog and as a result most of the characters were empty, guarded and unhappy. Steinbeck uses many characters to develop his story, looking at the aforementioned characters; Steinbeck shows us the importance of having a friend to share your life with and a dream to aspire towards. At the end of the novella it is made clear that things are not going to turn out how they intended.
After Lennie kills Curly's wife, he knows George will not let him tend to the rabbits, George has to make the tremendously hard decision to kill Lennie and Candy is left alone without any form of companionship and no closer to the American dream. It was with unconditional love that George made his final decision to kill Lennie, for he knows that Lennie would have suffered much worse having been killed by Curly or sent to jail, but when George killed Lennie the dream died with him.