Okonkwo vs. Christianity Essay Sample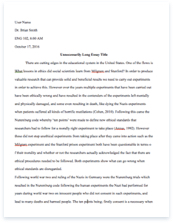 The whole doc is available only for registered users
OPEN DOC
Download Essay
A limited time offer!
Get a custom sample essay written according to your requirements urgent 3h delivery guaranteed
Order Now
Okonkwo vs. Christianity Essay Sample
Things Fall Apart takes place in a Nigerian tribe such as the one Okonkwo, the main protagonist, lives in. Okonkwo is a very independent, impatient African leader. Throughout the story the tribe Umofia demonstrates many of their religious beliefs, traditions and ways they go about their normal life. In the novel, Things Fall Apart, by Chinua Achebe Okonkwo is affected by Christianity, impacting the way he is accepted back into Umofia or the way he lives.
Okonkwo's eldest son, Nwoye, was supposed to follow in Okonkwo's footsteps and become this big, strong image just like his father instead he turned to the new faith Christianity. Nwoye knew he couldn't tell his father that he supported Christianity because he knew his father wouldn't allow it, as the text states, "Although Nwoye had been attracted to the new faith from the first day he kept it secret…for fear of his father" (Achebe 149). When Nwoye leaves after having an altercation with his father, Okonkwo feels disappointed because he had high expectations for Nwoye. He later tells himself that "Living fire begets cold impotent ash" (Achebe 153), meaning that Okonkwo as the living fire begets or makes impotent or useless ash referring to Nwoye. Okonkwo was affected by Christianity because Christianity took Okonkwo's eldest son, and after Nwoye stopped seeing Okonkwo as a father he told Obierika, "I am one of them", "I don't know he is not my father" (Achebe 144).
After being exiled for seven years, Okonkwo returned to his homeland Umofia. After being gone for that amount of time, Okonkwo realized that he had lost his position and he was going to work to gain it back. Christianity affected Okonkwo's rise to power whether it was people not wanting to follow him anymore or just him knowing that he couldn't overcome the new faith. Okonkwo tried to convince his fellow villagers to destroy the missionaries, but they never listened to him. It was holding him back from rising forward as shown in the novel, "They had not agreed to kill the missionaries or drive away they Christians" (Achebe 192).
During Okonkwo's last efforts to get his villagers to rise with him, he killed a messenger. Thinking it would spark everyone else to start the war he was waiting for, but to his dismay no one followed and he simply left, "He knew Umofia would not go to war…he wiped his machete in the sand and went away" (Achebe 205). After not rising to power the way he expected, and realized no one was going to follow him, Okonkwo saw no other option but to kill himself as described, "They came to the tree where his lifeless body was dangling and they stopped dead" (Achebe 207).
During the time when the missionaries arrived and Christianity was introduced many changes started happening. Okonkwo wasn't ready and disliked those changes. When a missionary first came to their village to speak of Christianity and try to convert some people Okonkwo just ended up thinking the man was mad, "At the end of it Okonkwo was fully convinced the man was mad" (Achebe 147). When the missionaries were bringing people, to the new faith, one of the newest people to change was Okonkwo's eldest son, Nwoye. Once the dispute with Nwoye and Okonkwo was settled, Okonkwo though of why he was cursed with a son like him.
For a second, he came to the conclusion that his wife played him wrong and that wasn't actually his son as the text states, "His wife played him false, he would teach her!" (Achebe 153). Okonkwo tried many times to rekindle the flames of his fellow brothers of Umofia that were known throughout the nine villages for being very fierce but when the Christians came he dealt with the fact that they just did not want to fight. It aggravated him, and he mourned for them, "He mourned for the warlike men of Umofia, who so unaccountably had become soft like women" (Achebe 183).
Okonkwo, one of the fiercest men of Umofia, had to not only fight against Christianity, but the changes and problems it brought to his village. When Okonkwo's son gets converted into the new faith and leaves Okonkwo, he holds a bigger grudge against the Christians for taking his eldest son away from him. Apart from all these problems, Okonkwo was exiled for seven years into his motherland and came back to Umofia, where he had tried to regain his position as the Christians coming, Okonkwo went through many changes. He wasn't very good at change, so many times he found himself in tough situations. In the novel, Things Fall Apart, Achebe uses Okonkwo to show the message that a single character or society's actions affects another character by Okonkwo disputing with the Christians.
Work Cited
Achebe, Chinua. Things Fall Apart. New York: Anchor, 1994. Print.