"Oliver Twist" by Charles Dickens Essay Sample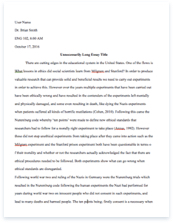 The whole doc is available only for registered users
OPEN DOC
Pages:
Word count: 684
Category: dickens
Download Essay
A limited time offer!
Get a custom sample essay written according to your requirements urgent 3h delivery guaranteed
Order Now
"Oliver Twist" by Charles Dickens Essay Sample
On the edge of London, was a compact housing estate with lots of children. The houses were quite small but everyone knew everyone and there was a big green in the middle of the estate where the children could come together and play what ever they wanted. Tucked away in the corner of Whinlatter Drive was the house of Oliver Bates.
Oliver Bates was a very unusual boy. He was different in every way to his three brothers. He was more interested in reading books and listening to old fashioned music on the radio than playing sports such as cricket; football and rugby like his brothers. Each time they asked Oliver to play football he would nearly always say that 'he was coming in a minute', but never did or if he was watching wildlife programmes or autobiographies on the TV, his brothers would almost always change the TV over to a sports channel. Only his Grandpa understood him. Oliver's Grandpa lived in Scotland, miles away from London so he didn't come to visit often but when he did he stayed awhile and spent time chatting for hours about all the things that Oliver enjoyed so Oliver would look forward to his visits.
It was coming up to Oliver's 9th birthday, a birthday that he shared with his Grandpa. Perhaps that was why Oliver tended to be Grandpa's favourite. His Mum and Dad were planning a surprise party for Oliver but the biggest surprise was that Oliver's Grandpa was travelling all the way down from Scotland to the celebration. They had always known how much Oliver loved his Grandpa.
A few days before the party they called up Grandpa and asked him if he could come. He said he was feeling a bit under the weather but that he wouldn't miss Oliver's party for the world. Mum needed to get Oliver out of the house to prepare for the party so on the day before the celebration, Oliver's Dad suggested a camping trip. Early that evening, they set off to Tree wood Forest armed with sleeping bags, tents and other camping equipment. By the time it got dark, back at home, Oliver's Mum and his brothers had finished decorating the house ready for the party.
The day of the birthday came and at 59, Whinlatter Drive all of Oliver's guests were arriving excitedly at his house, except Grandpa. Mum thought that maybe he was late and had driven into bad traffic near London. Meanwhile Oliver arrived back home with his Dad. He got out of the car and opened the front door; "Surprise!" everyone screamed at the top of their voices. Oliver stood back in amazement. He was silent for a moment then realised what was happening.
"Is Grandpa here too?" Oliver shouted, knowing that he shared his birthday with his favourite grandparent. "Well Mum?" he asked excitedly "is he coming?". "Sorry son, it's just too far to come all that way from Scotland "she lied, smiling at the same time and winking at the guests. Oliver felt down hearted but still carried on with his party. He was just opening his last present when the phone rang. "I'll get it, you carry on Oliver" said Mum laughing. Five minutes later, Mum put the phone down quietly and turned to face Oliver with tears in her eyes. She led him gently by the hand out of the room away from all the noise and knelt down taking Oliver's hands in hers. "I've just got off the phone from the hospital" she says in a shaky voice, "Grandpa was on his way here but I'm sorry Oliver, he has had a heart attack and he is d-d-d-dead". Oliver's face turned white and cold, a tear-drop fell down his soft cheek. Mum gave him a long hug. He heard his Mum apologising to his friends saying that Oliver wouldn't be coming out of his room that night and sending them home. Later that evening Oliver was still in his room. He cried all the way through that birthday night.