On the Wealth of Nations Essay Sample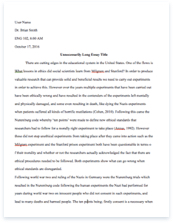 The whole doc is available only for registered users
OPEN DOC
Download Essay
Get Full Essay
Get access to this section to get all the help you need with your essay and educational goals.
Get Access
On the Wealth of Nations Essay Sample
On the Wealth of Nations by P. J. O'Rourke is a focus and commentary on the economic and political works of Adam Smith. Adam Smith wrote Wealth in 1776 in an effort to thwart Mercantilism. I read Common Sense by Thomas Pain last semester and was interested to learn the beginnings of American Democracy and wanted to read The Wealth of Nations, which was written during the same time period as the two were developing ideas of free democracy and free markets. To understand the fundamental ideas of economics one must learn the foundation Adam Smith laid out in Wealth, like one must read Keynes to understand modern economics.
I have also been a huge fan of P. J. O'Rourke's from having watched him for years on "Politically Incorrect" and presently on "Real Time with Bill Maher. " O'Rourke is a republican and usually by himself in that regard on these programs. As a democrat, I feel his courage and rationalism is essential to the moderate and liberal forum in which I have seen him. O'Rourke tackles every issue without giving political tag lines or belligerent arguing. He is funny, consistent, and well informed leaving the audience to at least question their own ideas without political bias.
And up to this point, he is one of only a few media personalities to critique both Bush and Obama clearly and without political motivation. The reading process was a lot slower than I am used to, although Smith's writing, which is perpetually quoted throughout the book, is very similar to Paine's. As a result I knew to read Smith's passages a couple of times immediately instead of rereading entire chapters. The reading picks up as O'Rourke piques interest by relating Smith's ideas to recent past and present economic decisions on both the Micro and Macro levels.
My interpretation of the author's main purpose in writing this book is that O'Rourke was trying to simplify the text and on the other hand relating the text to modern practice. By simplifying the text I mean O'Rourke was including both The Theory of Moral Sentiments' and The Wealth of Nations' concepts and ideas into a singular text, which organizes Smith's theories. It would seem that to understand Smith's literature directly would be an arduous task due to the substance, language, and contradictions.
The latter point is distinguished by O'Rourke's applications to popular culture, political culture, and social cultures of modern day to Smith's observations of Colonial times. Let me preface this next section on conclusions presented by stating that there are hundreds of ideas that Smith and O'Rourke entertain. I am only choosing a few of these observations to elaborate on. Let us start with taxes. "Adam Smith did a lot of thinking about taxes, eighty-odd pages worth.
He began with four sensible maxims of taxation: taxes ought to be inexpensive to collect, be levied when taxpayers are able to pay them, be proportionate to the revenue that taxpayers 'enjoy under the protection of the state' and be 'certain, and not arbitrary. '"(O'Rourke 144) I would like to start this point with emphasis on "under the protection of the state. " To be able to enjoy the freedoms to make profits, which are well above average, there are sacrifices, which need to be made. The opportunity cost of a billionaire is thousands near poverty.
In order to make your profits in peace in any country, duty must be paid to the state in order for the country to maintain its security both in defense and human capital. Now I know that the tax laws have changed since Smith wrote Wealth and I enjoy the Hope tax credit currently being extended, but those with the most did not earn their money on their own. Those with the most benefited from the consumers purchasing their products or services and should have to justify their profits by providing the country of these consumers with a fair share.
I think a flat tax with no breaks would eliminate all qualms about this issue, but unless Ron Paul becomes an Evangelical liberal moderate I don't see it happening. The work force and the separation of income within that is hot button issue in which I would like Smith's opinion. I agree with Smith on the following, "Labour, it must always be remembered, and not ant particular commodity or set of commodities, is the real measure of the value both of silver and of all other commodities. "(O'Rourke 19) I think this is an extremely important idea.
I realize that the value of commodities changes based on other factors besides labor, but it should be remembered by those that push buttons that the reason they make incredible profits is because labor is making it happen. As O'Rourke humorously explains, "Some acolytes of Smith might be surprised if they ever read him. He (Smith) wrote that " the oppression of the poor must establish the monopoly of the rich,' and that profit 'is always highest in the countries which are going fastest to ruin. "(O'Rourke 47) I am guilty of having some socialist tendencies, but this is something real we can see in our present day economy. Huge profits were made from flat-lining the wages of labor. For example how can union Dominick's compete with free-to-work Wall-Mart.
Wall-Mart can afford to sell their wares cheaper not only because they purchase in bulk, but also they avoid health care costs and higher wages. As a result Dominick's goes out of business and workers are left with Wall-Mart as their only option for employment. On higher wages to profits Smith writes, "The liberal reward of labor… oo complain of it, is to lament over the necessary effect and cause of the greatest public prosperity. "(O'Rourke 216)
I agree with his assessment. In my short tenure in the work force, 12 years, I have found that when the labor force is making a higher wage they will consume more goods, which will lead to increases in output. The next point of agreement I would like to point out is on housing. As we have seen that one of the reasons the housing market is in the shape it's in is that people were spending money based on the enlarged equity of their homes.
As Smith explains the equity in a home is not income and should not be spent as such. "Though a house, therefore, may yield a revenue to its proprietor… it cannot yield any to the public, nor serve in the function of a capital, and the revenue of the whole body of the people can never be in the smallest degree increased by it. "(O'Rourke 58) This point illustrates to me the stupidity in the importance of every citizen owning a home as if it was some sort of "American Dream. The "American Dream" is whatever an individual wants it to be and if prosperity is that person's idea of said dream than owning a home without accumulating enough capital separate from equity or property value is preposterous. I have to say I have a hard time finding fault or bad arguments because Smith seems to contradict himself often. O'Rourke explains that many different schools of thought to defeat mercantilism were developing at this time and that Smith was an extremely smart individual.
I can assume from this that Smith was smart enough to recognize that the more inclusive his ideas were the more they would be read. So if you have a disagreement with Smith, there's a good chance Smith could defend it. O'Rourke makes mention of this point but I didn't deem it necessary to quote. I would definitely recommend this book to another economics student because you not only learn from Smith, but O'Rourke as well. I would say that you don't need to know all about Smith's life, but it is essential to have a grasp of the concepts he presents. And if you like cynical and sharp humor, you'll like O'Rourke.