Operations Function Essay Sample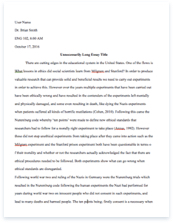 The whole doc is available only for registered users
OPEN DOC
Pages:
Word count: 455
Category: term
Download Essay
A limited time offer!
Get a custom sample essay written according to your requirements urgent 3h delivery guaranteed
Order Now
Operations Function Essay Sample
The operations management function has a considerable influence on the quality, cost and availability of an organisation's goods or services. These, in turn, have a direct bearing on whether the organisation achieves its other main objectives — specifically, to increase profitability, to increase market share, to provide a reasonable return for investors or to contribute to the wellbeing of the community.
Operations Management Definition:
All the activities in which managers engage to produce goods or services. Operations is the process of transforming inputs into outputs.
The relationship between operations and business objectives
Establish the level of quality of the goods or services
Influence the overall cost of production, given that the operations function is responsible for the largest part of an organisation's capital and human expenses Determine whether sufficient products are available to satisfy consumer demand. The role of an operations manager
An operations manager utilises the 4 management roles (POLC). P – Planning: The process of defining objectives and determining strategies to achieve those objectives. Short term, medium term and long term planning.
O – Organising: Is the process of arranging resources and tasks to achieve objectives. L – Leading: The process of influencing, guiding and motivating employees to ensure work is completed in the most efficient and effective manner in order to best achieve the company's objectives. C – Control: The process of monitoring and evaluating performance and taking corrective action where necessary to ensure the company is achieving its desired objectives.
Characteristics of Operations
Manufacturing
1. Tangible
2. Products can be stored
3. No link between production process & consumption Service
1. Intangible
2. Services can't be stored
3. Customer needs to be present to get the service
Elements of operations
1. Inputs
2. Processes
3. Outputs
Competitive advantage
1. Quality
2. Cost
3. Speed of delivery
Strategies of operations
1. Facilities & design layout
2. Materials
3. Quality
4. Technology
Sub – Strategies
1. Process layout, product layout, fixed position + office layout, retails
2. Inventory, materials plan (MPS, MRP), supply chain
3. Quality control, quality assurance, total quality management
4. Manufacturing – robotics, CAD, CAM Service – self service, websites, eftpos, web 2.0
Ethical and Social Responsible
1. inputs – suppliers fair trade, renewable inputs, quality inputs, good relationship with suppliers 2. processes – low greenhouse emissions, OH&S, safe, low waste 3. outputs – reusable materials, safe, beneficial, fair trade, honest product marketing
MPS – Master Production Schedule
What's to be produced, how and when
MRP – Materials Requirement Planning
Materials required
TQM – Total Quality Management (The Ultimate)
Continuous Improvement
Customer Focus
Quality Circle (Employee Empowerment)
QA – Quality Assurance
ISO Standard
Industry Standard
QC – Quality Control
Random Selection
Customer Relationship Management
Customer Contact
Improve Service
Manufacturing Technology
Robotics
Automation
CAD – Computer Aided Design (3D Design Software)
CAM – Computer Aided Manufacturing (Central Control System)
CIM – Computer Integrated Manufacturing (Computerised System of Inventory, Cost, Planning)