Ordering System Documentation Essay Sample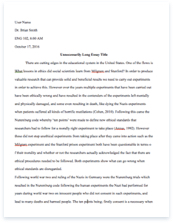 The whole doc is available only for registered users
OPEN DOC
Pages:
Word count: 1028
Category: customer
Download Essay
A limited time offer!
Get a custom sample essay written according to your requirements urgent 3h delivery guaranteed
Order Now
Ordering System Documentation Essay Sample
1.1Overview of the current state of the technology
Nowadays, machines replace the work intended for humans primarily to lessen man power and also to eliminate human error. During the latest decade there has been a quick development in companies' use of information technology. This creates a great demand to centralize and has a well-developed internal organization to handle the administration support/service and to provide the organization to continuously improve its service level, flexibility and expertise to meet or exceed the customer's expectation.
Ordering system throughout the world was relied on pens and papers problems such as missing orders and information sent to the wrong place arise. Furthermore some could not be able to handle massive number of orders. Under the old manual ordering systems, it takes up to much time to process. Real time ordering and improve efficiency has been the focus of entrepreneurs. As with many business scenarios, getting rid of paper improves efficiency, reduces human error and allows information to flow to an infrastructure without a time consuming data input process. There is also a less chance of handwritten orders being misread and higher customers turn around as customer will be served faster. In accordance to this we proposed the BASC Computerized Restaurant and Uniform Ordering System. This system will develop specially to meet the needs of BASC restaurant and uniform ordering. 1.2Project Objectives
With this problem the proponents aim to achieve the following objectives: •To lighten the load for the staff using the computerize ordering and not to encode each order likewise enhance customer service. •To monitor the integration of different operations like ordering payment and billing using the database system to store all inputted data into the database of the system. 1.3Scopes and limitations of project
Scopes of the project
BASC ordering system is integration of different operation: ordering, pricing and billing system, customers order input directly into the computer, which communicate the customer's order. The fixed number identifies which customer ordered. A staff printout's the bill. Additional order may accept by the kitchen only if the bill hasn't been printed.
Limitation of the project
BASC ordering system only accept cash for payment it did not accept any online payment or ATM cards. Food in the restaurant and the uniform in the admin office will not be suitable for delivery. This system shall be used only for the restaurant and in Cashier uniform ordering. 1.4Significance of the project
This ordering system is a modern addition to the restaurant business it will help BASC restaurant to be convenient and get their information fast and accurately. This system can also be used in other ordering system like in BASC uniform ordering. It is easy to integrate into any restaurants and school. It is a flexible benefit because it offers useful, time efficient features for customers and restaurant owners.
This technology is growing rapidly with consumers for many reasons. Ordering system promotes many benefits such as convenience, order & price accuracy, eliminates hold times, no waiting in line and no pressure. This benefit the owners and the staff to decreased employee expenses, reduce the time spent on incorrect ordering and many other conveniences. It cuts down on the time spent maintaining the food inventory .It will save time on man power that can be used to perform more productive work for the restaurant. It can maximize the capabilities of the staff working in a restaurant. CHAPTER 2
REVIEW OF THE RELATED LITERATURE
Literature
Sandvik Information technology ordering system, during the last decade there has been a quick development in companies' use of information technology. This creates a great demand to centralize and to have a well-developed internal organization to handle the administration. They want to evaluate the administrational environment of Sanvik information technology analyzing the requirements of changes and the establishment of the process. The research method their used are used by the person using the system as administrator and customer ordering through the system. They have long experience of existing system and know the pros and cons. They know the limitation in their research and survey of internal and external system the information is based on facts from the investigation and analysis of the system are aligned to business area Sandvik IT in Sweden, where the main interest is the internal process for hardware, software ,user id and access rights.
Ordering System at Sandvik Information technology, March 23, 2005 Author: Thomas Jhonson and Anna Olsson Found @ https://pure.ltu.se/ws/files/30908263/LTU-EX-03162-SE.pdf As consumers increasingly demand more from retailers, and assume more control over how they choose to receive marketing messages, it's clear that an in-store experience that is more relevant, efficient and pleasant is needed. This experience can be built on the effective use, presence and placement of various types of point-of-purchase (POP) materials including product literature and signage. Our Field Service Representatives are responsible not only for managing product levels and set integrity but they are also responsible for managing the availability of manufacturer POP on a daily basis. We have developed a proprietary software application called the Literature Ordering System (LOS) that automatically manages the inventory and ordering of these materials. Rather than having to manage the inventory and ordering with each separate manufacturer, the LOS consolidates the process into one centralized database application.
Field Service Representatives monitor and respond to literature needs with mobile handheld devices. They can access information for each vendor, including active items available for order and shipping quantities. Orders are generated and submitted to the manufacturer from the mobile device. Accumulated information enables the system to prompt the Field Service Representative into action when needs are predicted. The strength of the LOS is that is designed to "learn" usage trends. As the system is used, it actually gets smarter, building on a database of information that enables it to determine proper inventory levels and consumption rates for each location, automatically triggering prompts when it is time to place an order, replenishing a diminished supply. By providing prompts for orders, flagging of incorrect order quantities and accurate forecasting of needs, coupled with the reduction of administration costs makes the LOS is a winner for all involved. Found @ http://www.greentreesales.com/site.php?module=article&pageid=15