Organisational Behavioural Essay Sample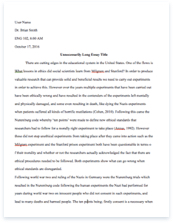 The whole doc is available only for registered users
OPEN DOC
Download Essay
Get Full Essay
Get access to this section to get all the help you need with your essay and educational goals.
Get Access
Organisational Behavioural Essay Sample
I have a good understanding about Human Resource Management. Going through human resource management has taught me so much more than stuff about how the working companies deal with their success in employing the right person for the right job. I have learned here how to write and express myself, how to think for myself, and how to find the answers to the things that I don't know. Most importantly I have learned how important wider world and the people belonging to it (Lecture 1, What is Organisational Behavioural?, 18/10/2011). People and Organisation module has helped me develop more knowledge about HRM, people and organisational behaviour from individual, to team and organisation (Lecture 2, Learning, 25/10,2011). I have initial required skills such as how to communicate and exhibit my initiative to people, clearly and efficiently. However, I believe I need to improvement more here; with this modules objective information and theories I can enhance and better my reading and writing skills (Lecture 3, Personality, 01/11/2011). During this modules lecture we have had a lot of discussion and group work, I spent additional time to improve my writing by writing my understandings. However, there was more to this module than just taking a note or even getting into discussion.
While attending this module I realised how integrated learning this module is when it came to being efficient and well-focused. For instance, , Dr Bruce Thompson, our module lecturer, always came to the lecture with prepared handouts where the lecture would go on onto a particular subject and just so that we understood everything clearly, most of the times we will have a short quiz session where he would ask questions and we will all give out the answers in turns. Dr Bruce Thompson motivated us by giving chocolates for every right answer during our short quiz sessions; this and his positive attitude to bringing more sense into this particular module, has motivated me more and helped me become more confident in myself. The opportunity to do that showed me that there are so many ways that one can learn that are both fun and educational. The Human resource module also taught me basis analysis about how everyone in an organization should be responsible for achieving organizational goals and the goals are achieved only through performance. In a particular organization managers should not only consider his/her performance but also consider the secondary performance and all other employees.
But then again, the manager should not only comprehend, predict and control the behavior of the people working in the association but also develop and implement systems and conditions for people to perform (Lecture 4, Communication and Perception, 08/11,2011). A person at work should be respected in whatever to task is given to fulfill. From my point of view, work behavior is the action that must content two conditions; first of all it should be noticeable and second of all considerable. There is a spontaneous relationship between performance & behavior, behavior being its cause and performance its effect. I can say that performance is a purpose of behavior. In an association, the manager should strengthen necessary behavior so that better performance can be attained and also they should minimalize or dismiss the disagreeable behaviors. Behavior and its strength are determined by a number of personal and environmental factors. The causes of work behavior includes the personal forces that generate behavioral purpose like principles and approaches; individual norms and enabling forces that translate the behavioral meaning into an actual behavior like skill, inspiration and the work atmosphere.
HRM taught me about the self and the world surrounding the self. From these sessions I learned about the world, its people and its working progress; through this module I learned how we as humans are all related. By writing about what we learn and/or what we believe, we are learning how to express ourselves. One important lecture I learned from Bruce that companies must have one or more competitive advantage, factors that allow an organization to differentiate its product or service. Wal-Mart builds its low cost leader strategy on the dual modest advantage of a satellite based inventory and delivery system, and on employment policies that help it to achieve astonishing low employment costs. Etihad Airways achieves low cost leader status through employment policies that produce a highly motivated and flexible workforce. Its workforce is its competitive advantage. Superior airlines like British Airways, faced with union rules and restrictive work rules and salary structures, find it hard to compete with Emirates, whose employees eagerly rush to 'turn around' an airplane in a fraction of the time it takes a BA team.
Every successful company has one or more competitive advantages around which it builds its competitive strategy. The competitive advantages can take any forms. For a pharmaceutical company, it may be the quality of its research team, and its patents (Lecture 5, Motivation, 22/11/2011). I know that my ability to write and express my ideas, thoughts and knowledge has grown stronger this semester. I have always struggled to put my thoughts on paper in a manner that is coherent and correct according to assignments. I can remember being told numerous times in Uxbridge College to "establish your thoughts" or "provide more livelihood and illustrations". These are the things that I have worked on and improved over the past couple of weeks and I feel that my work shows this. During my HRM I did learn a lot of theory related to people on how they cope up with their daily lives and their work. The seminars that I have attended the past couple of weeks have really helped me in writing and presenting what I learnt with better ideas.
I have learned how to write various understandings of humanity in different forms and different fields. I feel confident that I could talk and write about resourcing about any particular company without hesitating or not believing my thoughts. There are a couple of things that I do feel I lack the confidence and skill to perform, and that is what I hope to gain from participating in presentations. I am scared to present because I don't know how to share my knowledge with others-students who may have no idea what I am talking about (Lecture 9, Group And Teamworking, 06/12/2011). I hope to learn more about how teachers share their knowledge as part of my own understandings. To summarize I feel that I have grown theoretically over the course of my undergrad; I realize that I have only scratched the surface. I have so much still to learn and being involved at so many different levels provides me with endless opportunities to continue to grow. I believe that this growth will enable me to be a more effective student and a better human being.
I believe that I can become anything I want to. Since I know from my own experience that when we reject the idea that we are limited, we can achieve anything we set our minds to; we can educate others and ourselves; motivate others; and ourselves and achieve greatness if we desire so. Experiences, which happen to be the vilest, and the greatest in my life showed me that it is always necessary and possible to find strengths to overcome difficulties and turn bad into good. Throughout this HRM seminar, I have been able to express my imagination while improving my writing skills and exploring into my passion for human resources. Having the opportunity to express and publish my own thoughts has been an exciting process of challenging my own capabilities (Lecture 11, Human Resource Management, 17/01/2012). Thus I would suggest anyone to go through HRM courses just to rectify how the outer world is which I mean by working classes and how the employees are treated in a well and appropriate manner to manage a successful output or production for a particular company.
BIBLIOGRAPHY
(People and Organisations, Lecture 1: – What is Organisational Behavioural?, 18/10/2011).
(People and Organisations, Lecture 2: -Learning, 25/10/2011)
(People and Organisations, Lecture 3-Personality, 01/11/2011)
(People and Organisations, Lecture 4-Communication And Perception, 08/11/2011)
(People and Organisations, Lecture 5: -Motivation, 22/11/2011)
(People and Organisations, Lecture 9: -Group And Teamworking, 06/12/2011)
(People and Organisations, Lecture 11: -Human Resource Management,
17/01/2012).