Organization structure: Unilever& Nissan Essay Sample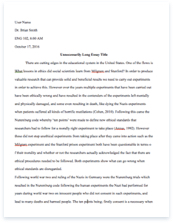 The whole doc is available only for registered users
OPEN DOC
Download Essay
A limited time offer!
Get a custom sample essay written according to your requirements urgent 3h delivery guaranteed
Order Now
Organization structure: Unilever& Nissan Essay Sample
Introduction:
Organization structure basically relates to the architecture of a firm's units and subunits, establishing the decision making organs and how it is done, accountability and the overall line of command or authority within the firm. This paper seeks to provide a detailed analysis of the structural organization of Unilever and Nissan motor company with the aim of identifying their respective structures, pertinent features and the driving force behind the adoption of the structures.
Unilever:
Unilever is a dual listed multinational company that is partly owned by two companies in two different countries namely: Unilever public limited company of London-Britain and Unilever NV of Netherlands. The company has got numerous operations in many countries in Europe, America, Asia, Australia and Africa. Unilever today has got over 174,000 employees. (Unilever Annual report 3)
            The company has a wide range of products that are widely categorized into four major groups as, dressings, savory and spreads; beverages as well as ice-cream; personal care; and lastly, home care. Under the home and personal care products the company produces and markets brands like Vaseline, Soaps and detergents like sunlight and Omo, toothpastes among others, while the food and beverage category include product brands like PG tips tea, ice cream, blue band, Royco among others. Its main rival in the market especially for toothpaste and detergent market is the American company Proctor and Gamble (P&G) (Unilever Annual report 23) 
Unilever's Organization structure
Unilever as an organization embraces Geographical structure in organizing its operations around the globe. Geographical structure is basically a type of organizational structure where the company's organization is centered, or based on the geographical areas where it operates. (Unilever Annual report 21)
Geographic structures are largely suitable for organizations with large diverse markets spanning over many countries or regions that can be isolated as geographical markets. (Chetan 28)
Under the Geographic structure, the specific geographical markets or regional subsidiaries have got autonomy in their organization and how they run their operations, and only seek direction from the company's headquarters. Each geographic region has got a regional office that handles their functional activities like marketing, accounting, production, and distribution of all the product lines that the company operates on. For instance, all the Unilever's product lines: Home care, personal products, as well as foods and beverage products are handled by a single management in a particular region. (Unilever Annual report 22)
Why Unilever choose Geographic structure
As stated above, and the fact that Unilever is a large Multinational company that has its operations all over the globe, it was prone to have organizational difficulties or complexities if it had a centralized system that oversees the management of the companies wide portfolio of goods. It's this reasoning that Unilever adopted the Geographical structure, there by delegating management responsibility by allowing each region to manage its operations on behalf of the company. (Jones 1)
It's also imperative to note that, being that the firm-Unilever, has got world wide operations and that different countries have got different operating environments, it is prudent to have each region manage its own operations based on the regions operating environment thus aligning its operations for the better to the specific external environmental factors like political and social factors that prevail in the different regions. (Unilever Annual report 22)
The emergence of regional blocks and markets like the Economic organization for west African states and many others in the world as well as the need for developing specific products targeting given regions as competition heightens provides enough justification for Unilever to adopt Geographical structure in organizing its operations. For instance the Signal toothpaste brand was particularly targeted at the European market. (Unilever Annual report 9)
Lastly, another reason why Unilever adopted the Geographic structure is because the company wanted to get closer to its customers by building strong relations with their markets, and develop strong regional supply chain, through territorial management. (Unilever Annual report 21)
Nissan Motor Company Limited.
Nissan motor company ltd is a multinational company that was established in 1933 December 26th In Japan to manufacture, market and sell Nissan branded vehicles, machineries, forklifts as well as the infinity brands. Today the company has got its headquarters' in Tokyo Japan where it runs its world wide operations. Nissan has got a number of international operations spanning all over the world with functional activities being run from the head office. (Nissan motors 1)
Nissan motors organization structure
Nissan motors basically have a mixed or hybrid organizational structure. This is a type of organizational structure where an organization combines two or more structures to come up with one that suits its operations. (Sanyal &Ranjib 336)
In the case of Nissan motors, the company's hybrid structure is a combination of the functional structure and geographical structure. By doing this the company incorporated the geographical factors into its functional structure in February 2009. (Nissan motors 1) To briefly illustrate how the company embraces the mixed structure in its organization, here is an overview of the top three positions and the responsibilities of their occupants.
 The organization is headed by Carlos Ghosn as the president and CEO, who is deputized by the Chief Operating Officer. The company has introduced a new position of Chief Recovery Officer who is responsible for recovery activities and corporate planning, world wide but in addition to these, he also leads a newly created region made up of Middle East, Europe, Africa and India. The other positions include Executive vice president who is the head of purchases and also leads china, the Asian pacific, as well as the Japanese market. (Nissan motors 1)
Reasons why Nissan choose the mixed/hybrid structure
In its new organizational restructuring in early 2009, Nissan motors introduced the regional or geographic aspect to its initial functional structure in order to pave through the current difficult financial situation and also provide a good basis for its future direction, by giving a closer look at each aspect of the business including the specific regional markets and their contribution to the organization as well as the functional areas, in order to identify how they can be revamped to keep pace with the ever changing business environment.(Nissan motors 1)
  Nissan motors also choose to adopt the mixed structure in order to strategically position the firm for increased growth of the firms market shares in the various regions when the conditions of operating business improves globally, after the financial crisis. This was also to put the firm in line with its alliance with Renault an Indian auto firm. (Nissan annual report 7)
Works cited
"Annual report and accounts, adding vitality to life," Unilever Annual Report (2008):3-
23, 28th May 2009, http://www.unilever.com/images/ir_ar08_annual-report_tcm13-163124.pdf
Chetan et al, "Implementation strategies for SAP R/3 in a Multinational", Business and
            Economics, idea group (2006):28
Jones G.  Unilever a case study: Business history review, Harvard business school,
Harvard weekly newsletter, (2002):1, 28th May 2009, http://hbswk.hbs.edu/item/3212.htm
"Nissan enriching peoples lives", Nissan annual report (2008):7, 28th May 2009
 http://www.nissan-global.com/EN/DOCUMENT/PDF/AR/2008/AR08_e_all.pdf/
  "Nissan takes further action amid global crisis," New organizational structure to lead
Through downturn Nissan motors. (2009):1, 28th May 2009 http://www.nissan-global.com/EN/NEWS/2009_STORY/090209-02-e.html
Sanyal & Ranjib, "A Strategic Perspective," Organizational Design and Control:
            Boston Pearson, (2001): 325-361