Organizational Behavior Essay Sample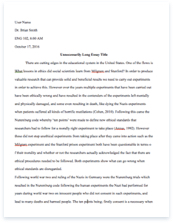 The whole doc is available only for registered users
OPEN DOC
Pages:
Word count: 1749
Category: group
Download Essay
A limited time offer!
Get a custom sample essay written according to your requirements urgent 3h delivery guaranteed
Order Now
Organizational Behavior Essay Sample
Course Overview:
This course focuses on the theory and application of human behaviors in organization (HBO). HBO typically deals with three levels of phenomena in the context of workplace – individual, group and organizational levels. However, our class focuses on the first two levels (i.e., individual and group) and leaves the discussion of organization-level phenomena to other courses such as business strategy and organizational structure.
The overall course objective is to teach you the skills essential to effective management of individuals and groups in today's global business environment. This objective will be achieved by exposing you to a variety of theories and applications. At the end the course, you are expected to learn tools, skills and strategies for:
• Enhancing your managerial judgment
• Improving individual and group effectiveness
• Understanding worker behaviors in the work context
• Having better and significant influence on people in the work place
Course Material:
The course's textbook is Understanding and Managing Organizational Behavior (4th Edition) by J. M. George & G. R. Gareth. You are also required to purchase a course packet which includes cases and readings to be used in class.
Assignments and grading:
Your final grade will be based on:
1) Senior manager case analysis (Group Project) 40%
2) Exam 20% 3) Reading logs 20%
4) Individual assessment 10%
5) 10% Factor 10%
Senior Manager Case Analysis (30%)
This assignment is designed to apply the knowledge you gain in class to tackle real issues in real organizations. Each Project Group will be required to interview at least one senior manager regarding their experiences. Your group can choose to interview more managers but no extra point for interview with more than one. This manager can be from a firm you previously worked for, from firms you would like to work for, or simply from industries that interest you. The "firm" doesn't necessarily have to be a large firm. It could be any organization ranging from a non-profit organization to a local restaurant. There is no standardized interview format that I require you to use but the fundamental question that this project should try to answer is "how do classroom learning experiences apply to the real world business?" "Do they hold true in real-world practices?" "If so, how?" "If not, why?" This is an opportunity for you to explore a person or an industry in which you are interested.
You will want to pay attention to issues from class that interest you. Some topics you might want to cover include (but not limited to – again, the topic can be anything) issues of cross-cultural issues, decision making, conflict resolution, motivation, performance and leadership. Please do not attempt to cover too many issues from class. It won't be very feasible. You may want to pick one or maybe two issues that most interest you. Each member of a group will turn in a team evaluation form that assesses the contribution of the group members. Self-assessment should be included as well. The form is included in Appendix B.
Presentation (20%). Each group will make a 20-minute presentation of the results of the interview. Also, some background information about the organization of the manager will be a valuable component of the presentation.
Report in Writing (20%). Each group will turn in a maximum 10-page (double-spaced) written analysis on the day of presentation. This could be of free format reporting whatever you have found from the interviews regarding the theories and practices based on the class concepts and their applications. Once again, you need to answer the questions mentioned above.
Exams (20%)
There will be one exam during the term. No time allowance is available for students who arrive late. No make-up exam will be available without emergency situation with supporting evidence.
Reading Logs (20%)
Six maximum two-page (double-spaced) reading logs are required for full credit. Each log must be turned in via email to the instructor two days before the reading is assigned. For example, if we are scheduled to discuss the assigned reading on Wednesday (you can figure this out from course outline table below), then the log is due Monday midnight. Each log should a) summarize the important themes and insights you wish to remember from the reading, b) how you can apply ideas from the reading in your own (past or future) work. Each reading log will be reviewed by the instructor and be graded on the basis of Pass and Fail. Also, reading logs will be used for class discussion. You can assume that your log has earned a full credit unless you are notified otherwise by the instructor by the end of week in which the reading is assigned. Note: you must respond to points a) & b) for full credit of each reading log.
Individual Assessment (10%)
While your group works on the group project required in this course, I ask you to pay careful attention to the processes the group uses in its collaboration. Following completion of the group project (Senior Manager Case Analysis), each class member will provide an individual assessment of
the group process experienced in this course (max 5 pages – double-spaced). I recommend that you keep a record of events and issues arising in the course of writing the Group paper. Making notes each week regarding your group's process will be helpful in preparing your assessment. The goal of the assessment is to encourage reflection on class concepts in the course of completing the group project.
Assessments will be graded on the extent to which they provide thorough description of the actual behaviors and processes the group employs and apply class concepts to better understand the group's process and performance.
Your individual assessment should include information on the issues described in Appendix A.
10% Factor (10%)
The 10% factor reflects your overall dedication and conscientiousness to the course. The more you contribute and participate in this course, the more you will learn. Therefore, participation and interaction count. Also, homework (see Course Outline) assignment will be included in this category. "10% factor" is intended to encourage interaction and participation. Attendance, though not strictly measured, also plays into this measure, as does preparedness.
Course Policies:
1) I will do my best to teach you the theories and ideas of OB. 2) I will try to always be fair and straightforward with regard to grading and other class-related issues. 3) I commit to returning graded assignments and exams in a timely fashion. 4) I promise to find responses to questions related to course content that I do not already know.
5) Please commit to respecting each other's opinions, thoughts, and ideas, particularly those raised in class. Open and useful discussion depends on mutual respect not only between instructor and student, but also between student and student. 6) Please contact me in advance if you have any requests, problems, or issues related to the course. If you have questions about the material—please feel free to email or call me to set up time to discuss your questions. 7) Late assignments will not be accepted.
8) No makeup exams or presentations will be allowed, unless in an extreme case of emergency. 9) If you have questions about a grade received in class, come to me within one week of receiving the grade. Be sure to submit a typewritten request explaining your position (along with the original assignment). Document your points with the appropriate course material. After reviewing your explanation I will either award you additional points or schedule a meeting with you to discuss the disputed issue(s). I reserve the right to re-grade the entire assignment when an appeal is submitted. This can result in a lower grade. 10) Cheating in any form will not be tolerated—and will be prosecuted to the fullest extent permitted by the University. Course Outline
1. Charlotte Beers: Harvard Business School Case by Ibarra, H. & Sackley, N. (Case Number: 9-495-031). To be purchased individually at http://harvardbusinessonline.hbsp.harvard.edu
2. Donna Dubinsky: Harvard Business School Cases by Jick, T. D., & Gentile, M. (Case Number: 486083). To be purchased individually at http://harvardbusinessonline.hbsp.harvard.edu
3. Dot.com in-basket case by the instructor's personal friend. Not subject to the copyright issue. To be distributed in class.
4. Readings for Reading Log assignment are available in the library and we will discuss how to obtain them in the first class Appendix A
Individual Assessment Questions
Practices
How does your team members communicate with each other? (content, frequency, method)
How well do you believe your team coordinates its work across members? What works and what does not work well? (Assignments, etc.)
How are decisions arrived at regarding the group's structure, timeline, and goals? Does the group actively make a decision or just let thing happen? Describe at least one conflict that occurred within your team. How was each handled? What is talked about? What is ignored or avoided?
In what ways did your use of technology facilitate your team's work? In what ways did your use of technology hamper your team's work?
Processes
When the team first came together, were any promises or commitments made by team members? What commitments have you made to the group? What commitments has the group made to you? How well have these commitments been kept?
What concerns do you have that you have shared with the group? What concerns do you have that you have not shared with the group?
Evaluation
How well do you believe the group is working together?
How successful do you believe the group is in completing a high quality project?
Appendix B
Senior Manager Case Analysis
Team Evaluation Form
Team Number/NameYour Name
_______________ ________________________________________
Rate each group member (including yourself) using the following scale:
1 = poor
2 = needs improvement
3 = satisfactory
4 = very good
5 = excellent
After everyone has completed the assessment sheet, share your ratings with one another as a basis for more detailed feedback and discussion. You can do this privately or in the group, depending on your group's preference.
Definitions:
Teamwork:receptive to others' input, works well with others, cooperative, sensitive to group process
Quality of work:knowledgeable about course material, has creative and sound ideas, produces solid written work
Motivation:participates actively, contributes sufficient effort
Reliability:meets deadlines, is prompt, attends meetings
Overall Contribution:overall assessment of that individual's contribution to the group.