Organizational Diversity Processes Essay Sample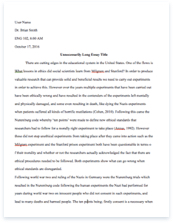 The whole doc is available only for registered users
OPEN DOC
Download Essay
A limited time offer!
Get a custom sample essay written according to your requirements urgent 3h delivery guaranteed
Order Now
Organizational Diversity Processes Essay Sample
I. Women and Minorities in Today's Organizations
* Glass ceiling – is a concept popularized in the 1980s to describe a barrier so subtle that is transparent, yet so strong that it prevents women and minorities from moving up in the management hierarchy (Morrison and Von Glinow) * The Equal Employment Opportunity Commission reports that "color discrimination in employment seems to be on the rise". Recent studies have found that black job applicants with lighter skin were more likely to be hired than those with darker skin, even when identical qualifications were presented (Cazares, 2007). * Schwartz (1989) differentiated between women on the career track and woman on a "mommy track" who were assumed to want flexible work arrangements and family support in exchange for fewer opportunities for advancement. A. Stereotyping and Discrimination
* Bias in the organization has two components (Cox, 1990): * Prejudice – refers to the negative attitudes toward an organization member based on his/her culture group identity. * Discrimination – refers to observable behavior for the same reason. B. Relational Barriers in Organizational Systems
1. There is compelling evidence that women and ethnic minorities experience limited access to or exclusion from informal communication networks (Ibarra, 1993). 2. A second relational experience that is different for white men and women and people of color involves that of establishing mentor-protégé relationships (Noe, 1988; Ragins & Cotton, 1991). Kram was one of the first researchers to discuss the importance of mentoring relationships, defining a mentor as "an experienced, productive manager who relates well to a less-experienced employee and facilitates his or her personal development for the benefit of the individual as well as that of the organization". 3. Tokenism – in many organizations, white male represent the vast majority of employees, especially among the ranks of management. Thus, women and people of color in managerial positions are often "tokens" or highly visible representatives of their gender or ethnic minority (Ilgen & Youst, 1986; Kanter, 1977). II. The Multicultural Organization
* Phases of workplace development in the area of cultural and gender diversity (Morrison and Von Glinow, 1990).
* First –generation affirmative action
* The organization is concerned with meeting legally mandated requirements for gender and ethnic diversity.
* Second-generation affirmative action
* The firm has met affirmative action goals in terms of numbers, and the emphasis shifts to supporting female and minority employees.
* Multicultural organization
* Moves beyond the concept of support for minority members to the institution of policies that deliberately capitalize on cultural and gender diversity.
* Dimensions for Describing a Multicultural Organization (table12.1)
1. Acculturation- modes by which two groups adapt to each other and resolve cultural differences. a. Assimilation is a unilateral process by which minority culture members adopt the norms, and values of the dominant group in the organization" b. Cultural separatism is a situation where there is little adaptation on either side. c. Pluralism is a process by which both minority and majority culture members adopt some norms of the other group. 2. Structural integration – cultural profiles of organization members, including hiring, job placement, and job status profiles 3. Information integration – inclusion of minority-culture members in informal networks and activities outside of normal working hours 4. Cultural bias – prejudice and discrimination
5. Organizational identification – feelings of belonging, loyalty, and commitment to the organization 6. Intergroup conflict – friction, tension, and power struggles between cultural groups A. The Diverse Organization: Opportunities
Opportunities Realized through Diversity (table12.2) Cox and Blake 1. Cost argument – as organizations become more diverse, the cost of a poor job in integrating workers will increase. Companies who handle diversity well will create cost advantages over those that do not. 2. Resource-acquisition argument – companies develop reputations as prospective employers for women and ethnic minorities. Those with the best reputations for managing diversity will win the competition for the best personnel. As the labor pool shrinks and changes composition, this edge will become increasingly important. 3. Marketing argument – for multinational organizations, the insight and cultural sensitivity that members with roots in other countries bring to the marketing effort should improve that effort in important ways. The same rationale applies to marketing in subpopulations within domestic operations.
4. Creativity argument – diversity of perspectives and less emphasis on conformity to norms of the past (which characterize the modern approach to management of diversity) should improve the level of creativity. 5. Problem-solving argument – Heterogeneity in decision-making and problem-solving groups potentially produces better choices through a wider range of perspectives and more critical analysis of issues. 6. Systems flexibility argument – an implication of the multicultural model for managing diversity is that the system will become less determinant, less standardized, and therefore more fluid. The increase fluidity should create greater flexibility to react to environmental changes (i.e., reactions should be faster and at less cost). B. The Diverse Organization: Challenges
1. Avoiding Negative Impacts of Diversity Management Programs * The Civil Rights Act of 1964 marked the beginning of programs designed to ensure equal opportunity in the workplace. The affirmative action programs that stemmed from this act aimed "to remedy discrimination and increase and increase the representation of designated disadvantaged groups, namely, women and ethnic minorities" (Heilaman, 1994). 2. Sexual Harassment
* In 1980, the Equal Employment Opportunity Commission (EEOC) specified that sexual harassment is a kind of sex discrimination under Title VII of the Civil Rights Act of 1964. 3. Balancing Work and Home
* For the organization, the first challenge rests in the institution of programs that are "family friendly," such as flextime, on-site day care, job sharing, family leave policies, and telecommunicating (Friedman, 1987) and in making these policies usable by employees (Kirby & Krone, 2002). C. Managing (and Celebrating) Cultural Diversity
Spheres of Activity in the Management of Cultural Diversity (figure12.1) 1. Organizational Culture: valuing differences, prevailing value system, cultural inclusion 2. HR Management Systems (Bias Free?): recruitment, training and development, performance appraisal, compensation and benefits, promotion 3. Higher Career Involvement of Women: dual-career couples, sexism and sexual harassment, work-family conflict 4. Heterogeneity in Race/Ethnicity/Nationality: effect on cohesiveness, communication, conflict, morale; effects of group identity on interactions (e.g., stereotyping); prejudice (racism, ethnocentrism) 5. Educational Programs: improve public schools, educate management on valuing differences 6. Cultural Differences: promoting knowledge and acceptance, taking advantage of the opportunities that diversity provides 7. Mind-Sets about Diversity: problem or opportunity? Challenge met or barely addressed? Level of majority-culture buy-in (resistance or support)