Organizational Goals of Fraser foods Essay Sample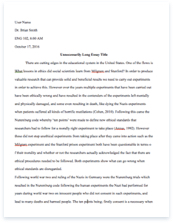 The whole doc is available only for registered users
OPEN DOC
Download Essay
A limited time offer!
Get a custom sample essay written according to your requirements urgent 3h delivery guaranteed
Order Now
Organizational Goals of Fraser foods Essay Sample
Having decided on the Mission statement of an organization then it's necessary to have Goals & Objectives. Goals are statements with General Intentions. To increase the Quality of their products and be more customer focused To improve customer services and also after sales services and build long-standing relationship To achieve a long term partnership Minimize the operational use of non-renewable resources Objectives are more Specific, measurable and have a defined completion date. (Ex; To increase Profit by 20% within the next 2 years)
Objectives of Fraser foods
Develop a Future plan to expand the Fraser Food's business over the next 5 years.
Changing the consumer taste and preferences more towards Healthier meals
Join hands with new clients and decline the dependability on Perkins
Policies are Guidelines or a principle of action adopted or proposed by an organization for staff helping what needs to be done to carry out the strategy.
Policies implemented by Fraser Foods
Health and safety measures policy
Environment policy
Training and development policy
Effective management of Fraser food needs to include, Organizing and coordination of the activities carried out at Fraser foods to achieve their objectives. The above stated goals, objectives and policies will contribute to the effective management of Fraser Foods in various ways such as;
To achieve maximum productivity
To attract high caliber talents
Will experience low turnover
Encourages adaptability
An increase in the bottom line results
TASK 02
An Open system theory refers to the environment consist of other organization that exert various forces of an Economic, political or social nature.
This is the concept of analyzing and monitoring the external environmental factors that have an impact on an organization. In simple terms can be explained as PESTEL.
The letters stand for Political, Economic, Social, Technological, Environmental and Legal. The Open system theory gives the same idea when the above facts are referred to Fraser Foods
TASK 03
Stakeholders can be defined as an Individual, Group or an organization that has an interest/ concern in a business.
Stakeholders can be affected by the organization actions and are in two types.
Internal Stakeholders – Parties who are already committed to serving the organization.
Example: Owners, Board Members, Staff, etc.
External Stakeholders – Parties indirectly affected by the performance of the business
Example: Suppliers, Government, Customers
Internal Stakeholders' Interest and Influence in Fraser Foods can be identified as follows.
Managers – Customer focus and Quality are the main drivers of business success in Fraser foods. Before the production process Production manager has to focus on two things; minimizing cost incurred to produce and improve the quality of the product. In order to have good quality product Fraser Food needs to purchase Quality Raw Material. Purchasing manager is responsible of dealing with Purchases.
Employees – Influence the success of Fraser Foods by their level of efficiency in the job and productivity. Interested in Salaries and Bonuses.
Owners – Owners are the people who is really interest in the People, Quality and Profit – PQP. And they are parties who are involved in decision making. For an example, David Fraser and other two directors may decide to make higher sales a top priority rather than Profits.
External stakeholders' Interest and influence in Fraser Foods can be identified as follows.
Government – Establish many rules and regulations that guide businesses such as Fraser Foods. To check the The maintenance of strict hygiene conditions as a Health and safety requirement.
Creditors – Creditors are the parties who have lend money to Fraser foods such as Loans.
Society – For HNC students who are allowed to study their part time.
TASK 04
Formal Organization
This can be defined as an Organization type in which the job of each individual is clearly defined, whose authority, responsibility and accountability are fixed.
The following will include in a Formal organization;
Job Descriptions
Goals and objectives
Communication Channels
Policies and procedure
When David Fraser was running the company it was in a formal manner.
Informal Organization
This can be identified as an organization is created by the members spontaneously and it is formed within a formal organization, a system of interpersonal relationships between Individuals working in an organization.
The following will include in an Informal organization;
No defined channels of communication
Beliefs and assumptions
No defined set of rule and regulations
Perceptions and Attitudes
When Robin Fraser took over the business it was not running in a Formal manner where workers can freely interact with other co-workers freely.
The above stated points explains the difference between a Formal and Informal organizations.
TASK 05
Effective Strategic control is a process used by organizations to control the formation and execution of strategic plans.
We can recommend the Output Control Strategy since these lines implies "Sidra will work with Robin trialling and piloting new product ideas. Sidra wants the business to tap in to the increased popularity of TV programmes" that they are trying to use a control strategy, by identifying specific tasks having a measurable output or criteria of overall achievement.
Output control strategy aims at facilitating the delegation of operational decision-making without relying on close personal supervision. And also Fraser foods jobs and units designed with responsibility also they have specification of outputs.