Organizational Structure Paper Essay Sample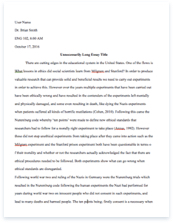 The whole doc is available only for registered users
OPEN DOC
Pages:
Word count: 1059
Category: cola
Download Essay
A limited time offer!
Get a custom sample essay written according to your requirements urgent 3h delivery guaranteed
Order Now
Organizational Structure Paper Essay Sample
This company is very competitive. They compete with other companies to be number one in sales. They have a decentralized organizational structure, with operational decisions made within the separate business units while being governed by policies at the corporate level. The company that does all of this is Pepsi Cola Company. There is not many people that can do without this drink daily. At times it will almost seem like a habit. Pepsi Company is a company that many people are familiar with. It is a company that people spend their hard earned money one every day all over the world. Pepsi Co consists of three units: Pepsi Co Americas Foods, Pepsi Co Americas Beverages and Pepsi Co International. Pepsi Co Americas Foods encompasses Frito-Lay North America, Quaker and all Latin American food and snack businesses. PepsiCo's chairman and CEO is Indra Nooyi.
The Americas Foods, Americas Beverages and International divisions are headed by John Compton, Massimo d'Amore and Michael White, respectively. PepsiCo has an organizational structure much like other companies. They have the owner and co-owners. These owners have people that they hired to run the company. They have a management team as well as those that are in sales. The sales people are the ones that work hard to bring in the money. They travel to stores and get people to join Pepsi Company and purchase their product for sales in their stores. They also have secretaries and a human resource department that work with the employees of the company and make sure that the company is run fairly. The two major competing companies that manufacture beverages are Pepsi Co and Coca-Cola. They compete for the number one manufacturer and distributor spot for beverages worldwide. Both companies are easily identified almost anywhere.
They have absorbed the markets around the world and they enjoy worldwide recognition for their company and for their products. It's been said that if an employee of either of the competing companies are caught drinking product from the opposite company while on the job they would be terminated. Both companies do share similar organizational structures. Both of these companies compete globally with one another for customers. They produce very similar products and have designed distribution and services that are very similar. They both use "the follow up strategy." They coined this term to indicate that when one of them launches a new service or a new product that the other will quickly bring in a similar service or product to the marketplace. These two companies leave all other distributors and service providers in the dust. These companies both exclude the franchise model from their operations. The Coca-Cola Company has a Separate International Division Structure because its international staffs operate separately and in isolation from head office.
Each Continental division has vice presidents that control sub-divisions based on regions or countries. This structure is efficient for Coca-Cola since it is a very large company. Because these are the types of business that know how to go far. Following their structures and their ways of selling will make ones future in business making a successful one. Pepsi Co is often compared to Coca Cola. They both sell the same types of products as well as fight to get the number one spot in sales all over the world. Both Pepsi and Coke have dealt with global legal issues in the past. They have jumped into markets where they were at risk and have had to pull out of certain markets due to issues that have arisen there. These companies design their products and business operations for specific target populations. They do this through design of taste to a specific population's tastes and make it appear that they follow the highest moral and ethical practices.
Their influence in global markets, in turn, drives the practices of other competing companies, even though these other companies cannot compete at the level of Pepsi and Coke. Without the products that are made by Pepsi and Coke people would be lost. Now that people have become addicted to these products they feel they have to have them. PepsiCo sells products under a number of brand names, many of which were developed by PepsiCo. The brand development costs are expensed as incurred. There are other brands that PepsiCo has acquired.
Upon acquisition, the purchase price is first allocated to identifiable assets and liabilities, including brands, based on estimated fair value, with any remaining purchase price recorded as goodwill. Determining fair value requires significant estimates and assumptions based on an evaluation of a number of factors, such as marketplace participants, product life cycles, market share, consumer awareness, brand history and future expansion expectations amount and timing of future cash flows the discount rate applied to the cash flow. The company believes that a brand has an indefinite life if it has a history of strong revenue and cash flow performance, and we have the intent and ability to support the brand with marketplace spending for the foreseeable future. If these perpetual brand criteria are not met, brands are amortized over their expected useful lives.
A company with a strong structure such as PepsiCo should succeed easily when it comes to business. The people that started the company started strong and set up a strong team to run the company properly. Just as any other business the people that run PepsiCo were taught how to be great businessmen as well as salesmen. Sales is what makes a successful business and the people that buy the product is what makes the sales. Keeping the cola taste great is what makes people buy the product. With that being said if the taste of the product stays strong then so will business. As any other business it is important for the company to keep inventing new products that will bring sales to the company.
Pepsi has an organizational structure that is much like many other companies. They have the same levels of management as most other companies as well. A companies organizational structure is what makes it the best company and that is what brings them to that number one spot. People all over the world will continue to buy this product as long as it is made available. After all it is good stuff.
http://www.pepsico.com/Purpose/Overview/Management-Approach.html http://quotes.wsj.com/PEP
http://economictimes.indiatimes.com/news/news-by-industry/cons-products/food/pepsico-expands-tropicana-range-in-india/articleshow/21085594.cms