"Othello" by William Shakespeare Essay Sample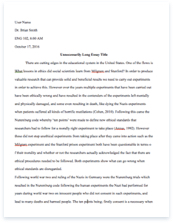 The whole doc is available only for registered users
OPEN DOC
Download Essay
Get Full Essay
Get access to this section to get all the help you need with your essay and educational goals.
Get Access
"Othello" by William Shakespeare Essay Sample
In the play Othello, the character of Othello possesses an aura of personality that makes him distinguished as well naive and unrefined as compared with other characters in the play and other Shakespearean protagonists. That is the sole reason that why he fell a prey to Iago's plot. Iago told Roderigo, "O, sir, content you.  I follow him [Othello] to serve my turn upon him "(I, i lines 38-9).  Iago explains that only follow Othello to certain extent. A rudimentary supposition is that as the murder of Othello's wife Desdemona is the result of deceitfulness of Iago, so himself remained a victim to the evil genius of Iago. Othello's wrath was a product of his impulsiveness, the inherent flaw in his character, but that was utilized and triggered by the machination of Iago.
The offense of Iago – to conspire the demise of the Moor – is worse since it is embedded in a shrewd mind with organized attempt whereas the wrongdoing of Othello was the result of his naiveté. He was blindfolded by a thorn in the heart and mind. But his sin can not be justified only on this ground as there were various methods to check the blameworthiness. However, it can be illustrated that Othello permitted himself to be influenced by Iago's proposition of the unfaithfulness of Desdemona. Iago only provides a justification that was needed by Othello. Some critics are of the view that Desdemona's murder is an outcome of Othello's excessive arrogance and his impulsiveness to decision-making.
Despite this major flaw, he possessed some distinct personality traits. His has the capacity to build positive and reciprocal relationships and to take a number of steps to persuade.  He possesses the capability to tailor an approach to appeal to the needs of a particular audience and an example of this relationship building is his genuine companionship with Iago. But again this trait of Othello is used against him as Iago takes advantage of his trust and design more evil plots against him.
Although Othello possesses some evil propensities but he is capable of preventing these base and evil instincts to dominate him.
In order to locate the degree and gravity of his sins, his motives fro his evil actions must be taken into consideration. It can be argued that his sins are product of weak mental faculties and some inherent flaws in his character. It was further enhanced by the manipulation of Iago instead of his pride. His action of murdering Desdemona was also not due to deficiency of confidence as he was a strong leader as manifested by his ability to command military and various other states affairs. But his leadership does not mean that he was forfeited against personal fantasies and whims of imagination.
Othello's basic dilemma was that he was in a totally new socio-cultural milieu. He was in a new city with a new bride who was graceful and young. Furthermore, Othello was in deep love with her does not know her well. He was uncertain about Desdemona decision to select him as her husband, and can only comprehend one clarification, "She lov'd me for the dangers I had pass'd." (I,iii,167) He is aware of the prevailing environment of prejudice and bias in Venice and without doubt must inquire why Desdemona would against her own norms and values and associate white Venetians by marrying an outsider.
All these added suspicion in his minds before Iago begins his conniving plot. Although Desdemona was an epitome of love and care for her, but his preconceived notions cannot enable him to believe in her love unreservedly. His response to his skeptic mind is to put
Desdemona on a pedestal, making her an "emblem of purity and trustworthiness"
'Tis not to make me jealous
To say my wife Is fair, feeds well, loves company,
Is free of speech, sings, plays, and dances well.
Where virtue Is, these are more virtuous.
Nor from mine own weak merits will I draw
The smallest fear or doubt of her revolt,
For she had eyes, and chose me.(III,Iii,180)
Othello arrived at the conclusion that Desdemona's consideration and virtue only capacitated her to feel affection for the unlovable — an unstable culmination originating from his low self-worth. When Iago cast away this fictitious idealism with his evil designs, he is merely strengthening what Othello considers profoundly to be thoroughly possible i.e. that Desdemona could love another man. Iago is on hand to verify Othello's primary doubts:
Ay, there's the point! as (to be bold with you)
Not to affect many proposed matches
Of her own clime, complexion, and degree,
Whereto we see in all things nature tends …
Her will, recoiling to her better judgement,
May fall to match you with her country forms,
And happily repent. (III,iii,228)
So all these facts manifest that Othello was a lager than life character and his tragic flaw contributes toward his tragedy. It is both an amalgam of self-infliction and circumstances beyond his control.
References
Shakespeare, William. Othello. Penguin Books. New York. 1993