Parent's Involvement in the Child's Education Essay Sample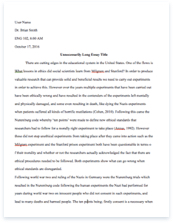 Pages: 2
Word count: 394
Rewriting Possibility: 99%

(excellent)

Category: child
Get Full Essay
Get access to this section to get all help you need with your essay and educational issues.
Get Access
Introduction of TOPIC
            Parents are supposed to work together with teachers with regards to the school concerns of their children. A good relationship between the two goes a long way towards ensuring that the welfare of the child is cared and provided for. Teachers oftentimes do not know the home culture of their students, a factor that affects the learner's academic performance a lot. Input from parents regarding things like the study habits of the child at home and the value system parents influence their child with, would help the teacher in understanding certain problems that the child exhibit in the classroom.
            However, sometimes parents are not supportive and cooperative with their children's school concerns believing that once the kids are in school, they become the school's and their teachers' responsibilities. Their job is to merely be parents when the children are at home. The teachers could send out invitations to periodic talks with parents or to school activities which involve the children but they remain ignored.
            This lack of involvement disappoints, discourages and even frustrates the teacher. Motivated teachers approach their job with enthusiasm; they invest care and even love towards their students, and expect the students' primary caregivers to share their drive.
            The teacher can reprimand the parents for being insensitive and uncaring about the welfare of their child, but he should realize that as teacher, he could only do so much. It may not be right, but it is the parent's choice to determine how much involvement they could spare. If they decide to pull out the child from the program, the teacher cannot do anything about that. The teacher can, however, do his best with the child, with or without the total involvement of the parents. This is being professional about the situation. Another thing to do, if he feels so strongly that the parents should get involved, is he should ask for the principal's help. Parents usually heed the invitation of a higher authority. Finally, the teacher should not stop trying. The child is usually in a teacher's program for one or two years and it is a short time to lose patience and diligence towards the student and his parents.