Passion and Personal Growth Essay Sample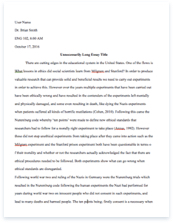 The whole doc is available only for registered users
OPEN DOC
Download Essay
A limited time offer!
Get a custom sample essay written according to your requirements urgent 3h delivery guaranteed
Order Now
Passion and Personal Growth Essay Sample
Michael Jordan is virtually a god. For all basketball fans, he remains to this day one of the best if the greatest, players of all time. He was a superb shooter and playmaker as well as an excellent athlete, even earning the moniker, His Airness. He dominated the NBA for the good part of the 90s, became the NBA's Most Valuable Player five times, and led the Bulls to six championships. After retiring from basketball in 1993, he started a professional baseball career with the minor league team Birmingham Barons in 1994. He returned to basketball the year after to lead the Bulls to three more championships. After retiring in 1999, he became co-owner and team executive of the Washington Wizards. He retired from basketball in 2003 after two full seasons playing for the Wizards. He was one of the most celebrated athletes of all times. Aside from playing for the Chicago Bulls, he became one of Nike's most popular endorsers. He even had shoes named after him, the Air Jordan.
Michael Jordan is one of the most recognizable names in the world but it wasn't always that way. When they were kids, his big brother played better basketball than him. He wasn't as tall or as fast as most guys and he had not yet been able to shoot from astonishing distances at even more astonishing angles and plays. He was even rejected by the high school coach when he tried out for their basketball team; he was a basketball nobody.
But that didn't stop him, he said, "Obstacles don't have to stop you. If you run into a wall, don't turn around and give up. Figure out how to climb it, go through it, or work around it", (Michael Jordan, 2005) and get around his obstacles he did. He had passion. A passion for a great many things; foremost of them, basketball.
Denis Diderot said, "Only passions, great passions can elevate the soul to great things", and I believe him. It was passion for sports that gave Jordan the determination and the single-mindedness to overcome his handicaps and emerge as one of the best players of all time. It is this same passion that has enabled me to accomplish things that I never thought myself capable of.
I believe our passions help us channel all our strengths, our thoughts into becoming what we want to be. It gives us the discipline we need to hone our bodies, our skills, and talents to become better. Sports of whatever kind, teaches us many things and the best of them is discipline. I learned to value my health because you cannot become the best player being sick and unhealthy. I learned how to value myself more.
Michael Jordan said, "I have missed more than 9,000 shots in my career. I have lost almost 300 games. On 26 occasions I have been entrusted to take the game winning shot, and I missed. And I have failed over and over and over again in my life. And that is precisely why I succeed" (Michael Jordan, 2005). I believe he is talking about determination; never giving up. He tried over and over again until he became so good at his game and that what matters.
You may not be the best, you may not even be any good at all, but you don't really become the worst until you stop trying to be the best. Even Old Abe could attest to that. He lost in his political and business careers so many times that anyone could call him a failure. But the thing is, he didn't stop trying and at the ripe old age of sixty, he became President. He didn't stop trying and eventually he succeeded.
I believe my passion for basketball changed my life for the better by making me aspire to be better at my game, and to be better at my life.
Reference:
Anonymous. (2005) Michael Jordan Quote. Retrieved November 16, 2007 from
http://www.quotedb.com/quotes/2194