Patients with Alzheimer's Essay Sample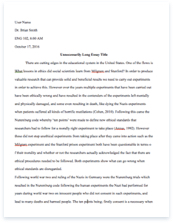 The whole doc is available only for registered users
OPEN DOC
Get Full Essay
Get access to this section to get all help you need with your essay and educational issues.
Get Access
Patients with Alzheimer's Essay Sample
Home health for patients with Alzheimer's disease
Alzheimer's disease is the common cause of dementia, which is the loss of social and intellectual abilities and inturn interferes with the daily functioning of patients.  People with Alzheimer's diseases have their health brain tissues degenerated resulting to a steady decline in memory and mental abilities. The disease usually develops in people aged 65 or more.  It is estimated that about 4 million older Americans have Alzheimer's and this number is expected to triple by the year 2050 as the population ages.
            There is still no cur for Alzheimer's disease although treatments are available that improve the quality of life for some people with this disease.  Caring for someone with Alzheimer's takes patience and a focus on the things a he or she can still do and enjoy. This means that, those people suffering from Alzheimer's as well as those who care for them need great support and affection from friends and family.
            As stated earlier, Alzheimer's disease is the main cause of dementia which is characterized by:-
Decline in the patient's usual level of functioning.
Impairment in memory
Impairment in another area of thinking such as the ability to see accurately the visual world not because of eye disease and the ability to organize reason and thoughts.
Alzheimer's disease is therefore a slowly progressive disease of the brain that is revealed by impairment of memory and eventually by disturbances in reasoning, perception planning and language.  Eventually, patients with Alzheimer's disease may wonder, erratic in mood, uncooperative, be unable to engage in conversation, loose bladder and bowel control. Persons may become totally incapable of caring for themselves in the advanced stages of the disease.  However, those persons who develop the disorder later in life more often die from other illness and not as a consequence of Alzheimer's diseases.
      Age is the biggest risk factor for Alzheimer's disease in old age.  It is estimated that developing Alzheimer's disease doubles every 5.5 years form 65 to 85 years of age (Hendershott, 2000).   Researchers have established that only 1% – 2% of individual age 70 have Alzheimer's disease while 40% of individuals aged 85 have the disease.  However, at least half of people who live past 95 years of age do not develop this disorder.
      No genetic risk factor has been found in majority of patients with Alzheimer's disease but most of the studies have found out that women have a higher risk for Alzheimer's disease than men.
      The fact that  woman live longer than men does not explain the increase in the frequency of Alzheimer's disease in women.
      Some studies have established that, Alzheimer's disease occur more often among people with limited formal education that is less than eight years.  This may be attributed to a decrease in "cognitive reserve or other factors associated with a lower educational level.  Alzheimer's disease occurs among people who suffered significant traumatic head injuries earlier in life as demonstrated by some studies (Landberg, 1998)
      This paper focuses on the disease plan of starting a new home health for patients with Alzheimer's disease but it is vital to put this in context.  Caring for someone with Alzheimer's disease may result to higher levels of depression.  Depression in this case results when a family caregiver who endures high levels of stress is unable to alleviate the suffering of a loved one.  Home caregivers are usually able to recover from depression within three months after the death of the loved one with Alzheimer's disease.
      Governments should adopt a strategic approach that incorporates much more than just curative services for acutely ill people if health burden of mental illness is to be tackled accurately.  It is not adequate to focus on the specialist services, since this strategy or approach ignores the fact that the overall mental health care system is extremely complex.  It is very difficult for instance, to resettle people with severe mental illness in the community if the stigma surrounding people with mental illness is not dealt with through public education in school and communities.
      An information system infrastructure should be put into consideration when developing a home health for patients with Alzheimer's disease.  The purpose of an information strategy is to provide each patient and professional with the information they require to:-
Access appropriate services in the home
Ensure informed decision making
For users and persons offering care, the information should set out for them the appropriate choices and establishment of more partners in their own care.  The purpose of this information system infrastructure is to strengthen both the patient and professional in their own decision making and how they interact leading to a better outcomes and greater satisfaction from the mental health care.
      Researchers have established that, factors in the physical environment such as color, noise and lighting can greatly influence the behaviour of a person with Alzheimer's disease. Making adjustments and changes to the home environment can help to make day to day activities possible and safe for a person with Alzheimer's disease.  Some specific symptoms such as wandering can be reduced by making appropriate changes to the environment. (Lundberg, 1998).
Changes need to be simple at the initial stage such as using notes and timers to remind the person to do certain things, keeping often-used items in a certain place and labeling of doors so that the person locates them very easily.  A clinical experience and research findings have shown that, when physical environments of people with Alzheimer's are likely to remain independent and socially involved and more importantly less anxious. Persons who have developed this disorder my be made to live more safely and dependence on others for daily activities may be delayed for as long as possible if the environment is made "Alzheimer's friendly".
Wandering is a major safety risk for people with Alzheimer's disease.  Alarms or lacks on doors may be installed to prevent these patients from wandering. Another option of managing wandering is to accompany the person on a walk in the neigbourhood. As stated earlier, as the disease progresses, many people with Alzheimer's experiences the inability to control one's bladder and/or bowel movements.  Having a routine of taking the person to the bathroom is an appropriate strategy. For example, one can take the person to the bathroom every three hours or so during the day
Home care can be examined in terms of structure, process and outcome.  The process criterion is directed towards the appropriateness of various types and intensity of care for specific conditions.  When considering the process, criteria for appropriateness of home care depend on:-
More than one plan, in-home services, home delivered meals and adult day care.
The magnitude of home care required is determined by the client
Adequacy of family care depends on the need for home care
Reliance on expert judgment of professionals tends to reduce availability.
Structural criteria would apply to staff qualifications, staffing levels, record keeping, and equipment, administrative polices and supervisory practices.  Outcome criteria should be linked to the goals associated with the type of home care and individual preferences and goals of the clients (Hendershott, 2000).
Diagnosing and treating Alzheimer's disease is an involving medical field and the interpretation. The application of the latest research on the patient requires experiences and careful judgment. All these should be taken into consideration when planning a home health for patients with Alzheimer's disease.
References
Hendershott, A(2000).  The Reluctant Caregivers: Learning to care for loved ones with Alzheimer's. Westport, CT Bergin and Garvey.
Lundberg, A (ed) (1998). The Environmental and Mental Health: A Guide for Clinicians.  Mahwah NJ: Lawrence Erlbaum Associates.