Perceptions and Beliefs of Self-Esteem Essay Sample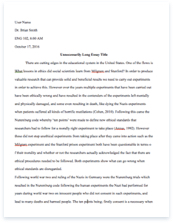 The whole doc is available only for registered users
OPEN DOC
Download Essay
Get Full Essay
Get access to this section to get all the help you need with your essay and educational goals.
Get Access
Perceptions and Beliefs of Self-Esteem Essay Sample
I. Introduction
Research in education has taken a step forward by recognizing the importance of self esteem within students in the school system. Over the last few years, many essay articles have focused on the question of whether schools should help students to feel better about them. The most recent surge (1994), "Nel Noddings has challenged the deadly notion that the schools' first priority should be intellectual development." She argues that "the main aim of education should be to produce competent, caring, loving, and lovable people" (p. 279). One of the most important factors that influence school success is self-esteem and this can be observed in students in what and how they go about doing things (Clemes & Bean, 1990). Self‐esteem is important traits for advancing both personal and career goals. Self‐esteem and other non‐cognitive traits developed through education are important factors for job satisfaction, job performance, and earning in the labor market (Bowles and Gintis 1974; Bowles, Gintis, and Osborne, 2001; Judge and Bono, 2001).
According to Maarit Johnson, PhD, builds on a dynamic view of self-esteem functioning. Trait level of self-esteem combined with different needs and strivings to maintain or increase self-esteem, is an important aspect to consider for a realistic understanding of mechanisms underlying behavior and wellbeing. Her research has focused on developing integrative models of vulnerability and resiliency. Self-esteem, that is contingent on success and competence, triggers fundamentally different habitual thought and behavior patterns than contingent self-esteem that involves seeking compensation from emotional support and acceptance. These behaviors and attitudes have in studies been linked to distinctive patterns of coping with social threats and differential health outcomes.
Statement of the Problem
Main Problem:
How does Self-esteem affect the Academic Performance of 1st year and 2nd year Psychology major students?
Sub Problems:
1. What are the identified beliefs of the psychology major students affect their academic performance?
2. What are the major consequences of low self-esteem?
Operational Framework
The researcher constructed the following figure to represent the relationship between the identified factors and beliefs of students in causes of stress. Identified perception of Psych major
* Time management * Financial * Reward yourself * Manage yourself * Get moving or to have exercise * Relax do not overthink * Focus |
Significance of the Study
The result of the study will benefit the students, parents, teachers, guidance counselor and school administrators. The Students. This study may help them to know their selves if they have a low or high scale of Self-efficacy and Self-esteem. The Parents. The parents will be more aware of their child's esteem and efficacy and guide them to improve their abilities. The Facilitators. They may be aware of their student's abilities and may help them to improve.
Definition of Terms
Self- esteem- is something more fundamental than the normal ups and downs associated with situational changes.
Self- efficacy- is "the belief in one's capabilities to organize and execute the courses of action required to manage prospective situations." In other words, self-efficacy is a person's belief in his or her ability to succeed in a particular situation. Bandura described these beliefs as determinants of how people think, behave, and feel
Correlation- is a statistical measurement of the relationship between two variables. Possible correlations range from +1 to –1.
A Study of Correlation of Self-esteem and Self- efficacy of the 2nd year Psychology Majors of World Citi Colleges
A Research Paper Presented to College of Arts and Sciences in partial fulfillment of the requirements in English 2