Perceptions of HHS Leadership Essay Sample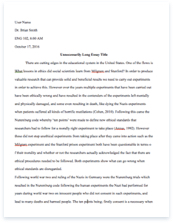 The whole doc is available only for registered users
OPEN DOC
Download Essay
A limited time offer!
Get a custom sample essay written according to your requirements urgent 3h delivery guaranteed
Order Now
Perceptions of HHS Leadership Essay Sample
Perceptions of HHS Leadership amongst Federal Response Operations Personnel. Regarding federal responders' confidence and trust in their leaders, there is much criticism. Whether at home station, or during deployments, HHS leaders fail to meet subordinate expectations for morale, administration and disaster response mission support responsibilities. Following the methods outlined for Hypothesis One, Table XX provides a list of the primary areas for improvement—according to the subject matter experts (SMEs) interviewed for this project—regarding the necessary policy clarifications, updates and/or departmental influence HHS policy requires.
Interviews conducted with Public Health Service uniformed officers uncovered a common thread of frustration concerning HHS leadership's failure, or apathy, in following established policy guidance to provide for solid mental/behavioral health force protection during response operations for Hurricane Katrina, the Sandy Hook Elementary School mass shooting, Superstorm Sandy and the Boston Marathon bombing. Leadership Effects on Psychological Trauma.
Promote Interventions through Departmental Policy Updates. In determining the most effective interventions to institute and endorse for these populations—those who have a predicted and repeated risk of psychological trauma exposure (i. e. , disaster and emergency responders, emergency medical providers and combat veterans)—the current literature points to meditation and mindfulness and social connectedness and support in best protecting mental/behavioral health and bolster resilience.
Outside of research specific to disaster responder and/or combat veteran, meditation and mindfulness are proving effective in treating short- and long-term mental illness In combat military and veteran studies, meditation and mindfulness training emerged as an intervention particularly effective in down-regulating emotions in the immediate aftermath of high-threat maneuvers, situations known to place members at especially (e. g. , convoying, downloading fuel, searches etc. ) and full-scale enemy incursions (e. g. , fire fights or IED , green-on-blue, missile attacks, etc. ).
Social Connectedness and Support is the This policy aims to prevent or mitigate injuries and illness from environmental, occupational, and operational threats (including traumatic stress); including biological, chemical, radiological, nuclear, and explosive hazards.
The proposed policy supports coordination and cooperation (with OSHA, FEMA, EPA, and other authorized worksite safety officials) to ensure the continual refinement and implementation of effective worksite health and safety plans to protect deployed personnel in high-risk environments by the use of a hierarchy of exposure controls (engineering technology, administrative policies, and judicious use of personal protective equipment) and safe work practices.
The policy covers pre-deployment preparation, deployment support, and post-deployment services based on the best available information and protective measures Discussion Mental Health Promotion in Emergency Responder Populations. When disaster strikes, the nation depends on emergency response workers who are personally prepared and professionally trained to respond effectively. Response work can range from well-contained, localized efforts to massive, diffuse mobilizations and involves a broad array of activities including search, rescue, investigation, assessment, recovery, cleanup and restoration.
Such work is carried out by individuals from emergency management, fire service, law enforcement, emergency medical services, public health, construction and other skilled support, disaster relief, mental health, and volunteer organizations. To ensure that emergency workers can meet the challenges of disasters, every effort must be made to protect them from the safety and health risks inherent in their work.
Concerns about worker safety and health are apparent in nearly every type of response, and an effective framework of health monitoring and surveillance of workers is necessary to recognize possible health issues and bring these potentially devastating hazardous situations under control (ERHMS Guide for Key Decision Makers). One of the most important mental/behavioral health interventions for federal emergency responders could be the easiest and make more efficient use of limited time, resources and funding. Deploying responders
Pre-deployment evaluation of disaster responders ensures workforce protection and contributes to the overall success of response efforts is an integral part of preparing them for deployment. This includes and assessment of both mental and physical health. The purposes of the evaluation pre-deployment assess the readiness of responders to be deployed and provides a medical baseline for future comparisons. Readiness determination should take into account whether the worker will be able to perform essential duties without posing a threat to self, others or mission.
Reissman Public Health Implications. Limitations. Guidance for Force Behavioral Health Protection is everywhere…DBH CONOPS should be THE document; lack of coordination Conclusions & Recommendations Disaster Behavioral and Mental Health Force Protection Policy Updates. Based on these findings, and in concert with my Practicum Supervisor and Director, I drafted a document (called a Standard Operating Procedure, SOP) wherein ASPR/ABC suggested the very instructions to address the SMEs' concerns from Figure XX.
From the review of the literature as well as input received by the disaster behavioral health force protection SMEs, created a quick use document for addition to the DBH CONOPS toolkit. Within this table (see Appendix XXXX), is an easy-to-read consolidation of recommended measures for federal response operations leadership, and responders alike, to use throughout the course of the deployment cycle.
Mitigation measures included The behavioral and mental health-promoting activities included in the table (at Appendix XXXX) are intended to aid IRCT command and Behavioral Health Force Protection personnel in predicting, mitigating, and/or addressing potential adverse reactions from psychological stress experienced by federal response operations personnel deployed to federal command, control, and coordination positions; whether Public Health Service, National Disaster Medical System, local response force, or volunteer.
These measures, developed with feedback gained from real-world operations BHSO/BHLNO personnel, as well as other subject matter experts from the CDC, NIOSH, the American Red Cross, and UCLA, can be implemented—in part or in total—at any stage of the federal response operations deployment cycle.