Personal Branding Plan Paper Essay Sample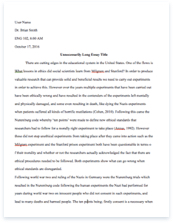 The whole doc is available only for registered users
OPEN DOC
Download Essay
A limited time offer!
Get a custom sample essay written according to your requirements urgent 3h delivery guaranteed
Order Now
Personal Branding Plan Paper Essay Sample
My career spans a bit over 20 years in various administration positions in many different industries. Most of my career was spent in the manufacturing industry. In the beginning, for approximately 5 years, I was a receptionist, handling the most basic of responsibilities. Later began a stretch of time that I worked in an administration type of position as a planner and raw material control. This position allowed me to learn more of the industry, receiving the raw material, assigning it to appropriate work orders, and maintaining the flow of production on the raw material end. Finally, I moved into the area of accounting performing accounts payable for the freight side of a manufacturing company for around 7 years, which is where I found my desire to further my career. Those years of working in the accounting area has given me the confidence to move forward and push my career further. Companies I Would Like to Work For
Germania Insurance is a Texas based insurance company whose home office is in Brenham, Texas, my hometown. It was started back in 1896 in Perry, Texas, composed of only 31 members. Their founding principle was "bearing one another's burdens made them all stronger" (Germania Insurance, n.d.), which is still true today. Today Germania offers full insurance services and has its own member-owned credit union. This company is well established and is a highly sought after place of employment. Their benefits and all around working environment is one that produces a sense of importance and self-worth, in turn allowing for each employee to make a contributable difference in the outcome of the services offered by the company as a whole. I feel that I would be able to make a difference and sizable contribution to their accounting department with the experience I have had in various administration positions, including my most recent 7 years in the accounting department.
The second company I would like to work for is PIC Components located in my hometown of Brenham, Texas. This company has been in business since 1987 and was acquired by Emerson in 1995. PIC manufactures diaphragm seals with various different materials in order to meet the needs of their nation-wide customer base. Given the lengthy period of time spent in administration in the manufacturing industry I feel that I would be a strong asset for this company. I would prefer to be in the accounting department in order to utilize the new career education that I have received. However, I would be an asset for PIC in any facet of administration within their operation. My skills could be utilized in the raw material department as I am proficient at keeping the flow of manufacturing on target in order to exceed manufacturing goals.
Finally, the third place that I would like to work for is the City of Brenham. I believe that working for the City of Brenham would provide for me the stable and rewarding work environment that I am desiring for my advancement of my career. Again, I feel that I would be most beneficial to the city's public utilities working in the accounting department, as accounting is where my true skill sets are. Keeping up with the financial aspect of the public utilities would allow me to ensure that payments for services, license fees, permits, and various customer needs were satisfied beyond measure. Strategies for Contacting Companies Mentioned
Getting out there, getting your foot in the door, and getting noticed is usually the most difficult part of the employment process. Making yourself stand out from the rest is the key. The most reliable way, for these particular companies, is to apply online through their website. Along with this, at least from my perspective, there should be a follow up phone call or appearance with a copy of your resume made. Filling out an application online can leave you with a feeling of not "getting out there" and making yourself know. In this area making personal contact with the person or persons in the hiring capacity can make all the difference. Along with this, if an interview is conducted I immediately send a thank-you letter thanking them for their time and consideration and reiterating my interest in the position, letting them know how I feel I will be an asset to their organization. This can be done using the either the email address or physical address found on their business card that you collect at the interview. Nothing like making them think of you one more time! Conclusion
In conclusion, I am looking forward to using these tactics to reach my dream of furthering my career in the area that I have concentrated my studies on – Accounting. Following this outline of desirable companies/organizations to seek employment with will guide me in my upcoming journey. Providing that the described strategies for contact are adhered to during the employment search, this plan will sure to further aid in my success.
References
City of brenham. (2014). Retrieved from http://cityofbrenham.org/index.php Germania insurance. (n.d.). Retrieved from http://www.germaniainsurance.com/ AboutGermania/aboutgermania.shtml
PIC. (2014). Retrieved from http://www.picomponents.com/index.html