Personal Ethics Essay Sample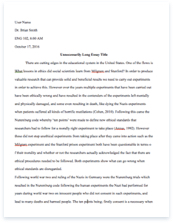 The whole doc is available only for registered users
OPEN DOC
Download Essay
A limited time offer!
Get a custom sample essay written according to your requirements urgent 3h delivery guaranteed
Order Now
Personal Ethics Essay Sample
Personal Ethics refers to the individual's personal or self-created values and code of conduct (theydiffer.com, 2015) or what an individual believes about mortality and right or wrong (pages.stolaf.edu). These are the morals and values that define who he is as a person. Every person has the right to choose what to do in this life, which can have a great influence on the workplace, family, colleagues, country and the entire world. Each individual has their personal ethics which plays a crucial role in each and every people's life. The personal ethics can be influenced by external factors like family, friends/colleagues, religious belief and culture background. It also can be influenced by internal factors, such as feelings/thoughts and personal experiences.
My personal ethics and values are very easy to understand. And I knew for sure though that my values were strongly based the standard of Christ and on my experiences as a Christian. I strongly believe that rules are meant to be followed not broken as much as possible. Empathy, Loyalty, Integrity, Respect for others, Perseverance, Patience, and Courage, these are my values. My family influences my personal ethics a lot. Growing up, I had the benefit of two wonderful parents who taught me the difference between right and wrong and the importance of having a good personal ethics and values. Also, what my parents behave exerts a strong impact on me.
In my college years where I have become more active in my spiritual journey and in church activities, I believed it created the greatest influence in developing and strengthening my personal ethics and values. And I have been blessed to have a circle of amazing friends that possess the same morals and values as I have.
It is important to me that I should be honest as much as possible in everything I do with my work or with my family/friends and be committed to my family and to my chosen profession. I always put an effort in putting myself in another person's place to understand their views, feelings, thoughts, and emotions which have built or shaped me into a caring person. When I want to complete a goal, I am devoted and will achieve excellence as I do. I have always been a dreamer and always wanted to succeed professionally and personally; being able to look forward to accomplishments helps me strive for what I want. Thus, I have to have the strength to keep on even at the most difficult tasks or difficult moments. And at the same time, having patience towards other people and in every situation. It is one of the ethics that has controlled my frustrations in numerous ways.
I am an over-thinker so when I am to make a decision, I would ask myself the following questions: Is my decision legal or not? Does it comply with my values? If I do it, will I feel bad? Could my decision at last benefit the society? Could I tell my parents about my final decision? I will keep asking and thinking seriously and critically until I get the answer. I believe that when we act selfishly, we cannot be dissatisfied with the reaction of those around us. Making terrible decisions isn't a bad thing, people make mistakes because that's our sinful nature, but we have to learn from those mistakes and realize it was wrong.
Within my professional and personal life, the Law of God reigns supreme and will continue to influence the way in which I define my ethics. My code of ethics has modeled me into the persona that I am today personally and professionally. We cannot place our own interests and value them ahead of our faith, family, friends, and others. There is no place for arrogance and greed in our personal lives, in each organization or in the society. Let's strive to teach, enrich, and develop others about personal ethics and remember the lessons of our mentors.