Personal Influences on Mary Shelley Creation Essay Sample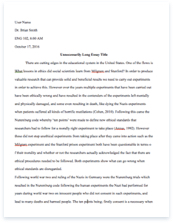 Pages: 6
Word count: 1,583
Rewriting Possibility: 99%

(excellent)

Category: romanticism
Get Full Essay
Get access to this section to get all help you need with your essay and educational issues.
Get Access
Introduction of TOPIC
Personal influences on mary shelley's conception of 'frankenstein' "It is not singular that, as the daughter of two persons of distinguished literary celebrity, I should very early in life have thought of writing".
In order to better understand the intentions and conception of Mary Shelley during the creation of her Masterpiece, one should take a closer look at her life and people who surrounded her. Much of the influence had come from her parentage, her husband and close friends. It is them, from whom she gained the most intellectual curiosities and beliefs, and that, one must be aware of, were very distant from traditional viewpoints and commonly accepted behaviours of her times. This chapter is meant to highlight the fact that "Frankenstein" is at most an obvious culmination of the influences on the author's life and at the same time a window through which one may see the mind of a young woman being far beyond the world surrounding her. The most important people in Mary Shelley's life were: her mother – Mary Wollstonecraft, father – William Godwin, the husband – Percy Shelley, Samuel Taylor Coleridge and Lord Byron.
Mary Wollstonecraft
Along with Godwin, Mary Wollstonecraft believed that through their writings they could change the world, or at least reform the society by the power of reasoned argument. Mary Wollstonecraft, born in 1759 died in 1797, shortly after giving birth to her daughter. She was the author of "A Vindication of the Rights of Women" (1792), where she made the case that male superiority was only physical and that any inferiority was the result of a false system of education which viewed females rather as women than as human creatures and encouraged ignorance and superficiality. Her treatise made Mary Wollstonecraft the most intense advocate for the education and developments of female capacities. After her death, William published an account of her life and writings.
They contained some personal histories about Mary's platonic romances with Henry Fuseli and his wife. Unfortunately, this made respectable English women to find it difficult to declare themselves supporters of Mary Wollstonecraft's views. Due to that burden, young Mary had to endure the social disgrace and the costs suffered by women openly espousing the causes of sexual freedom, women's rights, or radical democracy. Yet, William Godwin strongly encouraged his daughter to idolise her mother. Thus, she studied thoroughly Wollstonecraft's writings and, among others was well accustomed with the following lines from "A Vindication of the Rights of Women": "A great proportion of the misery that wanders, in hideous forms, around the world, is allowed to rise from the negligence of parents'. This proves that her mother had an unquestionable influence upon both Mary Shelley's world view and on 'Frankenstein'.
William Godwin
Mary Godwin absolutely adored her father, William. She would read his works on politics repeatedly "deriving much of her vision of an egalitarian social order from the theories of political and social justice". After Mary Wollstonecraft's death, William was Mary and her step-sister's the only protector and the first literary influence. With his bold and radical views, as Mark Philp points out in Godwin's biography, he argued that the government was a corrupting force in society, conserving ignorance and dependence, which by the persistent spread of knowledge would become unnecessary and powerless. He also publicly declared being an atheist. Godwin encouraged his children to read, learn and to use their imagination. He even wrote some books for children to help hid own. He was very aware of his daughter's incredible potential.
He once described her as "singularly bold, somewhat imperious, and
active of mind, greatly desirous of knowledge, and almost invincibly persevering". However, at some time in her life, Mary Shelley felt great disappointment with her father. In 1801 he married Mary Jane Clairmont who treated Godwin's daughter and her half-sister very roughly. Moreover, Mary became conflicted with Godwin after she had decided to share her life with an already married man, Percy Shelley. Her father was anxious to preserve his daughter reputation. He feared that nothing good could result from such a young girl running off with a man she hardly knew. It is therefore not a surprise that Mary Shelley's "Frankenstein" incorporated the absence of love from a father and the conflict between reason and religious fundamentals.
Percy Bysshe Shelley
In 1812 Mary Godwin was sent by her father to stay with the Baxter family in Scotland. The official reason of this voyage was Mary's poor health, but in truth, William Godwin wished to ease the family tension, as the relation between Mary and Mary Jane became unbearable. After her return, as a composed, intellectually developed and handsome young woman, she met a twenty years old poet – Percy Shelley who at that time was a frequent guest at Mary's father house. Percy appeared to be a passionate admirer of Godwin's "Political Justice". He himself was even a more radical activist, preaching and spreading pamphlets against poverty and injustice. With his friend, Thomas Jefferson Hogg he wrote "The Necessity of Atheism", because of which he was expelled from Oxford University.
In his poem "Queen Mab" Shelley attacked monarchy, religion along with war and commerce. Godwin became his mentor, but also had financial debt to him. During the second meeting, in May 1814 Mary became deeply infatuated with Percy. What so appealed her about the young writer was that he seemed as intellectually strong, fearless and untrammelled as her father used to have been. Shelley attracted Mary with his eloquence, enthusiasm and physical appearance.
Despite his being already married, Shelley began a romance with Mary. He did not notice anything inappropriate in his action, as he justified in his "Queen Mab", "Love withers under constraint; its very essence is liberty". Mary recollecting her father's early beliefs that marriage was "the most odious of all monopolies" was as enthusiastic as her lover. Unfortunately, Godwin perceived the situation as very different from that of himself and Mary Wollstonecraft. He gathered all his powers against this licentious love, but failed and the couple, along with Mary's sister banished themselves and set off for Geneva. This Swiss town served as the home of Frankenstein in Mary, then already Shelley's, novel. Also the rejection of the society and the frustration caused by it, would give life to different characters in "Frankenstein".
Samuel Taylor Coleridge
In 1807 the Godwins moved to 41 Skinner Street in Sommers Town, where they had many visitors. Among them were famous composers, painters, scientists, poets and even surgeons and scientists. The guest who made a great impression on Mary and her family was Samuel Coleridge who was as well a poet and a philosopher as a brilliant talker. One evening, during his visit he recited his poem "The Ancient Mariner". Long after that event, the icy and eerie world of the poem and its themes of love and responsibility remained with Mary as an influence on "Frankenstein".
Lord George Gordon Byron
In Spring of 1816 Claire Clairmont got engaged in a sexual relationship with Lord Byron who was at the time the most famous and fashionable poet. She introduced him to Mary on 21st of April and from that day Mary's fascination with George Byron began. Byron, just like the Shelleys had been banished by the society in England for his scandalous relationships: with his half-sister and some young men as well. Seeking isolation, he left the country for good.
Claire managed to convince the Shelleys to follow Byron to Geneva, and thus they started off on a next voyage to Switzerland. Byron in his writings such as "The Corsair", "The Giaour" or "Parisina" revealed his fascination with violence, love and hate, war and romance. His obvious interest in murder made the author break from Romanticism and this pattern in Byron struck Mary Shelley and very probably inspired to do the same. Issues present in all three above mentioned writings, that is incest with a half-sister, violence between men and homosexuality were used by Mary in her "Frankenstein".
All the above mentioned characters contributed strongly to her life and to creating the "Frankenstein" by Mary Shelley. Her parents gave her passion for literature, women's rights and social justice. Percy Shelley inspired her, encouraged to develop her own strong identity, read scientific and romantic writings with her and accompanied her when she began to bloom as a writer. Others, like Coleridge or Byron were inspiration as writers and thinkers, from whom she could borrow ideas. "Frankenstein" contains a complexity of different attachments. People described in this chapter are only one level of influence on the story. Other circumstances, such as religion, development or politics are going to be described in the following chapter.
——————————————–
[ 1 ]. Mary Shelley, Frankenstein (Standard Novel Edition, 1831) [ 2 ]. Betty
T. Bennett, and Mary W. Shelley "The Letters of Mary Wollstonecraft Shelley" (Baltimore: John Hopkins UP, 1980) [ 3 ]. Martin Garret "Mary Shelley" (The British library, London 2002)