Personal Statement Essay Sample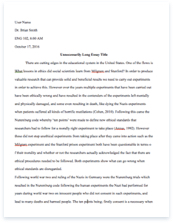 The whole doc is available only for registered users
OPEN DOC
Download Essay
Get Full Essay
Get access to this section to get all the help you need with your essay and educational goals.
Get Access
Personal Statement Essay Sample
I believe that the environment that we grow up in defines who we are. If we grow up in an obscene environment, it will make us to be awful people. If we grow up in a virtuous environment, we will grow up to be respectable people. Not only does the environment shape who we are but our family does as well.
My family consists of six people: my mother, my dad, my two brothers, my older sister and myself. Since my other relatives live far away in other countries, it was just the five of us most of the time. As a result, those 4 other people had a great impact on my dreams, my goals and my personality.
My mother had the greatest impact on me. She was born in Guadalajara Mexico, thus coming from a very strict and obedient family. My mother was strong and passionate and would do anything for the people she cared about. She didn't care about what other people thought of her or what they said either. And she sacrificed herself and her happiness to make my brothers and I happy. We didn't really have a lot of money growing up so when my mom bought us something really expensive, I knew that she was sacrificing money that she could have used for herself but spend it on us in order to make us happy. These sort of selfless actions inspired me to become a helpful and very sociable person, and inspired me to earn good grades so I could get a high paying job and buy my parents the dream house they always wanted right next to mine. She also made me stick up for myself and be more assertive in the things I believed in so that no one could make me feel inferior and I could be as strong and as fearless as her.
My older sister probably had the second greatest impact on me. My sister was always smart. She was so smart that she ended up taking Full AP and IB classes and was in the top 5 percent in her high school. She was also my best friend in my whole life. My friends are all very different from me and never really had the same interests as me. My sister was into all the same things that I was into and shared the same dreams I had: to become a doctor and travel the world abroad. The fact that my sister wanted to have the same career path as me pushed me into working very hard in high school so I could finally beat her in something and become a doctor first.
My father impacted me in different ways in which I will never forget. My dad was born in a family with only his sister and his mother in New York, and yes, the stereotypes of being very stubborn applies here. He has a traditional value of family as well as a strict value on schooling. He believed in education and work; the two main themes in his view of life. My dad was lazy sometimes and liked to sleep a lot but always was up very early in the morning to start working in his office for hours and hours a day so that he could support his family. My dad was never really the head of the family, mainly because of my mom. But when he was home alone with us he would joke around and say that finally he could order pizza to the house without my mom trying to say that its not healthy.
My family shaped my goals so that I wanted could get into a great college, pursue a career path I liked and make an income so I can help out my parents. My family shaped who I am as a person and who I will become after college because of the love and hope they have shared with me throughout my life and the well-balanced meals they have taught me to make. They shaped me to be a kind, caring, and compassionate individual who doesn't care about what other people think and will do anything for those I care about.