Personal Statement Example Essay Sample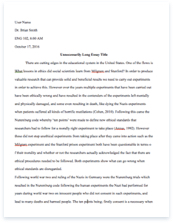 The whole doc is available only for registered users
OPEN DOC
Pages:
Word count: 536
Category: therapy
Get Full Essay
Get access to this section to get all help you need with your essay and educational issues.
Get Access
Personal Statement Example Essay Sample
I am very excited about applying to ISU. My first opportunity to visit ISU was three years ago when my family and I visited my sister, currently a senior at ISU, for family weekend. It was exciting to watch the Redbirds win the football game! I completely fell in love with the campus and environment as well. I felt comfortable right away and did not want to leave. Just last year, my high school had the opportunity to play at the Redbird Arena for the Basketball State Finals. I enjoyed walking with my friends, showing them around campus having been there several times. I am a person who loves walking and after being on campus countless times with my sister, it seems that every place or facility you need to get to is usually in walking distance. ISU simply has the type of campus layout that makes me feel very comfortable. There are many reasons in which I wish to attend ISU in the fall. First, I am interested in becoming a physical therapist. I have been told by physical therapists and sports medicine doctors that the best stepping stones for physical therapy would be to major in either athletic training or exercise science. I know that ISU excels in both of these areas.
Next, I like the size of ISU. After attending a small private high school I am now interested in expanding my horizons with the vast diversity of people who attend ISU. I feel that the location of ISU will allow me to be able to focus on my studies, but allows me to commute home to see family and friends. I am a student athlete, and I am interested in playing volleyball at ISU. I am very dedicated to volleyball and have played for my high school as well as club/travel volleyball. I have played on an elite team as an outside hitter at Sports Performance. I am looking forward to playing for Sport Performance this year as part of the 18s age group, which is my last year as a senior. In order to play at this club you have to be truly dedicated to this sport because it is very rigorous training and extremely time consuming. We travel out of state for usually five or more tournaments.
The main thing at this club is that academics come before volleyball. With it being so time consuming, you are forced to get all of your school work done within the allotted time before practice, tournaments, and events. Through this program, it has helped me keep my priorities straight. With God and family as my first priority, it puts academics next, and then volleyball. Through the years I have become very responsible as being a certified lifeguard at pools in my area. I am entrusted with the privilege to save people's lives in case of a drowning which is why I take my job so seriously. In conclusion, I have been to ISU many times and I really believe that this school is the best fit for me. I hope to attend ISU in the fall of 2013, and I cannot wait to schedule my official visit and tour!