Persuasive Speech Essay Sample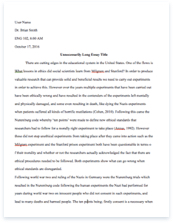 The whole doc is available only for registered users
OPEN DOC
Download Essay
A limited time offer!
Get a custom sample essay written according to your requirements urgent 3h delivery guaranteed
Order Now
Persuasive Speech Essay Sample
Wednesday May 1, 2013
"Persuasive Speech"
Topic: Dangerous of texting while driving
Play YouTube video. Never Text While Driving (Bloody) – Government Video As we have seen, not only does texting or using your phone while driving impair your ability to drive, but it is also dangerous for you and the people around you. Purpose: With this speech, my specific purpose is to persuade my audience not to drive and text at the same time. After I finished this speech, you all must have some knowledge of why driving and texting is dangerous or could be disastrous.
Thesis: Using a cell phone while driving is dangerous to yourself and others on the road and is one of the top reasons for car accidents. Introduction: Now many of us hear these types of news every day or every month, but the problem is most of us think that something like this could never happen to us. Maybe we think we are a really great driver or a really great texter and that allows us to do both driving and texting or playing on your phone at the same time. Well sorry to break it to all of you, but it is just not possible.
As we all know, cell phones are became the most important gadget for us to carry all the time. Or we all are so addicted to use it at least once every day. Not only do they keep us in contact with each other, but they also serve as a form of entertainment. We see majority of people using their cell phones, whether they are at work, at home or even while they drive. Today, I would like to persuade all of you to stop using your cell phones while performing the important task of driving. Not only will it save your life, but also the lives of others around you. In 2011, 3,331 people were killed in crashes involving a distracted driver, compared to 3,267 in 2010. An additional, 387,000 people were injured in motor vehicle crashes involving a distracted driver, compared to 416, 000 injured in 2010. According to 2011 statistics, "at least 20% of auto collisions involved cell phones". Even though texting while driving is a big temptation especially for teens, 13% of drivers age 18-20 involved in car wrecks admitted to texting or talking
on their mobile devices at the same time of the crash. Body:
According to an article done by Larry Copeland on March 8, 2010 published in USA TODAY, there was a teenage girl by the name of Mariah West who, like many of us, was an extremely devoted texter. 1. She was so good that she could text at dinnertime under the table, without anyone noticing. All of her friends had seen her texting and driving, they tried to warn her that it was dangerous. She just did not seem to think so. Yet her luck ran out. 2. The day before graduation, she was headed to a Minor League Baseball game texting one of the players she was going to see, she lost control of her car. Mariah passed away that day; the last text she received was "Where U at?"
Transition: If the commercials and stories of lost loved ones are not enough to convince us to stop texting and driving, maybe some scientific research or facts will help. Fact # 1: Texting while driving increases the risk of accident 23.2 times over unimpaired driving.
Fact # 2: Without any doubt, driving using a cell phone reduces the amount of brain activity associated with driving by 37%. Fact # 3: Sending or reading a text message takes on average of about 4.6 seconds. Taking your eyes off the road for 4.6 seconds is similar to driving the length of a football field blind at 55 mph. Fact # 4: Texting and driving is a manual, visual, and cognitive distraction. The drivers steering capability decreases by 91% when texting while driving. Transition: It had appeared that technology might have solved a problem of its own creation when voice-activated texting came along so that drivers could keep their eyes on the road. But this is not true in case of safety. It's every bit as dangerous to speak into a mobile device that translates words into a text message as it is to type one. According to Christine Yager, who did the research for the Texas Transportation Institute at Texas A&M University, "It didn't really matter which texting method you were using, your reaction times were twice as slow and your eyes were on the road much less often," Although advancement in technology is good for us but only if we use it in a proper and safe manner. In a survey released this year. Foundation for Traffic Safety that they had recently read text messages or e-mail while driving, and 26 percent said they had sent a text message. Think about it, is a text message really so important that it has to be done right away? I am sure that you can wait until you reach your destination to use your phone, or if you have a passenger with you, then they can text for you. Conclusion:
In conclusion, I would say thatCell phones have gradually become an integral part of our live. Even though most of us do not admit it, at one time or another, most of us have glanced at a text or replied to it while driving. Even though some of us do it anyway, texting while driving is a death accident just waiting to happen, especially for teens and young adults. Regardless of your state's regulations on the issue, texting while driving just is not safe. So take these facts to heart, turn down the volume on your cell phone when you hit the road, and resist the urge to text while driving.