Physical and Chemical Analysis of Urine Essay Sample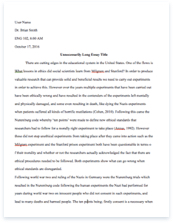 The whole doc is available only for registered users
OPEN DOC
Download Essay
A limited time offer!
Get a custom sample essay written according to your requirements urgent 3h delivery guaranteed
Order Now
Physical and Chemical Analysis of Urine Essay Sample
A. What is the normal pH range of urine?
The normal values range from pH 4.6 to pH 8.0.
B. What substances in the urine might indicate that a person has diabetes?
High glucose (sugar) level will be present in the urine. When high glucose is present in the urinalysis test the person has diabetes. Extended lab testing is required to determine whether the results are accurate.
C. What factors might affect the color, odor and pH of a urine sample? Factors that might affect the color, odor and pH of a urine sample include diet, medicines and certain diseases. Other factors might be kidney stones and fluid balance.
D. What are the three physiological processes involved in urine production? The 3 physiological steps are glomerular filtration, selective re-absorption, and tubular secretion. The glomerular filtration occurs in the glomerulus under hydrostatic pressure and is a passive form of filtration. It removes all the high molecular weight materials. Selective re-absorption occurs in the Loop of Henle. It is an active process in which ions and other essential materials are reabsorbed. Tubular secretion occurs in the collecting tubule and it involves secretion of water into the urine. At this stage, dilution of the urine occurs. Sodium ions are reabsorbed.
E. What would a high level of protein in the urine indicate? Excessive protein in the urine, also known as proteinuria is the effects of hypertension and diabetes. Damage to the kidneys can cause proteinuria and other types of kidney disease.