Pi Kappa Phi Essay Sample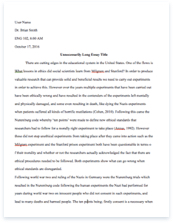 The whole doc is available only for registered users
OPEN DOC
Pages:
Word count: 597
Category: charity
Get Full Essay
Get access to this section to get all help you need with your essay and educational issues.
Get Access
Pi Kappa Phi Essay Sample
The article can be considered an informative piece due to its contents. It discusses the charity work of the members of Pi Kappa Phi by going cross country bike riding to raise funds for Push America. The organization is involved in improving the lifestyle of people with disabilities (Push America).
            Because almost everybody knows another person with a disability (Northwestern State University, 2007), it is important that they are recognized and be heard. The fraternity shows a good example to other fraternities with this act. It also shows that people, not only students and fraternity members, should participate in not only this charity, but also to all kinds of charities.
            Although the act can be done only for "popularity," the fraternity members are adamant to say that they are not doing this just for the sake of doing it but they are getting involved because they see the importance of the issue and they believe that they can help. It can be stated that cross country bike riding is fun but the fun does not stop there. Knowing that the sport can lead to something good is enough for those who are involved in the cross country bike riding.
            The article is clear in its purpose, which is to inform readers about the mission of Pi Kappa Phi and the objective of the fund raising event. It supports its ideas by interviewing fraternity members who are involved in the cross country bike riding. Because Push America is a stable organization with a clear purpose, it can be considered that the event is something that is worth while and, thus, should be supported.
            No problems were seen with regard to the article. It is strongly positive in the sense that it promotes goodwill and awareness about people with disabilities. Aside from this, it also demonstrates voluntarism of the students and fraternity members giving them the experience and knowledge at an early stage of their lives regarding the importance of community work and charity.
            It is a significant thing to recognize the needs of people with disabilities. Many people are not aware of them, which results to misunderstandings and mishandling of situations. The cross country bicycle riding does not only provide opportunity to raise money for these people but it also gives people the chance to know more about the situation and realize that it should not be ignored.
            People are caught up with their own worlds nowadays, which makes them ignorant about certain important things including caring for others aside for themselves. Voluntarism makes people human. It makes them humble. Most importantly, it makes them reach out to people and realize that the world is not all about them. There are many people in the world with disabilities and illnesses who need help. Although it is not that big of a deal to those who volunteer, these kinds of acts mean so much to those who are touched by it. It shows that they are given importance and value and that they are not worthless.
            Helping should not be complicated. It only takes a short amount of the person's time and the reward it brings is definitely priceless. No one can replace the moments and times that are devoted to helping others.
Work Cited
"Members of Pi Kappa Phi Involved in Cross Country Bicycle Ride for Charity." 1 June 2007. Northwestern State University. 18 March 2008    <http://www.nsula.edu/news/pushamer01.html>
"Who We Are." Push America. 18 March 2008 <http://www.pushamerica.org/whoweare/>