Plagiarism: High School and Pounding Pressures Coalesce Essay Sample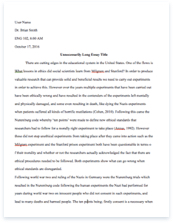 The whole doc is available only for registered users
OPEN DOC
Download Essay
A limited time offer!
Get a custom sample essay written according to your requirements urgent 3h delivery guaranteed
Order Now
Plagiarism: High School and Pounding Pressures Coalesce Essay Sample
In Russell Smith's insightful piece "A Plague of Plagiarists in a Cut and Paste World" he explores the possibilities of both opinions that could be perceived with the topic of the increasingly pressing issue of plagiarism arising within today's culture. Whilst understanding the reasoning, justified by the advancing technology flooding society, Smith feels that the process of filtering students' essay's through turnitin.com or others is necessary in order to preserve originality and honest education.
Congruent to Smith's perspective, I also understand both sides of the argument. As a high school student myself I can relate to the pressures of taking on high school courses, as well as the importance of applying to Universities. The fusion of overwhelming stress and pounding pressures coalesce to result with students resorting to quick and simple solutions. The advancement of technology certainly is a contributing factor, otherwise essentially stealing others' ideas would not in fact be a quick and simple solution. The competition with getting accepted to a Univeristy is increasingly difficult, and with pressure from family, friends, or society in general, to achieve a good education on top of the crucial decision of what we want to do with the rest of our lives could be enough to compel someone to go to extremeties such as plagiarising.
On the other hand, I've walked a mile in both shoes. The ones that do put in the time and effort to earn an education and a credit should not be penalized or beat out of University slots by those who make a few right clicks on a computer. "Many more students perceive their degrees as a professional qualification, a service for which they have paid, which will guarentee them a better job. Good marks then become more important than learning" Smith concludes. However, in fact it is not the grades given that become the most essential, it is the skills and intelligence that are required to be a valuable attribute that Universities are searching for. It is corrupt that the wrong kind of people are being accepted over honest applicants.
When I was in grade five, determined yet hesitant, I wrote my name on the list for the Public Speaking Competition. Through many frustrated nights and focused days I concluded with what I thought to be my best work. I was beaming with pride of my speech on hypnotism. The long anticipated day of the competition came much too soon, despite the boundless times my Dad and I spent reviewing, analyzing, and tweaking. I sat beside the other contestants, tugging uneasily on the dress my mom had picked out for me. With the last name Youell, I was undoubtedly going to be last to the podium. The girl beside me stood from her chair gracefully, confidence emitting from her eyes. Her voice clear and and loud, she fluently began her speech on hypnotism. Immediately, I was flabbergasted. I had been naïve when she had interrogated me on my topic, notes and resources weeks before. I was only a young, too trusting grade five. Considering I was after her in the competition, some assumed it was I who plagiarized the idea off her.
In conclusion, I concur with Russell Smith's thesis. It is necessary for students to submit their work to turnitin.com to ensure justice among Universities. Genuine education must be earned for success, not purchased.