Plaintiffs and Appellants Essay Sample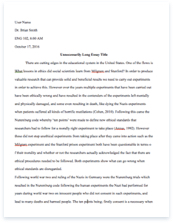 The whole doc is available only for registered users
OPEN DOC
Pages:
Word count: 323
Category: law
Get Full Essay
Get access to this section to get all help you need with your essay and educational issues.
Get Access
Plaintiffs and Appellants Essay Sample
A. Board of Accountancy has a purpose to protect consumers by disciplining certified public accountant that are not meeting the board's standards. B. The individual appellants were CPAs and partners of KPMG, which is an international accounting firm. C. The administrative law judge made the decision on the issue of prehearing costs. *
D. The accounting firm was required to reimburse $1.8 million of the board's investigative costs. E. The costs constituted nearly 17 percent of the board's 2002-2003 total expenditures. F. The appellants argued this substantial award created an impermissible financial interest on the board's part in the outcome of this case. *
Issue:
Did award created an impermissible pecuniary interest on the board's part in the outcome of this case?
Rule:
Cal. Bus. & Prof. Code ß 5107(a) provides that the board may request the administrative law judge to pay the Board all reasonable costs of investigation and prosecution of the case by disciplined licensed professionals.
Analysis:
The Appeal court held that:
A. Appellants were disciplined because they failed to comply with professional standards. B. The costs were not fine; they were prehearing
costs, which the board had already spent on investigating the case. C. The administrative law judge who made a decision on the costs did not have a financial interest in the decision. D. The Board was deprived of the power to review of the administrative law judge's ruling on investigative costs to increase the cost award. The only power the Board has is to ratify the award that the ALJ has made. E. The imposition of prehearing costs did not violate due process and did not invalidate the Board's decision.
Conclusion:
The CA Appellate Court held that the CA State Board of Accountancy had no pecuniary interest in * the outcome of the trial of McBride et al., v. California State Board of Accountancy and it insulate it from any such conflict with respect to recovery of investigative costs.