Plato's Euthyphro Essay Sample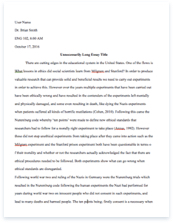 The whole doc is available only for registered users
OPEN DOC
Download Essay
A limited time offer!
Get a custom sample essay written according to your requirements urgent 3h delivery guaranteed
Order Now
Plato's Euthyphro Essay Sample
In the Euthyphro, Socrates and Euthyphro discuss the concept of piety/holiness. This essay will not only test my ability to recognize and engage philosophical concepts and analysis, but also brings me into the dialogue as a participant, asking me to create my own definition of holiness. I explain how the concept of holiness emerges in the dialogue and why it takes a prominent position in the conversation between Socrates and Euthyphro. I present the three definitions that Euthyphro uses in his response to Socrates, and then present Socrates's refutation of each of Euthyphro's definitions. I develop my own argument as to what I think Socrates's goal is in this dialogue. How do I know that is his goal? What features of the dialogue align with my interpretation of his goal? I provide my own definition of piety/holiness and then create a Socratic response/critique of your definition. After I present my definition, take on the role of Socrates and respond to my own definition as I think he would.
Plato's Euthyphro is the dialogue of Socrates and Euthyphro. Socrates requests that Euthyphro teaches him the meaning of piety, when Socrates finds out that Euthyphro is persecuting his father for being impious. Euthyphro offers four definitions for what piety is, all of which are analyzed by Socrates, and then turned down by him in turn. The pious is to prosecute the wrongdoer and to not persecute is impious. This is the first definition that Euthyphro offers to Socrates as a definition of piety. Although Socrates says this is a definition of what piety is, he says that it is inadequate because it only states one instance of piety. Socrates states that he did not want Euthyphro to tell him one or two of the many pious actions but the form itself that makes all pious actions pious. With the statement, all impious actions are impious and all pious actions pious proves that this is not a valid definition and deemed unworthy as sufficient for a definition.
The second of Euthyphro's definitions is, what is dear to the gods is pious, what is not is impious. Socrates says that an action or a man dear to the gods is pious, but an action or a man hated by the gods is impious. But since the gods are in a state of discord, and are at odds with each other and therefore have different views on what things are pious and what things are impious. He therefore proves that if an action or a man dear to the gods is pious, but an action or a man hated by the gods is impious then the same things then are loved by the gods and hated by the gods, and would both be god-loved and god-hated, which would make the same things both pious and impious at the same time.
In proving Euthyphro's second definition, he offers up a third. The pious is what all the gods love, and the opposite, what all the gods hate, is the impious. This is the third definition offered by Euthyphro. Although that this definition is closely related to the last definition Socrates gives the point in which is to understand whether the pious or holy is beloved by the gods because it is holy, or holy because it is beloved of the gods. The refutation is the loving of something because it is holy, doesn't explain/define what holiness is, only that "whatever it is" is loved. And being holy because something is loved by all gods, still doesn't tell you what that "something" is. Thus Socrates says: Thus you appear to me, Euthyphro, when I ask you 'what is the essence of holiness, to offer an attribute only, and not the essence — the attribute of being loved by all the gods. But you still refuse to explain to me the nature [a.k.a. essence or definition] of holiness".
At this point Euthyphro is lost and they agree to not "quarrel" about "what is "dear/loved" by the gods or not". Socrates try to have Euthyphro explain to him the relationship of piety to justice. I don't think one needs an argument. Socrates wants to learn an adequate definition of piety and impiety from Euthyphro to employ in his own trial by Meletus and friends to argue whether he conforms to that definition of either "piety" or of "impiety", since impiety is the charge against him. Your definition of piety would be yours and not mine, while I am like Socrates in that I do not know what piety is, while still being fairly certain of being guilty of many impious acts myself. Although going with dictionary definition gives me a little insight but still puzzle me.
Reference
http://www.gutenberg.org/ebooks/1642
Mosser, K. (2010). A concise introduction to philosophy. San Diego, CA: Bridgepoint Education, Inc.