Pointers for Why Books Are Important Essay Sample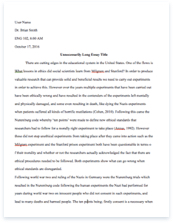 The whole doc is available only for registered users
OPEN DOC
Pages:
Word count: 819
Category: books
Download Essay
A limited time offer!
Get a custom sample essay written according to your requirements urgent 3h delivery guaranteed
Order Now
Pointers for Why Books Are Important Essay Sample
1. The more books children read, the faster their vocabulary is expanded. Books help them to learn new words and new ways of using the words that they already know. This accelerates preschool child development, and also improves their soft skills in the long run. 2. Reading books to children at bedtime is a wonderful bonding experience that nourishes emotional development. Parents can also help the child relate the incidents in the story to real events in their lives. 3. Encouraging a love of books in toddlers is a great way to prepare them for the school environment and to adapt to the concept of daily schoolwork. 4. Reading books regularly stimulates children's imagination, accelerates their emotional development and fosters natural curiosity. Children quickly learn to visualize the scenarios mentioned in the stories by reading the text alone. This type of development works even better if a parent assists in the process. According to a recent research conducted by author Jim Trelease, regular reading of books "creates empathy toward other people, because literature values humanity and celebrates human spirit and potential, offering insight into different lifestyles while recognizing universality".
5. As children read different books, their knowledge on various subjects increases multifold. In addition, everything that they learn at this age stays in their mind for a long time to come. This can help them become better students in school. 6. Reading books improves a child's attention span. Books with colorful pictures work even better than text-only books. 7. Reading can successfully replace TV as a source of entertainment, especially if the child is introduced to preschool books as soon as he/she learns the alphabet. Reading helps children utilize their time in a more constructive manner. 8. Children who learn to read at an early age have a better chance of getting a job later in life. They also perform much better than those who grew up watching TV and playing games on computers.
In a recent speech, renowned author/illustrator Rosemary Wells pointed out that, "a young child's growing mind needs active play and live conversation. Television puts a child into what neurologists call the passive Alpha state. A child cannot learn from screens because programs are meant to sell products not to teach". 9. A parent reading to his/her toddler often becomes a role model in the child's mind. In this way, the child learns to be more obedient towards parents. 10. Developing the habit of reading regularly from an early age helps the child to cope better with the rigors of academic education later on. Allowing your child to watch a few pre-school shows on TV isn't a bad thing to do. However, reading books is a very important activity that no child should be deprived of during the early years of his/her life. Read a book to your child today. It will go a long way in forging a lifelong bond between you and your toddler.
When there were no televisions, or computers what was the primary leisure activity? Of course, it was reading! People would spend lot of time reading books and travels to lands far away- in their minds. But now most of us we have lost the skill and passion to read. Aside from books, today we have many other exciting and thrilling options available such as computer games, play station games. Friends, this is a shame, because reading offers a productive approach to improve vocabulary and word power.
Reading is really like taking a flight to high altitudes in search of information and knowledge. It is a journey in search of enlightenment.
To me, the best hobby in the world is reading books, it can be about the ancient history, or the modern world, or it can be about disasters, or magic. A good book is more than a companion. When we are alone, it derives out our loneliness; when we need advice, it gives us; when our heart is heavy, it removes weight, wipes out our tears and makes us smile.
Reading is like providing the mind with nourishment. Knowledge is the food for the mind and soul. Apart from giving us the basic information about the world around us, it also provides us with the food for thought. It encourages us to think. It increases our hunger for knowledge and our thirst to learn more.
Moreover, researches have proven that children who read have higher IQs then others. They are more creative and do better in schools. Children who start reading an early age are observed to have good language skills, do better in all the subjects. It is a treat that enhances the knowledge acquired, consistently. The habit of reading also helps readers to decipher new words and phrases that they come across in everyday conversation. Reading also helps in mental development and is known to stimulate the muscles of the eyes.