Polar Representation of the Portland Plant Scenario Essay Sample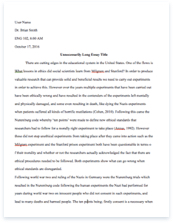 The whole doc is available only for registered users
OPEN DOC
Download Essay
A limited time offer!
Get a custom sample essay written according to your requirements urgent 3h delivery guaranteed
Order Now
Polar Representation of the Portland Plant Scenario Essay Sample
The purpose of this work is to explore the performance objectives of the Portland Plant. They have been losing money for years and they are unable to identify the reason. Without internal changes they will be unable to acquire new production contracts and they may be forced to close the business. Portland is unaware that their company values are leading them to extinction.
Analysis
The five performance objectives (in no specific order) are quality, speed, dependability, flexibility, and cost (Slack, Brandon-Jones, and Johnston, 2013. p. 46). Under current operations, I believe the Portland Plant ranks their objectives in the following order: (1) cost, (2) speed, (3) quality, (4) dependability, (5) flexibility. Portland's emphasis on cost became evident in May 1998 when they discovered they had produced a large quantity of product that did not meet quality specifications. "…we had to throw away 64 jumbo rolls of out-of-specification product. That's over $100,000 of product scrapped in one run" ("Turnaround at the Portland Plant," 2007). The main concern in this statement is the monetary value of the loss, not the cause and/or correction of the malfunction or why so much product was created before production was stopped. Because each of the performance objectives has an effect on cost, "… one important way to improve cost performance is to improve the performance of the other operations objectives" (Slack et al., 2013, p.58). If Portland chooses to emphasis quality over cost, operational costs would be expected to decline.
Under Portland's current SOPs, the discovery of non-compliant product only occurs in the finished product phase of production, which reflects Portland's value on speed. The Portland Plant will continue to produce non-compliant product until a time when a deficiency in the finished product is discovered. We can therefore assume that quality is not monitored during the production phase. According to Slack et al. (2013) " … [when] quality levels or times are significantly different from those planned, then some kind of intervention is almost certainly likely to be required" (p. 511). An emphasis on flexibility over speed that values quality control and empowers employees to stop production when anomolies are discovered will ultimately improve Portland's production times.
Conclusion
The Portland Plant needs to re-order their objectives (from most to least important) as follows: (1) Quality, (2) Flexibility, (3) Dependability, (4) Cost, (5) Speed. (See Polar Representation of Performance Objectives in Appendix A.) This change will emphasize a superior finished product and the ability of the plant to adapt to market changes. Improvements in quality will influence their consumers' decision to return, reduce costs due to mistakes at each process of production, and improve the dependability of operations (Slack et al., 2013, pp. 46-47). Flexibility will assure that Portland is able to adapt to market changes and assure their ability to customize operations to match products that their buyers are developing. According to Slack et al. (2013), flexibility within an operation increases speed, saves time, and maintains dependability of operation schedules (p. 54). Although speed and cost are important to all businesses, quality and flexibility will keep a business alive.
References
Slack, N., Brandon-Jones, A., and Johnston, R. (2013). Operations management. Turnaround at the Portland Plant [Course handout]. (2007). Retrieved from https://brandman.blackboard.com/bbcswebdav/pid-6328556-dt-content-rid6922264_2/xid-6922264_2