Police Influence on Society Essay Sample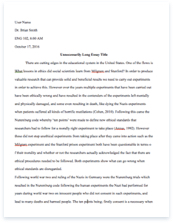 The whole doc is available only for registered users
OPEN DOC
Pages:
Word count: 1415
Category: crime
Download Essay
A limited time offer!
Get a custom sample essay written according to your requirements urgent 3h delivery guaranteed
Order Now
Police Influence on Society Essay Sample
Police influence on society should be a positive influence because law enforcement has been put in place to protect and to serve while maintaining order within the community. The way of policing went from all white males to black and white men to females and minorities. This paper will not only entail how historical policing relates to the present but how the current relationship between officers and the community are affected mainly within the African American community or urban neighborhoods while describing the history of the three different policing eras. The United States patterned its policing practices from that of Sir Robert Peel and the Metropolitan Police by protecting its citizens for the good of all. Sir Robert Peel had Nine Principles of Policing which have transferred to the United States and practiced throughout the nations that practice modern policing. The Nine Principles:
1. The basic mission for which the police exist is to prevent crime and disorder. 2. The ability of the police to perform on their duties is dependent upon public approval of police actions by securing and maintaining public respect. 3. Police must secure the willing cooperation of the public in voluntary observance of the law to be able to secure and maintain the respect of the public. 4. The degree of cooperation of the public that can be secured diminishes proportionally to the necessity of the use of physical force. 5. Police seek and preserve public favor not by catering to public opinion but by constantly demonstrating absolute impartial service to the law. 6. Police use physical force t the extent necessary to secure observance of the law or to restore order only when the exercise of persuasion, advice, and warning is found to be insufficient.
7. Police at times should maintain a relationship with the public that gives reality to the historical tradition that the police are the public and the public are the police: the police being only members of the public who are paid to give full time attention to the duties which are incumbent on every citizen in the interests of community welfare and existence. 8. Police should always direct their actions strictly towards their functions and never appear to usurp the powers of the judiciary by avenging individuals or the state of authoritatively judging guilt or punishing the guilty. 9. The test of police efficiency is the absence of crime and disorder, not the visible evidence of police action in dealing with them. These nine principles go hand in hand with the three eras of policing: Political Era, Reform Era, and Community Problem-Solving Era. Political Era and Community Problem Solving Era are closely related because they were tied closely or formed a tight knit bond with the community.
The Political Era was from 1840-1930 and provided services such as soup kitchens, shelters for families and the homeless, or helped the unemployed find jobs. Being in close proximity of one another and everyone knowing each other brought about criminal activity. These acts of crimes brought intimidation and fear, with the police free to harass citizens because of political connections. Because of the political connections, no one was held accountable for their actions which made law enforcement untouchable. Officers weren't required to have certain standards or requirements to perform their duties; it was all about who you knew. The only training received was on the job training and through a veteran or seasoned officer and to move up the ladder was not based on job performance but through political connections or aspirations.
From 1930-1980 was the Reform Era which separated law enforcement from politics creating an enormous change within the law enforcement agency, its inner workings, and its interactions between the police and the community. Modernized capabilities such as patrol cars, radios, walkie talkies, and the telephone system became a new means of communication between the officers and the citizens. The Reform Era placed an emphasis on the reformation of how the government worked to regulate society and improving the everyday dealings and communication with the community. By these major upgrades, a sense of order was established between law enforcement and the community, mainly by recreating the police departments and separating them from politics. The Reform Era also instilled a set of standards that law enforcement were to abide by as well as receiving an education along with certified qualifications and competency training. A chain of command was set in place to oversee the hiring and firing of officers and handle disciplinary review. Officers were finally able to focus more on criminal activity which created specialized units such as SWAT and DEA. Officers also became more involved in the neighborhood handling domestic disputes and runaways. These amendments helped reduce corruption and balance law enforcement with the aid of Sir Robert Peel's Nine Principles of Policing.
Policing from 1930-present is known as Community Problem Solving Era. This era allowed officers to make crucial decisions concerning day to day activity within the community dealing with criminal activity. Efforts to restore communication and trust within the community have been attempted. The officer within the community placed emphasis on problem solving while performing a variety of tasks with the help of modern technology such as: emails, fax machines, hidden cameras, cell phones, and police callboxes. This mean of communication allowed law enforcement to communicate effectively while paying close attention to the community while "aiding" in a quality of life for the citizens.
With each era came an increase in crime, particularly in impoverished neighborhoods or the inner city due to an influx of drugs, no jobs, little or no education. With the increase of drugs on the streets came violence centralized around the African American communities deteriorating their way of life. With this rise in violence came police brutality creating a breakdown between Officer Friendly and the community where no one will speak openly with the police anymore coining the no snitching rule. Hostile confrontations have become the norm which increased complaints of police brutality. Because of social media, police brutality and untimely deaths of African American men throughout various states have become the norm. Yes African American men have lost their lives unnecessarily to the hands of officers trained to protect and serve but was not talked about or publicized until Chavis Carter from Jonesboro, Arkansas and Trayvon Martin from Miami, Florida.
Mainly since Trayvon's murder have all these killings been made known. Freddie Gray of Baltimore, Maryland to be the latest, before Mr. Gray there was Walter Scott of Charleston, South Carolina. The deaths of these men caused by overzealous cops who think they are above the law and an undeniable fear of minorities. In Trayvon's case a vigilante gone wild. There is a breakdown of communication and trust between law enforcement and the African American community across the country. Time seems to keep repeating itself from slavery, to the Civil Rights Movement to now. If these officers were to receive stiffer penalties and harsher punishment maybe there would be a decrease in the unnecessary deaths of these black men. Stop racial profiling, continue complaints of police brutality and official misconduct and finding alternative approaches to law enforcement and their way of interacting with the community will greatly reduce these men losing their lives. These officers have to interact with people of color as well to be able to understand them.
If these officers are coming from well to do lives and neighborhoods there is no way for them to understand the plight of an impoverished area. There mentality will be get a job and you won't have to rob, steal, or kill. The most someone knows of a different race will be what is publicized in the news if they have never dealt with anyone outside their social circle. Being ordered to take a sensitivity class appears to be a band aid for most officers and there seems to be no explanation as to why African Americans lose their lives at the hands of who is put in place and trained to protect us. Before releasing these officers into the community, allow them to socialize or interact with non whites and maybe understand what goes on in various cultures. May be they will get an understanding of what they go through on a day to day basis. In order to be an effective officer one should keep in mind the Nine Principles of Policing to have an effective relationship with the community.