Poor communication skills Essay Sample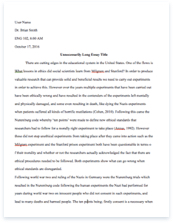 The whole doc is available only for registered users
OPEN DOC
Download Essay
Get Full Essay
Get access to this section to get all the help you need with your essay and educational goals.
Get Access
Poor communication skills Essay Sample
1 A). Challenges Facing Critical Thinking in the Contemporary Society. Critical thinking can simply be defined as the disciplined process of actively evaluation, analysing, conceptualising, application and synthesizing of information. This information may have been attained through observation, reasoning, and experience. There are challenges and conditions in life that can stand in the way of clear, coherent and cogent reasoning. The following are some of the challenges facing critical thinking in the contemporary society.
Egocentrism- This is having little or no regard for interests, beliefs, or attitudes other than one\'s own. It also means being self-centred, self-obsessed or self-absorbed. Fear of change or an unwillingness to change- Many people or individuals have that phobia for change and prefer to remain in their comfort zones. Socio centrism or ethnocentrism (group/society/cultural-centered thinking) – This is the tendency to look at the world primarily from the perspective of one\'s own social group or society. Lack of relevant background information or ignorance- This can lead to making un-informed and bad decisions. Poor communication skills- Lack of proper communications can be a significant hindrance to critical thinking.
Prejudice- This is simply an irrational, an unfair and unreasonable opinion or feeling formed without enough thought or knowledge.
Excessive anger, hate, or bitterness- Having excessive anger, hate, or bitterness can be a major challenge as far as critical thinking is concerned. Angry feelings easily cloud thinking and cause a person to lose perspective, even self-control.
1 B). Ways through Which Critical Thinking Can Solve Contemporary Social Problems
Good Leadership.
Critical thinking skills if well practiced can assist leaders in our societies to comprehend various situations in our contemporary society in a better manner. This, in turn, helps the leaders make impartial judgments and informed decisions. Critical thinking enables one to look at situations keenly and weigh all probable solutions before coming up with the ultimate decision.
Various Approaches to Problem Solving.
Critical thinking skills presents different approaches to the myriads of problems facing our modern societies. Through critical thinking, instead of relying on regular problem-solving techniques, community members will be able to identify other valuable approaches.
Resolution of Society Conflicts
Whenever there is a conflict in a society, critical thinking can help you make a decision that is fair, unbiased and impartial to those involved, thus benefiting the whole society. This will eventually make the society members to coexist peacefully. Improvement of Teamwork and Cooperation. The critical thinking process involves a majority of the community members in a society. This therefore fosters teamwork and cooperation between the members in a society as people of diverse backgrounds work together for a greater good.
Fosters Creativity.
Critical Thinking promotes creativity as it enables one to always think outside the box. New ideas are being generated which are useful and relevant to the task at hand. Aid us in being more analytical in solving problems.
Understand the arguments and beliefs of others.
Critical thinking enables one to understand the arguments and beliefs of others thereby promoting an informed and concerned citizenry capable of making good decisions on important social, political and economic issues
REFERENCES
1. G Bassham, W Irwin, H Nardone, J M Wallace, Critical Thinking: A Student\'s Introduction , McGraw-Hill International Edition, 2007