Positive Psychology and Gratitude Essay Sample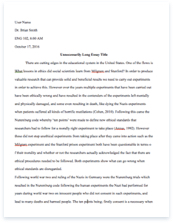 The whole doc is available only for registered users
OPEN DOC
Download Essay
Get Full Essay
Get access to this section to get all the help you need with your essay and educational goals.
Get Access
Positive Psychology and Gratitude Essay Sample
Gratitude, thankfulness, gratefulness, or appreciation is a feeling, from the heart or attitude in acknowledgment of a benefit that one has received or will receive. The experience of gratitude has historically been a focus of several world religions, and has been considered extensively by moral philosophers such as Adam Smith. The systematic study of gratitude within psychology only began around the year 2000, possibly because psychology has traditionally been focused more on understanding distress rather than understanding positive emotions. However, with the advent of the positive psychology movement, gratitude has become a mainstream focus of psychological research. The study of gratitude within psychology has focused on the understanding of the short term experience of the emotion of gratitude (state gratitude), individual differences in how frequently people feel gratitude (trait gratitude), and the relationship between these two aspects.
Much of the recent work psychological research into gratitude has focused on the nature of individual difference in gratitude, and the consequences of being a more or less grateful person. Three scales have been developed to measure individual differences in gratitude, each of which assesses somewhat different conceptions. The GQ6 measures individual differences in how frequently and intensely people feel gratitude. The Appreciation Scale measures 8 different aspects of gratitude: appreciation of people, possessions, the present moment, rituals, feeling of awe, social comparisons, existential concerns, and behaviour which expresses gratitude. The GRAT assesses gratitude towards other people, gratitude towards the world in general, and a lack of resentment for what you do not have.
A recent study showed that each of these scales are actually all measuring the same way of approaching life; this suggests that individual differences in gratitude include all of these components. According to Cicero, "Gratitude is not only the greatest of the virtues but the parent of all others." Multiple studies have shown the correlation between gratitude and increased wellbeing not only for the individual but for all people involved. The positive psychology movement has embraced these studies and in an effort to increase overall wellbeing, has begun to make an effort to incorporate exercises to increase gratitude into the movement. Although in the past gratitude has been neglected by psychology, in recent years much progress has been made in studying gratitude and its positive effects.