Priests Or Pedophiles Essay Sample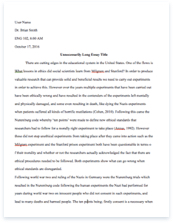 The whole doc is available only for registered users
OPEN DOC
Download Essay
A limited time offer!
Get a custom sample essay written according to your requirements urgent 3h delivery guaranteed
Order Now
Priests Or Pedophiles Essay Sample
 O' Grady a priest serving a number of parishes in Southern California in the 1970 to 80's was a habitual child molester. Instead of his superiors reacting to this issue by handing him over to the authorities they just shifted him from one congregation to the other. Doing so made more and more children entrusted to his care suffer. The Catholic Church seems to be losing focus by protecting those in the higher positions in the hierarchical ladder at the expense of the worshippers. O'Grady explained his misdeeds as a sexual molester in details when justice finally prevailed and he was sentenced. However after his jail term the catholic clergy still looks after him.
(http://chicago.metromix.com/movies/review/movie-review-deliver-us/162396/content)
            Today catholic Christians have been socialized to believe that what the church leaders do or say should not be questioned as they are always right. Evil and devastation of child abuse that is done by priests has been covered up for years. This precipitates the vice to be committed on children
            Oliver O' Grady after the 7 years imprisonment lives a comfortable life and the church gives him pension as though he was a very committed man in building the society.
            Scores of children both boys and girls and women were assaulted during Oliver's 30 years of service to priesthood in California. Victims of the heinous act serve a life time imprisonment as they are held captive by the trauma or psychological hick up caused by the sexual abuse. Parents blame themselves for trusting the priest so much to care for their daughters. People have lost their faith in God and the church. They blame themselves of not being close enough with their children to let them report such incidences. Marriage is hard for some victims and they do not have children despite having been of age. This could be attributed to the fact that they were sexually abused by the priest. The scars left seem permanent and getting on with life becomes hard.
            John and James Howard are two young boys who were molested sexually by the priest for more than 10 years. They were abused in their homes, at the parochial schools and in his office .The boys are now 27 and 30 years old. Other victims include Nancy Sloan and Ann Marie Jyono.  Ann's parents were very close with the priest and they even paid his bail when he was arrested. Little did they know that the priest harmed their daughter. This realization devastated then and on inquiring why Ann could not tell them before she told them she was very scared as the dad always promised to kill anyone who attempted to hurt her. She was molested from the age of 5-12 years. A nine months old infant was among the victims of O'Grady. The victims live with trauma throughout their life.
Sexual abuse of children dates back the 5th century when celibacy was introduced so that priest's assets could be controlled. All over the world priests have been entrusted to care for young children as they are considered the shepherds of the flock. However they abuse this trust and take advantage of the children. (Matt, 2002)
            The catholic church believes that through confession all sins are cleansed maybe that is the consolation such priests have that the child abuse they commit is forgiven like other sins. Priesthood is considered to be above sin and should therefore not be questioned.
            This makes the church authorities to hide the crimes even when they are aware of it. Not bringing such issues to light precipitate increment of such incidences. Child molestation continues to increase. Secrecy ensures that those committing the heinous crimes are not brought to book. (http://www.csmonitor.com/2006/1013/p14s02-almo.html)
            The church should know better than being the root of all evil using power and money to manipulate and control people. Parent's responsibility of teaching their children the way of Christ by entrusting them to priest could yield disastrous results.
            The Catholic Church continues to survive above the law, arrogance of the tenets and the canons of the church portray it as Gods own or incarnate. Teaching children that priest are God's own and they are instruments between the faithfuls and God has in most cases been the reason behind them not reporting any incidence of sexual violence. Justice that is preached by the priests is not seen as the church continues to protect the priest as members of the congregation continue to live in problems.
            At times the victims could be blamed on the argument that they contribute to their fate. But the question raised is how a nine month old infant contribute to their sexual molestation? Again little children are too afraid and ashamed that reporting such incidences can be hard. Young children do not know their rights and they may stay quite without knowing that such acts do not solve the problem.
            Debates are however raised that the priests' acts could be attributed to celibacy. Since they are normal, not allowing them to marry precipitates sexual violence incidences. Abstinence should therefore be eliminated as measure to reduce child molestation.
            Religion is the basis of this problem instead of bringing sanity; it creates an institution of power which exists to dominate the masses. Lying to the law enforcement officers and parishioners to avoid liability and scrutiny is sign of lack of humanity on the side of the church. The church seems to be glad with the acts of disgrace. Doing absolutely nothing to help solve or change the situation despite knowing its existence shows that they delight in it. (Matt, 2002)
            Leaders, out of their own selfish interests try to cover for such crimes a good example is Bishop Mahoney whose aspiration of becoming a cardinal could have been ruined by a child abuse scandal. For that reason he remained mum and transferred the culprit from one parish to the other. Since the distance between the new parishes were not far he was able to continue molesting past victims as well as increasing the number. (http://chicago.metromix.com/movies/review/movie-review-deliver-us/162396/content)
            Sending children to catholic schools where priests teach exposes them to the 'deviant priests' who take advantage of them. The catholic faith opens closer relationship with the priest and this could further precipitate abuse to innocent young children. The close relationship ensures that children constantly visit the local parish priest and if such a priest is immoral the children are in danger. Children are abused even as they prepare for church festivals like the first communion. It is a great concern that after a graceful act of establishing orphanages to assist the needy in society priests and nuns can sexually abuse the orphans. (John, 1998).
            Priests use blackmail on innocent children to make then perform sexual acts on them. In most cases failure of exclusion of unsuitable candidates, reporting to authorities as well as failure to detach abusers from continued contact with abusers causes the vice to continue. The police also fail in undertaking serious or proper investigation. Laxity also sees the loss of vital files that can be used in investigation.
            Mere psychological treatment and assessment does not suffice in solving the child abuse saga in the catholic churches today. Permanent dismissal from priesthood and reporting to the police will see justice prevail in the society. Measures taken do not successfully rehabilitate the priests but on being released they resume their usual behavior. Using psychologists and psychiatrist results is to determine the capability of priest to resume their priesthood duties is not an effective measure.
            Catholic Church leaders behave like business men who handle priest issues with corruption and are responsible for displinary actions instead of the police. This is done to protect the public image and maintain their finances through increased number of worshippers. Bureaucracy in the church ensures that unless the church carries out its own investigation about said allegation of child sexual abuse then such information will remain secret. The law enforcement officials who are trained and qualified to perform that work are denied the chance. Waiting until the catholic leaders are through with their investigation makes more children susceptible to the vice. (Frank et al, 2000)
            Payment of money to the victims to ensure that they do not report to the authorities continues to empower pedophiles. After all just a pay off and the case is sealed. This happened in Dublin when the then bishop now a cardinal gave the priest money to pay off. The conclusion that can be deduced from such an act is that pedophilia is accepted and supported by the Catholic Church leaders.
            It is also argued that priests commit the vice because the seminary training does not offer them adequate preparation on how to handle celibacy for a lifetime. Including adequate training on how to handle celibacy and abstinence would help solve the problem. Celibacy could be the reason behind the psychosexual arrested development and maybe the church authorities understands this and tries to protect its own.
 Traditionally Catholics consider it evil to talk negative about the priests. This deems it hard to report sexual violence incidences. Again the priests take advantage of that and the vice continues to prevail. (Frank et al, 2000)
            Another argument that is put forward to explain why priests turn pedophiles is that some have a predisposition towards child molestation and hence choose the celibate way of life that exposes them to children. Some individuals are confused and join priesthood where they revert to their old ways. The Center for the Study of Religious issues shows that there is a link between mandatory celibacy and sexual abuse.
            Approximately 4% of priests in US are child molesters. Although charges have been raised against perpetration of child sexual abuse or pedophilia there hasn't been a single criminal charge against the church. (Jason Berry, 2000.)
 Protestants argue that catholic religion is not Christian as they do not get saved. They are trained to believe they are Jesus himself and hence beyond sin. They train their worshipper to view them as such thus making them gullible to pedophilia acts. Considering priests as the other 'Christ' makes unstable adults and children to be their easy victims. Again most of the priest are not called for a true calling but are out for a job, they do not believe in God and so do not care about their misdeeds.
            Alter boys form the highest numbers of sexually abused children this could be attributed to the fact that they have closer links with the priests. Parents should be cautious about their children. They should not blindly trust priests to care for their children both spiritually and in general welfare. (Jason Berry, 2000).
             The Catholic Church has established and revised the Charter for Protection of Children and Young people and it promises to create healthier relationships with its members by making it safer for children.
  Working together with scientific experts the Catholic Church can be able to establish potential harmful priests. This will be a step forward in reduction of pedophile cases that a rise with each passing day. Effective screening for homosexuality before entry to priesthood would reduce the incidences too.
Parents should be very careful when entrusting their children to priests. No one is secure. Most cases occur in seminaries, schools and orphanages where the clergy takes care of children. The Catholic Church has been using millions of dollars in setting such cases. It fails to act swiftly on complaints made thus worsening the situation. Amazingly most of the abused children are males an indication that perpetrators are homosexuals.
Reference:
Jason Berry. 2000. Lead Us Not into Temptation: Catholic Priests and the Sexual Abuse of Children. University of Illinois Press.
Frank Bruni and Elinor Burkett 2000 .A Gospel of Shame: Children, Sexual Abuse, and the Catholic Church. Perennial.
Matt Carroll. 2002 .Betrayal: The crisis in the Catholic Church. Little Brown.
Father Donald Cozzens.2000.The Changing Face of the Priesthood: A reflection on the priest's crisis of soul. Liturgical Press.
 Father Donald Cozzens.2000.Betraying Our Young 'deals with sexual abuse'. Liturgical Press.
John Chibnall.1998.A national survey of the sexual trauma experiences of Catholic nuns.St. Louis University, Review of Religious Research.
Christian Science Monitor.2006.Deliver us from Evil. Movie Review. Retrieved on 6th November 2007 from http://www.csmonitor.com/2006/1013/p14s02-almo.html
Michael Phillips.2006.Movie Review. Deliver us from Evil. Retrieved on 6th November 2007 from
http://chicago.metromix.com/movies/review/movie-review-deliver-us/162396/content