Arranged Marriages: A Social Psychological Perspective Essay Sample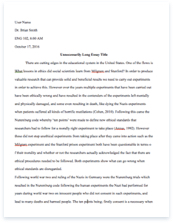 The whole doc is available only for registered users
OPEN DOC
Download Essay
A limited time offer!
Get a custom sample essay written according to your requirements urgent 3h delivery guaranteed
Order Now
Arranged Marriages: A Social Psychological Perspective Essay Sample
Marriage is considered one of the best achievements in a person's life. This is because, through marriage, there is hope that human life is still in continuity since procreation is likely to take place among the married couples. However, although marriage is a beautiful thing, it usually comes in two main forms. Apart from love marriages, there is also the arranged marriage. Whereas in the love marriage relationships precedes the marriage, the case is different with the arranged marriage. This is because unlike the love marriage, marriage tends to come first before a relationship follows later (Arranged Marriages, 2007). Although love marriages are the most common, some cultures and religions prefer arranged marriages.
Apart from Muslims, another religion that practices arranged marriages is the Indian religion. According to Ganeshananthan (2008), in arranged marriages, there is no courtship period like the love marriage. In my opinion, love marriage is the best since couples are in a position to know each other before finally settling down as husband and wife. Apart from analyzing arranged marriages among the Indian religion, the essay also focuses on love relations and why they are better compared to arranged marriages. Finally, the essay provides a counter argument on why arranged marriages are the best when compared to love marriages.
In the Hindu religion, it is the responsibility of the parents and older relatives to search for a suitable wife or husband to their son or daughter (Arranged Marriages, 2007). Unlike forced marriages, in arranged marriages, the son or daughter has the right to refuse the choice made by the parents. When such incidences occur, parents have to obey their children's decisions and search for another partner. In my opinion, this is similar to an act of injustice to the son or daughter planning to get married. By choosing a spouse for the man or woman, these couples are deprived of their freedom as humans. In my opinion, couples ought to have the freedom to choose their own spouses. This is because apart from promoting freedom, it also offers more chances for independence. The reason why I am against arranged marriages is because these couples do not mean what they say when while making their vows on the wedding day. Unlike love marriages who mean what they say while making their vows, in arranged marriages, these vows are usually said so that the wedding can be approved (Ganeshananthan, 2008).
According to Jaiswal (2014), whereas physical attraction is usually the main factor that one considers while searching for a spouse, this is not the case for arranged marriages. Unlike love marriages, arranged marriages tend to be more analytical. This is because parents believe that if children are allowed to choose their own partners, they are likely to make wrong choices since instead of looking at the bigger picture, they are likely to go in search of pleasure. In arranged marriages, there are a number of factors that are put into considerations while choosing a spouse for the son or daughter planning to get married.
For instance, apart from the reputation of the family and wealth, parents also consider other factors such as appearance, horoscope as well as religion and values (Arranged marriages, 2014). In the India religion, these marriages start when the children are children. After the right partners are found, a wedding ceremony is then conducted but these children remain with their parents until they attain the right age of marriage, this is when they move in. In my opinion, this is quite risky. This is because there are high chances that one of these newlyweds has changed from the way he or she was during the wedding ceremony.
However, not everybody is against arranged marriages. According to some people, this type of marriage is actually the best and ought to be embraced by many other religions as well as cultures. According to studies, arranged marriages last longer compared to love marriages. This is because couples that wedded through arranged marriages are less likely to divorce compared to their counterparts in the love marriages (Women's Web, 2013). Research conducted in India stated that most marriages in this nation are usually arranged. The study goes head to state that whereas the divorce rate in India is as low as 1.1 %, globally it is 6 % (Women's Web, 2013). This is quite a small percentage considering the fact that divorces are a common occurrence in love marriages.
The two common types of marriages are love as well as arranged marriages. Whereas in love marriage a relationship comes before the marriage, in arranged marriage, the wedding takes place first before the relationship commences. Arranged marriages are common among the Indian religion. The reason why Indians practice arranged marriages is because Indian parents believe that if this task is given to children, they are likely to make wrong choices since they will go looking for pleasure instead of looking at the bigger picture. In my opinion, arranged marriages are not the right manner to conduct marriages. This is because children are deprived of the freedom and independence they require as adults. In my opinion, love marriages are the best since their vows are sincere whereas this is not the case when it comes to arranged marriages.
References
Arranged Marriages. (2014). Traditional Arranged marriages. Retrieved on 24 November 2014 from http://iml.jou.ufl.edu/projects/spring07/zuffoletti/traditional.html
Ganeshananthan, V. (2008). Love Marriage. London: Weidenfeld & Nicolson
Jaiswal, T. (2014). Indian Arranged Marriages: A Social Psychological Perspective. London: RoutledgeWomen's Web. (2013). The Indian Woman's Dillemma: Love vs Arranged Marriage. Retrieved on 24 November 2014 from http://www.womensweb.in/articles/love-marriage-vs-arranged-marriage/