Major Challenge Faced by Nike in the Next Five Years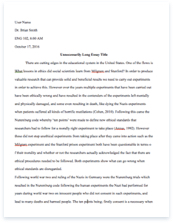 The whole doc is available only for registered users
OPEN DOC
A limited time offer! Get a custom sample essay written according to your requirements urgent 3h delivery guaranteed
Order Now
Nike always gives their customers more than just good sports gears. As the company notes on its website (www. nike. com), "Nike has always know the truth, it's not so much the shoes but where they taking you" Nike care much about its customer to live as their bodies. Nike not just promotes sales but it promotes sports for the benefits of all.
However, as we can see from (Vogel, 2012), Nike has faced some challenge when they are putting their efforts in combine the sustainability within the Nike's products and innovate a redefined future but it has led them to finding new ways to run and operate the business more effectively, efficiently and also creatively. Performance risk in adoption of using new material It's quite challenge for Nike when there is quite a number of performance and aesthetic risk faced by Nike in using the environmental material friendly(EPM) such as the synthetic leather.
A potential risk do exist which the synthetic leather could downgrade the physical properties such as the material durability and this is seriously threatening Nike's strict quality standards and performance. A products creation director from Nike also says that the outlook of the EPM synthetic leathers looks not attractive. He says that "Leathers look boardy and dry, and the textiles aren't very interesting" Nowadays, the rising of input costs that needed for the innovation and also the technology has become higher and higher.
Nike has to set their long term vision which is to produce and design out waste, eliminate hazardous chemicals and non-renewable energy consumption through their innovative design, science, and also technology so that they can design the products in new materials and new approaches to the products. Lack of time for implementing Nowadays, the extremely fast pace and changing of product development in response to consumer trends has giving an impacts to product creation employees as they only has sufficient time to implement and also design a new products.
They need to know the problem that integration is important to address the process changes. Redefine of the reporting structure, design and sourcing process and also the creation of the material may help them to better achieve an unique products with lower environmental effect in a shot time. The increasing of cost Nike is facing another challenge which is the relatively high cost for developing the greener footwear. With the increasing price of the petroleum, adding the EPM synthetic leather has adding more high cost to Nike.
Although the larger products do have some success negotiating price reduction based on the volume but the smaller categories are strive to overcome this challenges. Consumers Mind There are also have several challenges faced by Nike in the future in terms of customers. As we know that Nike is producing the EPM design shoes and many consumers will create a doubt that a sports shoe that is made from EPM would perform as well as a shoe that was not.
For example a focus target market customers that was very receptive on the Nike's running shoe will start viewing Nike's products as a lower performance products when they was told that it was unusually made by EPM design. Marketing position Nike has not yet figure out the ways to position the performance, aesthetics and sustainability in one complete package. An internal argument do exist as the 'green' products should become its own brand within Nike, or simply a new dimension of Nike brand. This is also the challenge faced by Nike and they have to find ways to overcome it.
Related Topics