Schindler's List Argumentative Essay Sample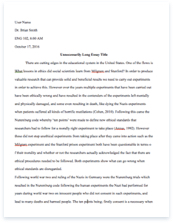 The whole doc is available only for registered users
OPEN DOC
Download Essay
A limited time offer!
Get a custom sample essay written according to your requirements urgent 3h delivery guaranteed
Order Now
Schindler's List Argumentative Essay Sample
Schindler's List gives us just a slight glimpse of how the annihilation of Jews was carried out by Adolph Hitler and his Nazi party. Many unacceptable methods of murdering Jews are shown including-quicker ways of shooting to long drawn out methods of gas chambers and torture. The producer makes sure that the film takes the role of following certain actors, for example Danke Dresner. Although the film we see Danke her mother and her father, fortunately Danke and many many more survived but even more families and individuals were murdered or never seen again.
Schindler's Lists' opening scene is set in colour of a rabbi reciting a Jewish tradition from the Torah. Once this scene has finished the screen returns to black and white and straight away we enter a scene full of noise and hustling and many people all-different ages and generations. Here we see Oskar Schindler for the first time-filling his pockets with a lot of money. We see Schindlers' attitude change from self-gain to genuine concern for the Jews. Schindler starts off as any other Nazi party member bribing the Nazis and flirting with the women mainly for the growth of his business.
The only reason he takes on Jews in the first place is because he knows that they will work for him even with cheap wages. The first obvious turning point his attitude is when he witnesses the evacuation and the leading of the Jews from their homes to the ghettos, here we see little children walking alone through the streets bedazzled by the atmosphere around them. Schindler is watching from a mountaintop and the expression on his face suggests to us he knows something isn't quite right with the Nazi attitude.
From this point on we see evidence that Schindler is purposely trying to save Jews from horrific extermination camps such as Auschwitz. Schindlers List is a Steven Spielberg film- directed and produced by the man himself. So even by looking at his name on the cover of the film or in the cinema, you'll know that it is going to be a film to remember. As Steven Spielberg is well known for phenomenal films and productions there is an air of expectation before one has even seen the film, this expectation is well achieved by Spielberg and the actors. Liam Meeson" plays Oskar Schindler and "Ben Kingsley" plays Isaak Stern.
There are many outstanding individual performances but these two people are by far the best. These two actors show a real connection in two ways- one is when they had recently met and Oskar would talk with Schindler but refused to eat or drink with him. There was real tension shown on screen between both men and anyone could be fooled into thinking that it was real life tension; secondly there is a good partnership between the two when they eventually become friends.
You can see that there is closeness between them, which once again is played fantastically. If there was an award going for best actor, I personally couldn't have put it up for Schindler's List because there is no way I could chose between Liam Meeson and Ben Kingsley. This film has already won seven academy awards, seven British awards and seven awards on behalf of the New York picture award. The music to Schindler's List was written by John Williams. Much of the music is traditional Jewish music and is used throughout the whole movie.
Each scene has a different feeling of music to express the meaning of the scene. Here are a few scenes where the music stands out:- at caption three where the Jews are entering the Ghettos there is no dialogue used but it is not needed because the music does all the talking. We here slow, depressing music as we watch wealthy and poor Jews packing up their stuff and being forced out of their homes. There are also areas where the music builds up including the time when Stern is telling the Jews about what Schindler is looking for in his workforce.
As the Jews are feeling hope we are feeling anticipation while we are waiting to see if any of these people have the skills Schindler is looking for and if they will be saved from the evil grip of Auschwitz. This film is done in such a way that it tries to get inside the mind of a psychopath Nazi- Geoth. The film shows everything from the point of view of a real Nazi also. We see how he treats women and more importantly how he kills the Jews for fun and pleasure. Geoths' language is appalling and he shows no respect toward anyone but himself.
Schindler tries to convert Geoth into showing mercy toward Jews but for a moment we think that he has actually succeeded, because he lets a few young Jews off the hook but then we come to a scene where a Jewish boy cannot get rid of stains from a bathtub-Geoth enters the room and tells him to leave. Next we see a camera shot on Stern as he is walking across the yard and in the background we see a boys' corpse upon the floor. This scene is done so subtlety that it isn't even a give away to what we would see.
The camera effects are achieved very well especially in the scene where the camera flicks between Geoth is beating Helen, a Jewish marriage in the factory and Schindler being turned on by a German singer/dancer. The sound effects between each of these flicks just add to the dramatic effect. But the most dramatic and grim music in this film by my opinion is the background music played while the horrific scene of the bonfire is on screen-deep, slow voices of a choir suggesting that the only way we can understand is by asking god. Many different instruments are used including pipes, violins and pianos.
As the film ends we discover that Oskar Schindler saved around one thousand five hundred Jews including three hundred from Auschwitz. He was seen as a real hero throughout the Jewish nation and around the world. The finishing scene is set in colour and this scene is of the real Schindler Jews coming and placing a stone on Oskar Schindlers' grave, each one representing a life saved by Oskar. In conclusion I feel this is synaptic masterpiece telling of the triumph of one man who made a difference and a drama of those who survived.
It was so terrible the suffering of the victims but so evil of the people who did it. Children will be stunned and shocked at what they see, but I feel it's precisely for younger children to see so that they know and can makes sure it will never happen again! The holocaust is one of the darkest times in history and it should never happen again under any circumstance and this film shows us exactly why! So that is why I have nominated Schindler's List- especially for it's relevance to today's world, it's honesty, it's individual performances, it's emotional tug and the way good overcomes evil.