Principles of Management Essay Sample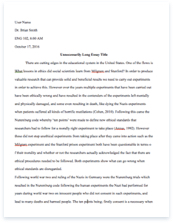 The whole doc is available only for registered users
OPEN DOC
Pages:
Word count: 1657
Category: brand
Download Essay
A limited time offer!
Get a custom sample essay written according to your requirements urgent 3h delivery guaranteed
Order Now
Principles of Management Essay Sample
Accent was founded in 1993 and is 90 percent majority owned by Canada-based MDC Partners, Inc. Accent has 11 locations in six U.S. states and two international locations in Jamaica and the Philippines. They do business with several fortune 1000 companies such as: American Family, Sprint, Asus, Char-broil, Samsung, Sharp and Weight Watchers. (PR Newswire, 2011) Accent Marketing Services is a company for brands (businesses) that want to retain and expand their customer base. "Since 1993, ACCENT has helped world-renowned brands acquire, support, retain and grow customers at every lifecycle stage." ("About us,") Accent's current mission statement is: "By 2013 Accent will be a 150 million dollar company by providing outstanding customer, partner and client engagement." (HR People Services Manager)
INTERNAL STRENGTHS
I think Accent's most important strength is that it seems like an amazing place to work based on a number of variables which include: the vast variety of Accent locations and brands. This offers a unique opportunity of advancement within a brand or across brands, relocation and the knowledge base of multiple brands. An interview with Tim Searcy, CEO of Accent Marketing Services, was published by Call Me' IQ on September 15th 2011. In the interview Mr. Searcy states, "the way we distinguish ourselves the most is through our Seven "We Wills" – one of which is "We will promote from within." When we seek employees to join our organization, we see their first role with us as just that – their first role. We want our employees to grow with us. I'm living proof that you can move from the contact center to the board room, and I believe that in every communication I have with our employees, we're looking at the next generation of leadership, and that they will come from within." (Bracken, 2011)
This is Accent's most important strength as happy employees make for more motivated and loyal employees. When you're motivated and loyal to a company you understand that what you may or may not do could affect the companies' reputation, thus potentially affecting the relationship with the brand in question. I find the fact that employees are able to gain knowledge about multiple brands very intriguing. This is due in part because it really makes the employee much less expendable to the company. This helps keep attrition low which can show the company is loyal to the employees. With the CEO stating that Accent strives to promote from within, the employees are motivated to perform that much better to become the next generation of leadership. "Very few organizations can point to a history of doing that effectively, but Accent can." (Bracken, 2011) Accent's proprietary continuous engagement improvement process is very innovative with regard to technological advancements.
I would consider this their second strength that really comes to the forefront. "Accent's proprietary Continuous Engagement Improvement℠ process is designed to transform your customer service channels into powerful relationship and brand building tools. Along the way, we help clients lower costs, increase efficiency, drive incremental revenue, improve the customer lifetime value, and drive greater return on investment. "("Approach,") Accent knows the most important customer interactions are the ones' that happen next. Because of this they have put together a strong team of engagement specialists that are backed by technologically comprehensive communication channels and tools on the market today. Innovative communication includes but isn't limited to: web self-service, cloud monitoring and instant messaging. Innovative tools include but aren't limited to: back-office services, quality monitoring and reporting. ("Approach,") Accent stays up to date on all technological fields which will ensure their communication channels and tools are updated to meet their brand's needs. Keeping up on the changing technology also allows Accent to be competitive and come up with new communication channels and tools for potential new brands. INTERNAL WEAKNESS
Attrition is Accent's biggest weakness. Per CEO Tim Searcy, "Compared to the rest of the industry, our engagement specialists are more expensive to hire and train than the average because of our need to find individuals who are skilled in multichannel engagement. This makes attrition very expensive – it's a direct hit to our bottom line." (Bracken, 2011) It is not uncommon to find companies claiming an attrition rate that is much less than that of others in their industry. Companies can project their attrition rate incorrectly because it tends to affect their brand image both internally and externally. Internally, it sends wrong signals to their employees and Directors. Externally, it can affect the company in various ways such as developing a bad image or limiting the perspective talent pool of new hires.
I'm not stating Mr. Searcy would lie about Accent's attrition rate, but from what I know about attrition; Accent's attrition may not be so low. Accent's second weakness is employee pay. I personally spoke with an HR member that advised me management has been grossly underpaid for quite some time (this is low, middle and upper management). Moving forward off of what Mr. Searcy stated above, this can definitely affect the attrition rate and overall employee happiness. With lower pay, higher attrition is most likely inevitable; in turn less tenured, inexperienced employees could possibly take over in certain management spots. This can't be good for Accent as good Management and leadership are imperative to a strong company.
EXTERNAL OPPORTUNITIES
Accent's biggest external opportunity lies in locating a new industry to grow the business in. In February they announced they acquired the licensed agent line of business from a leading insurance provider. Accent's CEO, Tim Searcy stated, "With the addition of this new line of business, we can now leverage the specialized skills of licensed agents to expand our customer engagement capabilities within the insurance and financial services industries." (PR Newswire, 2012) With this new acquisition, it shows that Accent concentrates on progressive thinking. With the ups and downs in the current economy, this is a very important component for a company.
Looking for ways to acquire a new brand in a new industry helps a company become more diverse. The more diverse a company is helps ensure a better chance of being successful in most all types of economies. Accent's second biggest external opportunity would be to gain perspective clients. As stated above, with their "Accent's proprietary Continuous Engagement Improvement℠ process," ("Approach,") they not only can retain clients, but if used effectively, they can potentially persuade perspective brands to outsource to them. Although this proprietary process has proven effective in keeping said brand, it doesn't seem as if it has been used to gain said brand. EXTERNAL THREATS
Accent's biggest external threats are brands outsourcing their call centers overseas. This is due to the struggles businesses have had with the economy. Why wouldn't Accent's brands want to take their business overseas where they can pay pennies compared to what they pay now? "Outsourcing is a well-known concept and has been accepted and implemented by organizations across the globe. Often seen as a cost-saving tactic, outsourcing allows a business to focus on its core competencies while offloading its non-core functions to outsourcing providers in low-cost countries like India." ("Outsourcing vs. insourcing,") With the trend being that major organizations are outsourcing their call centers, this could really put Accent in a bind. Regardless of what tactics Accent uses, it all comes down to the mighty dollar, and Accent wouldn't be able to compete with the low cost of an offshore call center.
Accent's second biggest external threat would be insourcing/competitors. "Insourcing is a recent concept that has been advocated as an alternative to outsourcing. Supporters believe that it will lead to better management control and job creation at the local level. Insourcing is also seen as a solution to the problems of control and hidden costs with outsourcing." ("Outsourcing vs. insourcing,") Insourcing would be crippling to Accent. Accent could very easily have a brand that wants more control over their day to day activities, policies and procedures. Insourcing could also potentially lower overhead. Along with insourcing, competitors are always a threat. According to hoovers.com, Accent's top three competitors are Affinity Solutions Inc., Alpine Access Inc., and AnswerNet Inc. ("Hoovers a d,")There is always a risk that a competing company with create a communication channel or tool that will allow them to charge a lower "outsourcing" rate. This can cause one of Accent's brands to move to one of the competing companies, once again to protect their bottom line. How to Improve on External Factors
Companies can easily make changes to their internal strengths and weaknesses to remain a successful company. It is the external factors that are generally "out of the company's hands". However, companies can stay competitive by taking advantage of their opportunities and using their threats to their advantage. I suggest the Accent continue to focus on the insurance and financial industry to look for other companies to acquire or persuade brands in this industry to work with them. This will assist with Accent expansion. With the expansion of other brands or industries Accent can use additional funds to further their Continuous Engagement Improvement℠ process to retain current brand's and newly acquired brand's needs for technology. In order to use the threats to Accent's advantage, they need to focus on creating new communication channels and tools at very competitive price. They need to maintain their niche of providing the "highest level of customer service" so their brands do not decide to go to a competitor, insource or outsource overseas.
References
Bracken, C. (2011). Call center insider: Interview with tim searcy, ceo of accent marketing services. Retrieved from http://iq.callme.io/2011/09/15/call-center-insider-interview-with-tim-searcy-ceo-of-accent-marketing-services/ (interv with searcy)
Approach. (n.d.). Retrieved from http://www.accentonline.com/solutions/engagement-services/approach/
PR Newswire. (2011). Accent marketing services names tim searcy as new ceo. Financial Content, Retrieved from http://markets.financialcontent.com/stocks/news/read/16778563/ACCENT_Marketing_Services_Names_Tim_Searcy_as_New_CEO
PR Newswire. (2012). Accent marketing services acquires licensed agent line of business. Yahoo Finance, Retrieved from http://finance.yahoo.com/news/accent-marketing-services-acquires-licensed-163900820.html
Outsourcing vs. insourcing. (n.d.). Retrieved from http://www.outsource2india.com/why_india/articles/outsourcing-versus-insourci