Principles of Personal Development and Reflective Practice Essay Sample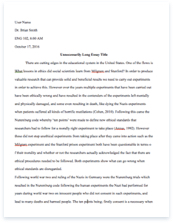 The whole doc is available only for registered users
OPEN DOC
Download Essay
A limited time offer!
Get a custom sample essay written according to your requirements urgent 3h delivery guaranteed
Order Now
Principles of Personal Development and Reflective Practice Essay Sample
What is reflective practice?
Reflective practice enables you to develop your skills, increase your knowledge and deal with emotionally challenging situations. Developing your reflective practice early on will pay dividends on everything you undertake as well as building a strong foundation for a successful career.
What you did – How you did it – Why you did it – How you felt – What went well – What you would do differently. The Oxford dictionary defines the meaning of reflect as "to think carefully and deeply about something" .
Reflection is the personal examination of your own thoughts and actions, it is about thinking things over. Reflection is an important human activity in which people recapture their experience, think about it, mull over and evaluate it. When working in an adult care setting this means being conscious about how you interact with colleagues, your clients and the environment. It means thinking about how you could have done something differently, what you did well, what you could have done better, how could you improve what you did. It also means reflecting on your own values, beliefs and experiences which shape your thoughts and ideas. I am responsible for providing an equal, non discriminatory and inclusive service to all individuals no matter what a person's personal beliefs and values may be. Reflective practice is exploring why and how you practice, thinking back over a situation or activity and then developing a different approach to gain insight into a new way of learning.
Why is reflective practice important?
It is important to reflect on work activities so that you are able to develop on your own knowledge and skills. Thinking things through and reflecting on a day at work will help you to pick up on things that you may be able to improve upon in future. You can also learn from any errors that you may have made.
Sometimes when you remove yourself from a situation and reflect on it, you are able to find gaps and room for improvement in preparation for next time. You are sometimes able to analyse situations better afterwards than you are in the moment and when you look back on things, more often than not you will think "I wish I had said/done that at the time".
By reflecting on work situations, you are able to deal with any negative feelings or anxieties to do with work. By dealing with these frustrations rather than pushing them to the back of your mind, you will be able to have a more positive attitude at work.
Developing reflective practice involve asking yourself what worked, what didn't and what you would change for a better outcome in a particular situation. By effectively assessing your own and other's practice, you will gain new skills and knowledge. Turning reflection into a habit takes practice, but once mastered it will give you greater confidence in all your judgements.
How reflective practice contributes to improving the quality of service provision.
You can use reflective practise to improve the quality of the service you provide by thinking about a task you previously done and asking yourself:
* What could have been done better
* How will I do that task next time
How standards can be used to help a social care worker reflect on their practice.
Standards are guidelines to follow when performing any tasks/actions. These standards are there to ensure the task/action is completed to the required standard. If you are not meeting the required standards then you will know when reflecting on the task, that your way of working has to be improved to meet the requirements.
Standards may include:
* Code of practice
* Regulations
* Essential standards
* National Occupational standards
Standards inform reflective practice by:
* Informing own learning
* Helping you to think about professional accountability
* Enabling professional development
* Providing a way of identifying what is required for good practice
Own value, belief systems and experiences may affect working practice by:
* Preventing conflict with others
* Fostering understanding of others' view and perspectives * Improving communication with others
* Favouring those who share your values, belief systems and experiences * Not respecting others who do not share your values, belief systems and experiences
Task 1 Number 2
Notes:
a) It's important to receive feedback on your performance as a social care worker as this tells you what you do well and what things you could improve on. b) Different people react differently to constructive feedback depending on the way it is said and the individual. A person may react in a negative way and take offense because they believe they are doing their best. A person may react positively and thank the individual for telling them what can be improved and so they know what they can do in the future. Some people may look for reassurance and some could be defensive. Some may express anxiety from what is being said. c) It's important to take in feedback from others as it ensures your practice meets a clients needs, it shows respect for the views of others, it shows you have listened to the views of others, it enables you to appy the insight you have gained and enables you to develop new approaches and ways of thinking.
Task 2 Template for a PDP
Name (Reviewee):
Workplace:
Reviewer:
Long term goals (1-5 years)
* how will these be achieved?
* activities I will undertake (including professional development/training)
Medium term goals (6-12 months)
* how will these be achieved?
* activites I will undertake (including professional development/training)
Short term goals (next 6 months)
* how will these be achieved?
* activities I will undertake (including professional development/training)
Areas of strength
* What is done well
Areas of weakness
* What is not done well
Reviewer comments:
* Comments on how the reviewer views the reviewees progress for the year
Reviewee comments:
* Comments on how the reviewee views their own progress for the year
Performance ratings for the year
* Improvement required
* Achieved expectations
* Exceptional performance