Principles of Supporting Change in a Business Environment Essay Sample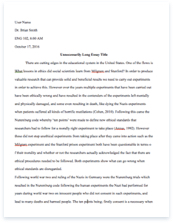 The whole doc is available only for registered users
OPEN DOC
Pages:
Word count: 1259
Category: work
Download Essay
A limited time offer!
Get a custom sample essay written according to your requirements urgent 3h delivery guaranteed
Order Now
Principles of Supporting Change in a Business Environment Essay Sample
You should use this file to complete your Assessment.
• The first thing you need to do is save a copy of this document, either onto your computer or a disk • Then work through your Assessment, remembering to save your work regularly • When you've finished, print out a copy to keep for reference • Then, go to www.vision2learn.com and send your completed Assessment to your tutor via your My Study area – make sure it is clearly marked with your name, the course title and the Unit and Assessment number.
Please note that this Assessment document has 3 pages and is made up of 3 Sections.
Name: Erica Williams
Section 1 – Understand why change happens in a business environment
1. Explain why change happens in a business environment. You should include at least three reasons in your answer.
Often, businesses have to make changes in their environment for many reasons. These can include software updates, reducing waste and costs and legal requirements changing. If an office is heavily reliant on computers to do daily work and use them to provide services to customers then ensuring the software and service channels are up to date provides the best available service and quality to customers, clients and colleagues as well as ensuring staff can work to the best of their ability. Also, if new (external) production services that may help reduce costs within a business are installed, this could save them money. Some businesses may bring in some new ideas and changes for reducing company waste and costs (internal change). This may result in policies being changed such as a new recycling procedure to follow or the management asking for reports on spending. This may result in staff making small changes to their daily routine or involving new training so that staff can develop knowledge. Legal requirements are one of the external effects on change in the work environment. If a business does not ensure its policies and legal requirements are kept up to date and adhered to, they may find themselves breaking the law. This can result in dramatic consequences for a business.
Section 2 – Understand the purpose of supporting change in a business environment
1. Identify the main reasons for reviewing working methods, products and / or services in a business environment.
These are the first things a business will look at to improve and progress their company. When a company might be looking at either why profits have fallen/are falling or have remained stagnant, the first thing they will do is review the working methods, products and/or services. These are also the main area a business will strive to improve the quality of. Also, for change to happen, you need to keep all communication channels open. By reviewing working methods, products and/or services you can involve all staff in the process of change because change needs to be understood and managed in a way that people can cope effectively with.
2. When a business is going through change:
a) Describe the different types of support that people may need.
When management want or need to implement changes, staff may need support with how to handle these changes. Involving them in every step where possible, ensuring communication at each level and making sure people understand the need for change will give them the support they need as well as showing them they can have some control over what is happening. If management can facilitate and enable change effectively, people will be able to understand the reasons and aims and have a more positive approach throughout the change that is happening. If they can be encouraged to look at things in an objective way rather than emotional they can develop this positive approach and handle change much better. Training or re-training staff will build their confidence in their ability to make the transition after changes are made. This can be developing their knowledge and skills and helping them develop a new strategy towards their work. Encouraging your staff and offering assistance can provide good support to staff. This can be done by offering help as and when is needed, be willing to listen to staff and providing past results of change that worked can be a great encouragement.
b) Explain the benefits of working with others.
Working with others when a business is going through change is beneficial to everyone involved. Someone who attempts to go though a change by themselves or is isolated from a team could cause problems for them such as lack of moral support from management and colleagues, getting things wrong, lack of efficiency and causing negative feelings within a team. Ensuring everyone is involved in everything to do with the change and offering support, guidance and a sympathetic ear will create a positive framework for all. Listen to concerns, offer similar experiences, provide progress updates, hold regular meetings. This will encourage everyone to help others and ensure the change is smooth, positive and efficient.
Section 3 – Understand how to respond to change in a business environment
1. In relation to your current business environment (or one that you are familiar with):
a) Explain why you should respond positively to changes in working methods.
Responding positively to change in working methods will help to develop the efficiency needed to support the change. The sooner you get stuck in, the sooner you will understand it. Implementing change to working methods can be difficult for people who have worked a certain way for a long time and if they think to themselves that they can't or won't do it, it becomes a self-fulfilling prophecy. By responding positively with, yes I can do this, I will do this, and it will be an easier, smoother, faster and more positive transition.
b) Explain why you should respond positively to changes in products or services.
By responding to change in products or services positively, you can go through the transition more effectively and feel less anxious about it. Keeping all lines of communication open with members of the team and management is important to staying positive. Asking for advice or training, offering knowledge and skills to other members of the team and keeping yourself informed of each new step will ensure you remain positive throughout the change. This will show your keen to learn and adapt, competent with changes and show customers/clients that the company is strong enough to withstand changes made to products and services.
c) Identify ways of responding positively to change.
Show a willingness to learn. By doing so you present yourself as a confident team player willing to adapt to new environments and ways of working. Developing skills will and can boost confidence, enabling you to work efficiently and with less stress and angst. Be willing to teach other members of the team. By offering your skills and knowledge to others, you will show strong workmanship, give other team players the confidence to adapt to the change and enable the team to work together at the same level. No one will feel isolated and a strong team can make for more efficient working. Make sure you maintain your positive outlook. Keeping yourself from feeling stressed and/or anxious will enable you to work faster and with more efficiency.
Once you have completed all 3 Sections of this Assessment, go to www.vision2learn.com and send your work to your tutor for marking.