Product Thesis Essay Sample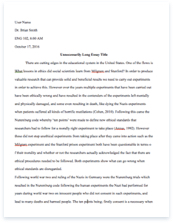 The whole doc is available only for registered users
OPEN DOC
Download Essay
Get Full Essay
Get access to this section to get all the help you need with your essay and educational goals.
Get Access
Product Thesis Essay Sample
In developing our product, we apply step by step procedures to make it better. We set first the brainstorming sessions which help us to generate this application. We ask the group suggestions and we come up to one goal, to make a Filipino version of text twist.
On the first day, we set a survey for our product. We ask questions for 10 persons related on our product. After doing such surveys, we found out that this application we are developing plays a role on them. July 22, 2013, we started to develop the said application. As programmer, we use VISUAL BASIC 6.0 for developing it.
MARKETING STUDY
To introduce our product to the market, we use some appropriate methods and techniques to promote it. The following methods are: 1.Social networking sites We find out that internet can be a good help to promote our designed product. By the use of this, our product will spread over the world .The information as well as the cost of our are stated there. We create our own facebook page for our product and spread it out to our friends and other facebook users. As they like the page, they can now view the said page for them to know the information about our product.
2.Websites
Another way of introducing our product is by creating our own websites. We create a site on our group and then promote it.
3.Posters
We also create a poster for our product. We post it into internet shops which includes the information about our product. The poster contains the site, and face book page that will allow them to have idea about our product.
4.Billboards
We can also promote our products through billboards. For them to recognize easily about the information of our application and how important it is. It is a big thing to introduce our product using a billboard because it is being introduce even to the motorist.
ACKNOWLEDGEMENT
A feasibility study like this is a product of many minds and many hands. With grateful hearts, we wish to acknowledge the following: •Ms. Aner Rose Palma, our instructor for her encouragement and whole hearted support; •To all of our teachers who have been so patient and understanding, as we spent countless hours buried in our study. •To our family for their unwavering support who I've been deprived many moments and quality time as we did overtime just to finish this feasibility study. Their boundless patience and understanding kept us going. And finally, we thank God, the fountain of knowledge, understanding and wisdom. He called us to do our feasibility study, give us the opportunity and enabled us to do this with His inspiration and guidance.
Chapter 1
Introduction
The Filipino language is truly becoming the Filipinos first language. For example a baby learning to speak is often thought Filipino wordings like 'mama' 'papa' and many more. Filipino is used to reach concepts in Filipino subjects and used in our daily communication to other people. In fact, the language highly saturates even music, songs, and dances which most people enjoy. Lastly, reminiscing the past that our ancestors are greatly using the deep words can be a good help to retain it for posterity.
The role of enigmatic application in learning happens to be a hot issue in our education today. This has led to increase interest in our performance to be more competent and knowledge bid enough through a designed application called PINOY TEXT TWIST. The trend of using this is to be connected to our lives most especially in our relevant task that focus in our ability to use our mind and skills in meaningful ways. Our knowledge widens and depends to build words that are appropriate within a given number of letters. The nature of this product can take a variety of forms such as organizing the letters to produce a word, develop the thinking ability and also experiences as well. It can enhance our vocabulary and it can be used as repertoire of unfamiliar words. This can be a good help for everyone looking for enjoyment at the same time a way to learning.
JUSTIFICATION
We creating this kind of product to prove that we, as Filipinos are loyal to our National Language. To make it as different on our own way we decided to vote for PINOY TEXT TWIST. Being a Filipino seems to be proud of, in such way, we want everybody to understand that our language it is just tagalong. There are words that are deep in meaning, seem to be unfamiliar mostly in case of those people who are veteran in Filipino languages. The purpose of studying this is to show that the student like us can formulate new ideas and knowledge based on our join force skills.
DESCRIPTION OF PRODUCTS
Text Twist is an additive, fun text of both your vocabulary and your ability to spot patterns. The rules are simple, combine the letters to make many words as you can. This is by the means of an original concept, but it's been spruced up. The goal of every level is to get the best word. Once you do that, you are allowed to enter the next level. However, there is much pleasure determining the best word. Play is at its best when you complete every single word before time runs out giving a huge score bonus.