Production and Operations Management: 5's Role Play Essay Sample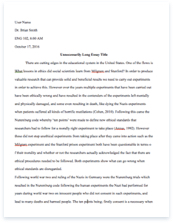 The whole doc is available only for registered users
OPEN DOC
Get Full Essay
Get access to this section to get all help you need with your essay and educational issues.
Get Access
Production and Operations Management: 5's Role Play Essay Sample
Let's face it, we all face tough challenges. Competitive pressures continue unabated. Prices are too low, and the costs are too high. Companies strive to reduce costs. Some look to improve technology. Some reduce headcount. Too few have become operationally excellent.
Going through the activity, as a business administration student, have you ever thought about your future as part of a prestigious company? Will you apply the things that you've learned throughout the years of your college? So here's a story of the Milla Rica Corporation on how they work in the production and operations department.
One day, an on the spot inspection shock the whole team! (All teammates are not working well, some are just sitting, some are just napping, some are just pretending they are working)
Midge:Hmmm good morning Ms. Noemi, have you sort the following things that I told you to do? Noemi: Ahhmmm (scratch the head) almost there mam!
Midge: What?!!! You Ms. Jemma, did you place everything in place and simplify the arrangement of the workplace?! Jemma: Ohh mam (scratch, shaky voice) almost there mam!
Midge: Almost?!!! Did I ask for inefficient report?!!! You, Mr. Guieb, what are these dust all over the table and machines, did you know that Cleaning must be daily?!!! Aldo: Sorry mam, I'm going to clean later! (scratch head)
Midge: Remember, I am not aiming for ANTIQUE CORPORATION!!!! You, Mr. Jaymar, where's the standardization reports?!!! And Ms. Bautista, what happen the sustainability and maintenance that you know its our consistent mission?!!! Jaymar: Ohhh ahh!
Midge: You put your mouth shut! You frustrate me! I hope I don't get too much flak for saying this! I invoke my right of freedom of expression!! You just give me some bunch of craps this morning!!!! Caridad: Hmmm. Good riddance!
Then they come closer as a team and talk about something!
(1min of silence)
Aldo: Hmmm.. I guess guys it is our mistake really.
Zharm: Yes, it is really our fault. We are so tolerated and confident that Mam Malu won't get mad to us since we were her students back in college years. But yeah, again, we disappoint her. Jemma: I agree with that Zharm, we must work for it.
Noemi: Me too, I agree with you guys!
Jaymar: So here it is, what's the solution?
All are thinking about the problem and acting like they are solving the problem. Until… Aldo: Ahaaaa!!! I got an idea guys! (Stand up!)
Jaymar: What was that?!! (Stand up!)
Aldo: Naiisip mo ba nasa isip ko B1? In English, are you thinking what I'm thinking B1? Jaymar: Ahaaaa! Naiisip ko ang naiisip mo B2!!!
Aldo: Weeh? Sige nga!
Jaymar: Ay joke! Ano bay un?
Aldo: Naalala niyo ba guys yung pag-aaral nating sa POM which is really relative to our case? Yung 5s! let's apply it. Zharm: True! If we're going to think, mam malu was pertaining to the application f 5S. So guys, do you agree? All: Yes!
Jemma: I guess, it's time to make a change! Better change!
Then everyone was working. Everyone are now enjoying their work. (Sort)
Noemi: These stuffs are so old, these are waste paper, I should get them in the box. (Arrange the paper) (Simplify)
Jemma: I must place these products on the primary level. I must arrange them. (Shine)
Aldo: These must be Shine bright like a diamond!
(Standard)
Jaymar: Hmmm.. Check… hhmmmm check. Everything is working well. (Sustain)
Zharm: Hmm all are set! We must keep on going to this!
On the inspection day!
Midge: Hmmmmm..
Caridad: Hmmmmmm..
Midge: Check. Check. Check. Check. Check.
Caridad: But why mam?
Midge: I guess everything is doing great today Ms. Zharm and team members. Zharm: Yes mam, we apply accurately he 5S.
Caridad: oh really?! (Mataray)
Jaymar: Ohh yes my dearest Caridad Panes.
Midge: Well, congrats. This is what I want guys.
Aldo: Yes mam, we don't wnt to frustrate you. We sort everything and simplify everything. Midge: Good job. I'm looking forward.
Caridad: Mam Malu, see this one mam, there are still dust here! Midge: That's not dust, Carrie, it's a residue.
Caridad: Oh well mam.
Midge: Keep working on it. Remember guys. Often, companies mistakenly view 5S as a housekeeping activity. Housekeeping is housekeeping, not 5S. 5S is a visual system and a system for engaging employees. 5S must be a team effort and the results must enable anyone to "tell at a glance" what is right and what is out of place. It also must make doing the work easier. Implementing 5S occurs in two phases: initial implementation and later refinement. Well. Congrats! All: Thank you mam!
Although 5S will not solve today's competitive challenges, it does provide a solid foundation for achieving operational excellence. In fact, some world-class companies claim that there can be no improvement without 5S. The teamwork and discipline built through 5S improve worker-to-worker and worker-to-manager relationships. When people see that what they do makes a difference, and when they see that they have eliminated wasteful practices, their pride grows. This is perhaps the greatest benefit of 5S.