Production Management Essay Sample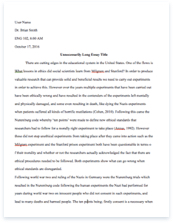 The whole doc is available only for registered users
OPEN DOC
Download Essay
Get Full Essay
Get access to this section to get all the help you need with your essay and educational goals.
Get Access
Production Management Essay Sample
The aim for the production was to create a promotional and corporate video for a company that as a group find out our selves and make a video for them. During the pre production my roles in my group were; create the storyboard, get all the legal documents, recce, script and shooting script and the other process during the production and post production equally which includes shooting and editing. The video was to last up to five minuets but can depend on what the company your making the video want but as college project the video had to be five minuets no more and no less.
When we have finished shooting the promotional corporate video, we would use Final Cut Pro to edit our video and also use special effects as well. Before we could look for whom to make a video for or decide who would be our target audience we first as a group had to decide what kind of video we would make. Making a promotional video would mean we would be promoting a company and a corporate video means a music video or a video that informs like an education video. As a group we wanted to make sure we would do something that we would enjoy and also something that were already use to.
We already made a promotional video based on the college from previous work so we decided to make a promotional video, now we had to find someone to make a promotional video for. One group member found a hair saloon but the hair saloon manager wanted the video to be two minuets long and wanted the video to be used only for his saloon not as a school project as well so that idea was lost. Up the road from were I live a tattoo shop just opened and I asked the owner if myself and the group can film here and make a promotional video.
After signing all the legal documents allowing us to film we were ready to start our pre production. Before starting our pre production we first done some research on other corporate promotional videos which would help us get an idea of what our assignment was and what was expected from our promotional video. I did a case study on two promotional videos and two music videos. The promotional video I decided to do was Dominican Republic and the Army Recruitment video. The two music videos I did my case studies on were the Aphex Twin "Come to Daddy" and Michael Jackson's "Thriller".
To help me understand both promotional and music video I looked at the Mis-en-scene, target audience, themes and motives, camera, sound, genre, duration and narrative. To be organised the group and I made sure we kept on having group meetings, making sure that everyone in the group was doing what they were meant to be doing and making sure everyone in the group knows what their were doing and what we were as a group expecting them to do such as, treatments or risk assessment.
To be more organised we decided to make made a production schedule, telling us what days and were our group meetings would be held, when all the pre production work will be finished, when we will start filming, when we will start editing and to see if were behind on schedule. To make sure we won't be too much behind on schedule I made sure before the entire production that I make the last week or two an emergency back up weeks, just encase we get behind on schedule or we need more time to edit or reshoot footage.
Before going to see the client and discuss the specifications and expectations, I wanted to finish all the pre production; treatment, risk assessment, recce, storyboard, contingency plan, codes and conventions, current practice, legal issues, ethical issues, idea development, scripting and shooting script. For the pre production all went well apart from the ethical issues and risk assessment. The main ethical issues we knew as a group was that we can't film anyone getting a tattoo of a gang sign. Showing someone getting a gang sign tattooed on their arm shows that the tattoo shop is supporting that particular gang giving a negative view.
The problems we had with the risk assessment were that we had to keep going back to the store to see all the hazards. This did take a lot of our time and we could have handed in the pre production earlier if we had done all the risk assessment in one day instead of going back. In our last group meeting on the pre production we had to know when we could start filming and also how much time we have left till the deadline. Editing would take at least a week or two and we needed two weeks for writing up our evaluation also.
Adding up how much time we had left of the production we realised we only had one week to film and we could only do one week of editing so we can have at least two weeks of writing out our evaluation. So the pre production set us back at least two weeks behind schedule. The only way if we could get back on target if we finish the filming as soon as possible and if possible edit and film at the same time. The last discussion I had with the group before the end of the group meeting was I should now focus on what the tattoo artist/manager wants and expects from us.
I first pitched my idea to Bruno describing how I want a Miami ink theme to the promotional video. Miami Ink is a reality TV show based on a tattoo shop in Mimi Beach Florida. Miami Ink shows the lives of a tattoo artist and how challenging and also rewarding it can be. I wanted my idea to be a fast paste advertisement used only for the internet or video store footage. My idea was to show Bruno tattooing people showing off his skills and showing the reactions of the people who got the tattoo.
The main selling point was showing off Bruno's skills, the price of a tattoo, location, piercing and how you can bring your own design to the store. Bruno liked the idea and agreed to let me be in charge of what I think would be the best for the promotional video but he wanted to the video to be ten minuets long, this was an issue because the assignment brief said the promotional video can only be five minuets long. After discussing to Bruno it can only be a certain amount of time he agreed it to be five minuets long.
Bruno wanted me to know that he wanted me to film the best tattoos he will be doing and at the end of the filming production he wanted the right to see what we filmed and he would have the final word to put use certain footage. He also made sure that not to show the piercing saloon as well. I explained to him that it would make people come not just for a tattoo but to get their piercing done as well and so allowed me to film but not to show too much and just focus on the tattoos and the store. Production Techniques When we finished all the pre production we straight away got into filming so we won't be too far behind on schedule.
On the first day of filming I received a call from a group member saying he was very ill so already we didn't have a group member helping me with the camera so I had to do all the filming on the first day. Even though we didn't have good start with a group member being ill, we got a lot of footage of tattoos being done; piercing being done, interviews and range of different shots used for cutaways and for the introduction. In the filming stage I would be the director and camera operator, the other three group members would be a continuity officer, health and boom microphone operator and assistant camera operator.
Before filming a person being tattooed I had to ask them if I could film them and have them sign a contract allowing me to film them for a promotional video purpose only. Some people allowed me to film them, others didn't mind the idea of me filming their tattoo being done but they didn't want me to film their face so I had to make sure that I would only film their tattoo being done and nothing else, so this required me to change the contract saying "I am allowing Volkan the director to film me but only my tattoo and nothing else".
During the filming I had to make sure that I wouldn't record anyone getting tattoos or piercing done in certain areas of the body because of ethical issues, if I had done this we would have to make the promotional video into an older certificate rating making my limiting my audience into watching this promotional video and also making sure I wouldn't film any gang signs or weapons that's been tattooed which would glorify gangs and violence which then would offend people. Post Production Once we had finished filming we had over an hour of footage with all different kinds of tattoos and piercing.
We had many shots for the cutaway scenes and had close ups or extreme close up of the tattoos mid shots so you can see the whole tattoo. We had wide range of experimental shots but some of the experimental shots were good others weren't. Before editing the footage we first had to review all the footage we had taken and discuss which ones we should use and which ones we should scrap. This took a lot of time, due to the fact that we had over an hour worth of footage and had to decide which ones was best.
While log and capturing footage we want at the same time myself and another group member decided to do the edit decision list to not waste anymore time and get more behind on schedule. After we finished logging and capturing all the footage and finished the edit decision list. We got started on the introduction straight away using a black box in the middle of the screen saying "Bright Skin". On top and below the text were tracking shots of ear rings and different types of tattoo designs.
The font we used was "Bickam Script" and used the crawl effect to make it look more of a tattooed effect. Thought out the promotional video we used a range of different effects, from slow motion, so you can see the tattoos for a longer period of time and a speed up effect so you don't get bored watching the tattoo being done. To make sure the video wont be boring we wanted to have a lot of cutaways used though out the promotional video, we had pictures of tattoos that Bruno and Albert (Bruno's tattoo artist) had worked on together.
We didn't want to just show pictures without any effects, other wise it would have slowed down the promotional video making it very boring to watch, we decided to use zoom effects. We also had a lot of different transitions between the images to add to make it more exiting. One of the most channelling effects we had to do was a picture of a tattoo before and fades into a finished and more improved tattoo. It was hard because I had to get it on exactly the right place so when it fades; the image fades cleanly into the next.
To show the location of the store I wanted to do something that would insure that people will know were the tattoo store is located at. I decided to use Macromedia Flash to create an animation showing were the tattoo shop is on a map. Then it would show all the nearest train stations or bus stations to get to the store and have a line going to the location from the bus stops or train stations. Creating the right track for the promotional video was a big issue. We couldn't just get a track from our favourite groups that would be copyrighting and would lead to legal issues.
The editor of the production decided to create his our track that would fit in to our promotional video. We made sure that the track would fit in to the narrative of the video. This did set us back a day of editing but the next day we were back on track. The editor created four different tracks with each different genre. The first track was a rock genre, we wanted a rocky song so the audience could relate to the track, the second track was a funky house genre with a up beat tempo and lively theme.
Conclusion To conclude my promotional video I think that we did meet our audience, client and also target brief. The main objective was to make a promotional video which would successfully promote a company. The key skills I have gained from making this promotional video was the key technique to selling and promoting the company at the same time while targeting all the audience, making the promotional video; appealing, enjoyable to watch, interesting, informative and eye catching.