Professional Communication: Cultural Sensitivity Essay Sample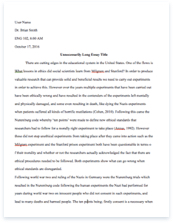 The whole doc is available only for registered users
OPEN DOC
Download Essay
A limited time offer!
Get a custom sample essay written according to your requirements urgent 3h delivery guaranteed
Order Now
Professional Communication: Cultural Sensitivity Essay Sample
The Hispanic/ Latino American population has become one of the fastest growing ethnic and diverse groups in the United States, but U.S. healthcare studies report poorer health status in this population than in non-Latinos. U.S. Bureau of the Census (2014) defines "Latino" as an individual of any Spanish culture or origin, who may be of any race. The Hispanic population increased by 15.2 million between 2000 and 2010, accounting for over half of the 27.3 million increases in the total population of the United States. Between 2000 and 2010, the Hispanic population grew by 43 percent, which was four times the growth in the total population at 10 percent. I decided to write about this population because in my line of work with immigration health services 80 percent of my patients are of that population.
Summary of Article
In the Journal of Home Health Care Nurses (Grady, 2014) the journal article Enhancing Cultural Competency in Home Care Nurses Caring for Hispanic/Latino Patient the author discuss how the Cultural competency is at the core of high quality, patient-centered care, and it directly impacts how care is delivered and received. This article was a pilot education program that was developed to look at enhancing cultural awareness, knowledge and skill in caring for Latino patients at home and to measure cultural competency levels in Home Care RN's. The conclusion of the article was that Cultural competency is part of the foundation of nursing and that the presence of cultural competency helps the clinician accept the patient as a unique individual with unique cultural needs. Application to Practice
I know firsthand about cultural competencies and how difficult language barriers can make caring for a detainee a problem. On a daily base I experience how not being bilingual causes problems in getting even the simplest information from a patient. At the facility that I currently work now we have a translator line called Interpret talk which provides us translations for languages such as Spanish, Punjabi, Romanian, French, and many African dialects. Most occasions am we have a minimum of three Spanish speaking nurses and a provider for our intakes process when detainee's arrive at our facility this method to me is better because it allows the detainee to feel more comfortable talking face to face with someone who speaks the same dialect as them, and you can see that there is a sense of ease when they are talking knowing that there is a person here who they can speak with freely who understands where they are coming from.
Most times when I interact with a detainee the interpret talk is a communication system is my way of communicating with them and sometimes information are not translated the way me as a clinician wants the patient to receive the information , this can sometimes be challenging because you are conveying one message to the translator and in turn he/she is translating to the detainee what you said over the phone and there are occasions that you can tell by the detainee's facial expression that they are not really clear on the care or instructions being given to them. When Detainee arrive at our detention facilities there are given welcome brochure in their dialects' which explain to them the services that we offer as a medical providers and the process they need to take in order to be seen for any medical needs. Nurses in immigration are seen as authority figures because these detainees are in Immigration and Customs Enforcement custody and are unsure of the outcomes of their cases they are scared to provide us with accurate information mainly because majority of them feels that what gets disclose to us will hinder their chances of living in the United States and cause them to be deported.
This is something that I have encountered many times, for example when you start asking them about their medical history they always denies that they are doing fine and have no serious medical history , a detainee almost died in custody because during his intake interview with the nurse he did not mention that he had a serious cardiac problems that he was taking prescription medication daily, within days of being at the facility he was rushed to the hospital for having a heart attack a situation that could have been avoided if he had let that nurse know he was on medication . They are likely to say no to any medical questions being asked because the misconception is that it will hurt them in their deportation cases. Hispanic/Latino Americans are less likely to take advantage of preventive care than non-Hispanic whites and other race. (Barker, 2013, p514).
Within the standard of health care disparities, language and communication have been identified as critical additions to a culturally competent healthcare system. (Barker, 2013, p482). Proper communication and cultural sensitivity must be achieved in order for healthcare providers to appropriately care for this diverse group. The diverse culture in this country continues to expand and as caregivers one must learn to be fluent in their language as well as the cultural they represent. I am fortunate enough to work at an organization that puts me in the center of diverse cultural back ground and forces me to not only just provide care but to learn and adapt to these cultures.
Conclusion
I would conclude by stating that with the population of the Hispanic/Latino increasing daily it is essential to provide a good healthcare experience. Although there might be some unique differences that exist between these culture groups, as providers and clinicians we must gain the basic knowledge so that we can become culturally competent. Reading the text book and the articles it shows that language barrier is the biggest factor that hinders the relationship between the nurse and the patient. Cultural competency and sensitivity should be a priority for all nurses and healthcare providers. To many of us who are immigrants, America is known as the land where dreams are made of and because of this view we will continue to see a more diverse population of patient, who come to this country to achieve the American dream so it is very important that steps are taken to improve our knowledge of these cultures in order to eliminate the health disparities among our immigrants.
References
Barker, A. M. (Ed.). (2013). Advance Practice Nursing Evolving Roles for the Transformation of the Profession. : Jones and Barrlett. LLC. Grady, A.M, (2014). Enhancing Cultural Competency in Home Care Nurses Caring for Hispanic/Latino Patients. Journal of Home Healthcare Nurse, 32(1), 24-30. Retrieved from http://search.proquest.com/docview/236404088?accountid=7374 U.S. Bureau of the Census. (2014). Overview of race and Hispanic origin:
2014. Retrieved from http://www.census.gov/prod/cen2010/briefs/c2010br-02.pdf