Professionalism in Nursing Essay Sample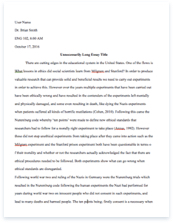 The whole doc is available only for registered users
OPEN DOC
Pages:
Word count: 2245
Category: nursing
Download Essay
A limited time offer!
Get a custom sample essay written according to your requirements urgent 3h delivery guaranteed
Order Now
Professionalism in Nursing Essay Sample
What is professionalism? The nursing profession began with a genuine desire to serve and care for others, combined with compassion, commitment and professionalism. Professionalism, as defined by Webster's Dictionary, is "the conduct, aims, or qualities that characterize or mark a profession or a professional person." Professionalism is the competence or skill expected of a professional. A professional is a person who engages in a specific occupation or activity. A professional upholds and exemplifies the characteristics of their particular profession. Professionalism can be defined as one's conduct at work. A profession is defined as a calling or vocation, especially one that involves some type of advanced learning or science. Professionalism is having unique knowledge and an obligation to serve the community. Professional qualities include accountability, responsibility, commitment and dependability. Being professional includes being respectful of others.
One is able to admit mistakes and learns from them. They keep their word and do what they say they will do or what is asked of them. Honesty and integrity are important attributes of professionalism. Society holds professionals in higher esteem than other occupations. Professionals are expected to show a degree of self-sacrifice in dealing with the community. Professionalism is the most important skill to possess. There is more to being professional than just acquiring training and skills. A large part of being recognized as a professional includes earning the respect of clients and colleagues. Some important concepts of being a true professional include being responsible and accountable, developing respect, doing what is right and learning how to project a professional image.
It is adherence to undeviating courtesy, respect and responsibility in one's dealings with customers and work associates, plus commitment to a level of excellence that goes over and above commercial considerations and legal requirements. A high commitment of a professional in their work ethic will help keep professionalism in the work place. Most professionals are subject to strict codes of conduct enshrining rigorous ethical and moral obligations. The main criteria for professionals include expert and specialized knowledge in the field which one is practicing, excellent practical and literary skills in relation to the profession, high quality work, a high standard of professional ethics, reasonable work motivation and appropriate treatment of relationships with colleagues. Why is professionalism important in nursing? Professionalism is an essential and important part of nursing. Professionalism as a nurse is shown through actions and behaviors.
Professionalism in nursing plays in the well-being and overall health of patients. In order to emphasize professionalism in nursing, nurses need to understand the opportunities and concerns that are integral to the nursing profession. Professionalism is not just being good at what you do, but rather how you do it. A person's character can tell a lot about them. Professionalism is made up of skills and knowledge, which is the core of what makes a person good at what they do. The way a person presents him or herself and interacts with others is another part of professionalism. Acting unprofessional can ruin everything a person has worked for. One should represent pride in their self and in their profession. A professional and positive image is essential to a successful nursing career. Creating a good impression instills a lasting impression. A lasting impression is more than just personal appearance.
Professional skills and effective communication are crucial in nursing. Student nurses should begin developing their professional image while still in nursing school. Demonstrating professionalism to instructors can help with connections later in life. Student nurses are representing their school, and more importantly themselves at all times while enrolled in their school. It is imperative to maintain a professional attitude, as well as professional behavior. Our core nursing values define the driving force that dictates our beliefs and our behaviors. LSUHSC School of Nursing core values are known as C-Pride (Caring, Professionalism, Respect, Integrity, Diversity and Excellence). Professionalism means creating an environment that encourages development of professional qualities. It means commitment by providing opportunities for lifelong learning. Professionalism is the essence of LSUHSC School of Nursing.
Throughout our working lives, most of us will have many different jobs, each requiring a different level or set of skills. No matter the industry, all jobs have one thing in common: in order to succeed and move ahead, you need to demonstrate professionalism. Professionalism means conducting oneself with responsibility, integrity, accountability and excellence. It means communicating effectively and appropriately and always finding a way to be productive. Professionalism is a combination of specific qualities and characteristics. It is blending and integration of a variety of skills. When professionalism is demonstrated, it tends to be thought of as an entire package. Part of understanding professionalism is figuring out how each of our individual actions impacts the actions and work of others. Teamwork is an essential element of professionalism. Professionalism is judged against expectations or standards. It is judged by one's communication, image, competence and demeanor. Professionalism is in the eye of the beholder. Professionals are expected to have self-respect.
They are expected to have respect for others and their rights. They are expected to accept personal responsibility. Professionalism is the act of behaving in a manner defined and expected by the chosen profession. The framework for professionalism in nursing began with our early roots with Florence Nightingale who set the bar rather high in regards to giving herself to others and her expectation of excellence in nursing practice. Nursing as a profession embodies many values inherent in those who pursue nursing careers. Florence Nightingale's greatest legacy to the nursing profession is the fact that she elevated nursing to a higher degree of professionalism than ever before. Professionalism can be made up of many factors including how you dress, interact with others, your attitude and how you carry yourself.
Some important components of professionalism include attitude, appearance and willingness to help others. Attitude in nursing is everything. The way you view your world and portray that view to others is what counts. Attention to how you look goes a long way to display professionalism. Willingness to help others is important in nursing in order to work successfully as a team. As nurses, we all need to pull together as a profession by working together at the bedside and being team players willing to support each other. Everyone associated with healthcare is considered a professional. Nurses are often considered the backbone of the medical community. What does it mean to be a professional? Professionalism is good behavior and attitude towards ones work. It is earned and is tagged with respects that one earns. The path to professionalism includes holding high personal standards, commitment to excellence, constant learning and dedication. Professionalism is perfected through self-improvement and is ongoing.
Continuous professional development is a hallmark of a professional. Members of a profession should commit themselves to continuously improving their knowledge and skills. Professionals are expected to follow strict standards and rules of conduct. Working professionally generally means holding to more formal standards of performance and ethics than one's personal life. A professional takes pride in their work, skills, knowledge, appearance and reputation. A professional strives for excellence. A professional does their job and completes all assignments. A professional is always aware of their responsibilities. Professional nurses are expected to demonstrate self-sacrifice, special attainment and altruism. Nurses are expected to understand the responsibilities and concerns that are integral to the nursing profession. Unprofessionalism, according to Webster's Dictionary, is defined as "not conforming to the standards of a profession or unprofessional behavior." Unprofessionalism is a problem. A nurse has to possess responsibility and must prove worthy of it.
A professional nurse takes her responsibilities seriously. A nurse understands the consequences of mistakes whether they were accidental or otherwise. Lack of discipline in any area can cause chaos. Acting contrary to the accepted code of conduct is considered acting unprofessionally. The LSUHSC School of Nursing Handbook outlines what is expected as a professional. Professionals should always follow their mission, vision and values. Attitude is everything in nursing. A negative attitude is disruptive and a major setback for one's self and those around. A positive attitude and respect for others marks someone as a true professional. Professionalism entails multiple levels. Each profession has its own modified definition of professionalism. The core definition of professionalism holds true throughout the various interpretations of the word. A person with a professional career should always conduct himself with professionalism. The most important parts of professionalism include, but are not limited to excellence, respect, accountability, integrity and compassion. Nursing is a profession.
Nursing is also a career and was a vocation for many years. It is the body of persons engaged in an occupation or calling. Nursing as a profession means that we are colleagues of caring and we function together. It also means that we are a collective group and should function as a collective group. All professions have expectations from the public. They hold some obligation to serve and protect the public. With a profession, comes responsibility. Professional nursing practice entails more than just technical skills. It also involves participation in professional organizations and involvement in one's community. Professionalism is a noun that describes the actions of the members of a profession. Professionalism suggests that one carries their self with a professional character, follows certain methods and demonstrates the spirit of collaboration with other members of the profession. Professional character means embracing the tenants of being a professional.
We practice certain methods that allow us to exercise our rights as professionals. Professionals work together as a team and collaborate with colleagues in order to advance the profession itself. American Nurses Association Code of Ethics Provision 7 states, "The nurse participates in the advancement of the profession through contribution to practice, education, administration and knowledge development." Nurses have an obligation to advance their profession by contributing in some way to leadership, activities and the viability of their professional organizations. The nursing profession is characterized by the continuing pursuit of knowledge, a sense of responsibility, accountability, altruism and autonomy. The desire to continue learning and further one's education is relevant to the nurse's ability to develop competence and professionalism in the provision of nursing care. Professionals are life long learners.
As care providers, professionals must continually learn new information. Continuing professional development is one's professional obligation. Civility represents the social norms and rules that must be followed in order to relate both positively and productively with others. Behaviors that threaten this constitute unprofessional behavior. Civility is about social and self-awareness. Unprofessionalism and incivility have a direct impact on all of those involved. Professional incompetence is defined as one or more instances involving failure to adhere to the applicable standard of care and/or a pattern of practice or other behavior, which demonstrates a manifest incapacity or incompetence to practice nursing. Nurses cannot blame anyone else for their mistakes. Accountability cannot be delegated. A nurse should always remain calm and respectful of others around them. As nurses, there are ample amounts of information to continuing learning throughout one's career.
When I think about professionalism, I think about confidence. Professionalism means reliability. As a professional, people rely on you to help them, to teach them, etc. It is easy to dress, to speak and to understand the part, but to be a professional is more than just doing. It is to radiate what's inside. Professionalism includes respect for all those around you. It means to always act professional in your behavior and actions. It means to have a positive attitude towards all those you come in contact with. Nurses are accountable, liable and answerable for their own actions and tasks. Professionalism includes making the right, but not always easy decisions. A professional is someone who does their best work even when he doesn't feel like it. Professionalism means commitment.
It means giving your all in all you do. It means you do what you say you are going to do. Professionalism is being kind and courteous to others in a respectful manner. Professionalism means having integrity. The most important concept of nursing is knowing how to do your job and doing it well. Professionalism means accountability, vision and enthusiasm. When one practices professionalism, they stand out and make a difference in their workplace. Although there are many attributes for professionalism in nursing, a pattern is seen nationwide. Having a specific body of knowledge is an important part of professionalism as well as the spirit of inquiry, which generates new knowledge. Collaboration is another important attribute of nursing. Interactions with others, including students and professors while in school, allows nurses to gain the importance of collaboration. Every interaction provides us with opportunities to develop professionally.
It appears seemingly easy to spot a profession, while it is not as easy to become one. A true test of professionalism is how one reacts in a situation that may have consequences other than expected. To be called a nurse in an honor. Nursing is a profession of the highest realm. It is a nurse's own responsibility to understand the definition of incompetent practice. Appearance has been identified to be just as important as professionalism in nursing. It is important in creating and maintaining a positive perception and the image of professionalism. It is important to remember that one particular experience does not change the nursing practice, but rather teaches us. Professionalism is the essence of LSUHSC School of Nursing.