Programs to Keep Poverty Stricken Males in Jacksonville from Dropping out of High School Essay Sample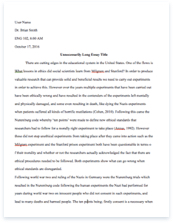 The whole doc is available only for registered users
OPEN DOC
Download Essay
Get Full Essay
Get access to this section to get all the help you need with your essay and educational goals.
Get Access
Programs to Keep Poverty Stricken Males in Jacksonville from Dropping out of High School Essay Sample
In the contemporary American society and in most districts, just lower socio-economic marginal learners attend public schools against the majority who attend private learning institutions. In addition, some majority has relocated far from the middle or upper middle class school suburbs' vicinity with those left behind understands the stacking of their deck. Most of the male students from poverty stricken families understand that they are not at par in writing, reading, technological skills, or mathematics.
Besides, most lack their own personal computers at home, leave alone in their rooms. Interestingly, most of them have no room of their own besides living in congested conditions. This has seen most of the youths experiencing a rather free-floating anxiety and irritation towards life, frequently directed to their parents, or teachers, police, or those in authority. With these feelings of frustrations, many young males are choked in such neighborhoods.
Whether teens are being bullied at their school, or are struggling with classes, the option of dropping out of school should never be considered or allowed any room. Statistically speaking, a large proportion of the high school dropouts earn about 260,000 dollars below their diploma holding counterparts. Moreover, they cost the federal government about 319 billion dollars in lost wages in their lifetime. High school dropouts usually struggle in finding contentment since, in most situations; their choices of career are downgraded to low income occupations that lack progress (Child Trend, 2014). The most effective means of keeping teens in school is via supporting, motivation, and allowing them to see personally what would occur if they opted out of school. This paper will explore the various programs that prevent young males from dropping out of school in the Jacksonville City.
Reasons for High School Drop Out Rates
There are several factors that enhance the increased risk of dropping out among students in Jacksonville. These factors compare to the other areas across the US, and include high absenteeism rates, low school engagement levels, low education levels among parents, family or occupational responsibilities, nonstandard or awkward conduct, shifting to novel school in their ninth grade, or attending schools with low achievement scores (Suh & Suh, 2007).
Dropping out of secondary school is related with unconstructive work and life endings. Youths who drop out of secondary school are doubtful to have the least skills and qualifications required to be meaningful in the modern exceedingly multifaceted and technology-dependent world. The completion of secondary school is typically essential for admittance to after secondary education, and is a least necessity for nearly all jobs. A high school diploma is linked with advanced earnings and job-related values, and youths with low tutoring and expertise levels are probable to live in scarcity and to be given administration aid (Rumberger, 2004).
Secondary school dropouts are also more probable to involve themselves in crime. Also, dropping out of school is related to deprived health especially deprived mental health. Such unenthusiastic results, as well as reduced labor power input, demand a lofty monetary levy on the public. Many young school dropouts ultimately do get a certificate or a GED, although its advantage lacking college schooling is dubious particularly for minorities. A study done established that sixty three percent of learners who were dropouts got qualification or GED in eight years of the year they usually should have graduated (Alliance for Excellent Education, 2011).
Ways of Preventing Dropping Out
Discover why a teen wishes to drop out of school: For teens to desire to become drop outs, the rationale(s) have to be quite severe. If one can first get to the cause of the problem one can establish and nurture a resolution that may toil to help retain him or her in school. Regular problems include:
Stress with school work: If the teen relentlessly struggles to keep at per with the classmates and repeatedly obtains poor or deteriorating scores. If any kind of involvement is not executed then the student is likely to fall through the cracks.
Bullying: Maltreatment is a grave wave that can devastate a teen's existence. Maltreatment is not restricted to corporal attack on or off school compounds but can also be through rumor and insult in public media channel.
Being bored: Brilliant and talented teens occasionally proceed further than the stage of their courses in some or the entire areas. Depending on aptitude and individuality they may as well study better in less ordered atmospheres. At times the superlative resolution for this is to locate a college with an early on access curriculum and allow the teen complete secondary school simultaneously with freshman year. Proceeding to college is not
falling out!
Problems at home: Severe troubles taking place in the home such as maltreatment, economic suffering, sorrow or sickness could cause teens to drop out.
Acting out or anger: If the teen is continuously in problems with school administrators and/or bylaw enforcement.
Children who are frequently in dilemma may be trouncing a deeper explanation why they are acting up.
Teenage child expectancy: Regrettably, many teen mothers drop out of school to heed for their infant or young child when discovering efficient ways to assist them continue with school and care for the baby.
Reflect on the teen's maintenance arrangement: Consider whether there is a steady grown-up who supports the teen. Does the teen come from a family unit that accepts schooling or have parents or guardians in some way weaken the significance of getting a high school certificate? Often there is an intellectual concern, where there is apprehension that a young person who is learned past the capability of other family affiliates will stop classifying with their intellectual ancestry. This nature of stress can be very severe. The teen's maintenance structure has a significant authority on whether he or she lastly drops out or not. In the US, a teen who is below the age of eighteen, the parents or caretaker ought to sign the child out of school and consent to permit him or her to drop out.
Consult with an expert: Prior to creating a premeditated arrangement, one has to dig deeper into the reason why the teen desires to drop out. Congregate with management at the school to identify the rationale and then explore what has been completed to cure the condition. For instance, if your teenager has been under pressure with school work, establish if he or she has been checked for a knowledge acquisition disability or ADHD. Survey tuition choices; habitually a student who struggles in class reacts exceptionally fine to one-on-one education. If management offers minute or no support, confer with a child psychologist to have the young person assessed.
Meet up with instructors and/or overseers to build up a calculated plan: Once one has discovered the cause and have delved into earlier efforts (if any) to assist, gather with the teen's panel of instructors to get response and generate a plan. Don't hold responsible the school or the instructors. Keep it optimistic. Everyone wishes to consider them to be on the same side.
Making instructors conscious that a teen is at peril will give them information to tender more aid in the classroom. Ask every instructor to offer a modified clarification as to how he or she will assist the learner in the classroom. Devise a mutual operation, comprising of short and long term objectives to connect the learner and assist him or her advancement. Encourage the learner to take part in the premeditated arrangement and offer response about what may be supportive to them in the classroom. Set up a timetable to convene with instructors and the learner on a habitual basis (weekly, monthly or periodically depending on the improvement).
Be there in the teen's life: Supporting and commemorating triumph is imperative to keeping a child in school. The endangered teen requires a cheerleader to sponsor and hoist him or her up when they perform well. In addition, one should be capable to assist pick the teen up and get resolution when disappointments arise, to educate resiliency and persistence. An unswerving, devoted role model who allows the teen discern that they are not in this unaided will aid the learner get the valor to carry on with their schooling. Several frequent rationales a teen could drop out vary from school uncertainty, not charging tabs on school occupation, family mayhem or drug evils. If a youthful person desires to drop out for the reason of a relentless unfathomable issue like maltreatment, teen pregnancy, or a grim health state they should be persuaded to get a GED.
Teens can also go to college and get a profession with a GED credential, if ordinary secondary school will not work. Schooling and a person's well being ought to be primary relatively than where they schooled. If the teen is enormously discontented, think about relocating them to a new-fangled school or giving varying schooling alternatives. As a parent, one can successfully oppose your teen dropping out by giving substitute schooling, society teamwork or profession education. Get good springs of recreation for the teen. While it's imperative for them to do fine in school, it's as well essential for one to offer a little repose time for the teen so they don't get weighed down.
Conclusion
In conclusion, high school dropouts are always in some form of trouble and it is important for them to be taken care of. This paper has shown that the most effective means of preventing teens drop out is by giving them sufficient room for participation in their educational development. Precisely, supporting, motivation, and allowing them to see personally what would occur if they opted out of school is the most effective way of curbing the dropout rates in the contemporary society.
References
Alliance for Excellent Education. (2011). The high cost of high school dropouts: What the nation pays for inadequate high schools. Issue Brief.
Child Trends (2014). High school dropout rates, retrieved on 16 February 2014
Heckman, J. J., LaFontaine, P. A. (2010). The American high school graduation rate: Trends and levels. Review of Economics and Statistics, 92(2), 244-262.