Project management Essay Sample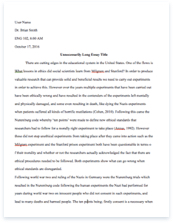 The whole doc is available only for registered users
OPEN DOC
Pages:
Word count: 1658
Category:
Download Essay
A limited time offer!
Get a custom sample essay written according to your requirements urgent 3h delivery guaranteed
Order Now
Project management Essay Sample
The morning of the 22nd of June 2013 we all had a group meeting with Stakeholders/shareholder of the project team before work commenced on the planned project we put a white board up and marked all challenges that would confront different stakeholders on this project. From there we clearly defined the problem that would arise on site, which would there have to resolve.
I made it clear that the meetings objective is to generate as many ideas as possible and gave the people plenty of quite time at the start of the session to write down as many ideas of the own as they can and then asked them to share the ideas as a group and whilst they shared there ideas it gave everyone in the meeting a fair opportunity to contribute. Once everyone has shared their ideas, I started a group discussion to develop other people's ideas, and used them to create new ideas. Building on other people's ideas is one of the most valuable aspects of group brainstorming.
Encourage everyone to contribute and to develop ideas, including the quietest people, and discourage anyone from criticizing ideas. I also tried to share some of my Ideas with the group but tried to minimize my input into the session and put more of my time and energy into supporting the stakeholders ideas. One lesson learned from the brainstorming session held with stakeholders was trying not to follow one train of thought for to long and making sure I would generate a good number of different ideas, and explore individual ideas in detail. If a team member needs to "tune out" and explore an idea alone allow them the freedom to do this.
Project Team Feedback Project team feedback was as success as we had a big whiteboard which stated about in the brainstorming session so we used that after we had sorted the brainstorming session/issues out and created a feed back review system which was used by the whole project team. I think the brainstorming session which was held at the very start of the project you could certainly feel there was a sense of team in the project I felt it brought everyone together and everyone would help each other out as much as possible it was almost team building I thought.
One big team decision that escaladed a little quicker then predicted and a solution had to be solved in a short period of time was that bad weather was coming in on the 24th of June which would mean the project was unable to finish until the 25th of June due to it was the weekend and stakeholders were unable to supply adequate staff to finish the project off which mean the business was at risk meaning it would be un operational for 3 more days than planned.
A decision in a timely and consensual manner was made from all stakeholders on the project that they would all work overtime on the 22nd of June to counteract the weather as a possible risk to the projects finish date and conclusion of the job would be a day earlier due to possible weather risk. In a team feedback meeting which was held we looked at conflict resolution styles used by certain teams it can be rather easy for management to show bias toward certain employees.
Those with greater expertise in a subject, more experience, a longer history of working with the manager, or superior communication skills can often crowd out valid concerns of other team members. Not only can this undermine the project, it might also build resentment among team members. As such a project manager I must recognize my bias before addressing any conflict while long terms conflicts can fester unless management takes steps to evaluate differences of opinion.
When it comes to conflict resolution, I must build up teams and team members by ensuring everyone in the team is head. Team managers need to connect with each subordinate by pursuing the views and opinions of every team members as well as facilitating communication between all coworkers. Building professional relationships can be challenging and it takes time, yet it is not possible when conflict goes unresolved. Consequently the most important tip for myself as a project manager is to seek out conflicts when they arise and deal with them as soon as possible.
It was fortunate in this project there was no conflict in-between staff which caused for a smooth finish. The teams development was closely managed through critical milestones met by successfully completing intermediate steps reinforces my belief that they can as a team accomplish the final goals in this project. The teams performance and the project outcomes in the future could be changed through a case study which aims at examining the effects of of job performance on project performance.
Four categories (task, behavior, management, and self) of job performance dimensions were extracted by means of an exploratory factor analysis. A hypothesized model is developed, which specifies the relationships between the four job performance categories (independent variables) and overall project performance (the dependent variable). The model was tested using path analysis. Results indicate that the task category of job performance (consisting of nine dimensions) is significantly related to final project outcomes.
Specifically, for the success of a project, a construction company must consider how to ensure employees are equipped with such attributes as responsibility, quality of work, ability, job knowledge, experience, efficiency, accuracy, judgment, and initiative. All project team meetings ran to plan. The first meeting was the kickoff meeting which was with my project team and the client. This meeting would follow definition of the base elements for the project and other project planning activities. This meeting introduces the members of the project team and the client and provides the opportunity to discuss the role of each team member.
Other base elements in the project that involve the client may also be discussed at this meeting. The kickoff meeting is an enthusiasm-generator for the customer and displays a full summary of the project so far. By displaying a thorough knowledge of the goal and steps on how to reach it, confidence is put in the customer. Record Stakeholder feedback Communications channels used through emails e-mail's and faxed until completion of project and finalized payments through all current and former stakeholders.
All issues resolved were a win-win solution through the brainstorming challenging defiantly helped filter out all issues on project at a early phase of the initial project start date. One improvement I would suggest that would assist in how future projects are established would be minimize conflict in the project and properly manage it more intensely its no necessarily unfavorable when properly managed. Several advantages have been identified such as increasing personal growth and morale, enhancing communication, and producing better project outcomes.
However, conflict can be the decline of an organization if it is not effectively managed. The challenge I have for myself and other organizational leaders and project managers is to try to maintain the right balance and intensity of conflict in project management. By utilizing project management principles, understanding the dynamics of conflict, and learning approaches to conflict resolution, managers will be able to establish an environment in which creativity and innovation is encouraged and project goals are accomplished.
My involvement with in the project was satisfying and gave me a higher understanding of how important it is for project managers to understand all stakeholders working and communications skills work at a level of different degrees. I was kept up to date with the projects successes and failures through constant verbal communication. I met with all stakeholders at all different stages to communicate the – project initiation, project planning, project execution and project closedown. All projects have problems which need decision making as a manager behind this project I have to uncover the factors that are underlying problems.
There was multiple problems on this project which through communication through stakeholders and myself we were able to control before getting out of scope or becoming a risk to the project. Also some of the problems were solved in the brainstorming session held. Consultation processes should be adopted in future projects as it was not used thoroughly enough on this project. It is important that stakeholders have input which may influence a decision or outcome. All the stakeholders on this project may test ideas or option in some cases, may contribute to a mutually acceptable outcome.
It will be important to use a combination of effective communication and consolation techniques to ensure that a positive result is achieved which additional training for next project would be helpful to reassure consultation would be a lot smoother. The stakeholders did give sufficient support to myself and the team. The project team was appropriately skilled as they have been a successful team for the last 10 years and have had several clients recommend there work. Leadership skills applied by the team were phenomenal from the very early project phases to the very end.
Also I believe the brainstorming session helped and improved all the leadership skills required to complete the project and it was effective way to motivate the team. The workloads needed to be carried out due to bad weather which would have delayed the project although weather was always overlooked in the project by myself and other stakeholders I believe the workload carried out by the separate stake holders to re-assure to the customers the job would be completed in time was acceptable.
There for I rewarded all stakeholders within the job a bonus due to early completion of the project. All disputes were resolved amicably on the project. The project environment was different for me as this was one of my first experiences of running a project and it is sometime difficult to capture the feeling or pressure, stress and satisfaction of a project well accomplished project. Yet im sure most projects, if they are well run, exhibit some very typical but distinguishing features as they run their course.