Promoting the rights and responsibilities of service users in care settings Essay Sample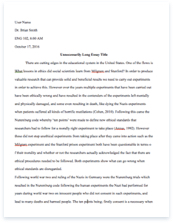 The whole doc is available only for registered users
OPEN DOC
Get Full Essay
Get access to this section to get all help you need with your essay and educational issues.
Get Access
Promoting the rights and responsibilities of service users in care settings Essay Sample
* Privacy and dignity should be maintained constantly. A service users personal concerns should be kept private and confidential always. They should never be subjected to ridicule or degradation about accidents they may have, or any other disadvantage that they may incur (as in the case of the care worker barging into a service users' room without knocking, and saying in a loud voice, "Have you wet the bed again?"). It's extremely important to remember that people with severe learning difficulties are still unique and valuable human beings that are capable of feelings.
Some simple suggestions would be to knock on the service users' door before entering, and if they need any assistance with intimate personal activities such as washing or using the toilet, do this sensitively and make sure the door is kept closed when there are other people around.
* Safety is a fundamental right all people are entitled to. And for more vulnerable people such as the service users in Queenslands, this is an issue that should be highly regarded. Fire drills should be a regular precaution so that everybody knows what to do in an emergency. Buzzers should be answered immediately; it could be a serious situation that needs attending to, as in the case of the gentleman in the wheelchair that was ignored all night, there is no excuse and if there are no available carers to answer buzzers Queenslands should consider employing more staff. The health and safety rules and regulations should be read and understood by all the staff. Lives should never be needlessly put at risk.
* Service users have a right to be treated with equality and fairness, as everybody should have the same basic rights as each other, no matter what race, religion, sex, age or other. Exactly the same applies for people with severe learning difficulties. Staff at Queenslands should enforce principles of equality of opportunity, equality of care, individual rights and individual choices; this will empower the service user and encourage independence. For example, if a person chooses to be a vegetarian for whatever reason, that is their right and their choice and under no circumstances should it be disregarded or disrespected.
* Give an account of ways that service users in Queenslands can be supported to exercise their rights.
On an individual basis:
* The staff employed in Queenslands should listen to and respect the service users, and build up a trusting relationship. Make time to listen, have regular chats and enjoy being with the person. The service users at Queenslands are dependant people and need to be surrounded by people they can rely upon and trust.
* Client meetings and councils should be organised to hear the service users views, opinions and needs. They should also be allowed time and space for private meetings, if they so wish.
* Give choices to the service user, for example; provide menus so they can choose what they eat. They can taste their food and may not like some meals that are being served. And also, which jumper would they like to wear today, the red one maybe?
* Give responsibilities to the service user, to give them a sense of purpose. For example, duties such as filling up the bird feeders, arranging the flowers, helping in the kitchen etc.
* Involve people in their own care plans. Make sure that, whenever possible, you inform and consult the person about matters that concern them. Give them every opportunity to make their own choices.
* Talk to friends and family of the service user, these are important people in the service users life. Get as much background information as possible, this will help you to see the service user as a whole person, rather than just "somebody with learning difficulties". It can also help you to feel more confident about finding conversation topics or suggesting activities that the person may enjoy.
* Don't patronize the service user.
* Don't stereotype the service user. Everybody is different.
* Encourage some risk taking.
* Encourage social events where workers and clients meet as equals – bingo, quiz nights etc.
* Create good client – centred records.
* Certain people may be employed to give the best service possible to the service user. As well as care staff, there should be support staff such as an advocate, mentor and interpreter (if needed).
And on a much broader scale:
* There are inspection processes for nursing and care homes that ensure good practice. For example: The Commission for Social Care Inspection is the single, independent inspectorate for social care in England. It incorporates the work formerly done by the Social Services Inspectorate (SSI), the SSI/Audit Commission Joint Review Team and the National Care Standards Commission (NCSC).
* If the staff were better educated to care for and support the service users, they would have a better understanding of their needs. Staff should be sent on regular training programmes to keep them up to date and well informed.
* Staff too should be treat equally and fairly to encourage a good working environment and a good, caring work team. It's important that the staff are happy in their work.
* There are laws that protect the service users' rights. These should be abided by. For example:
Disability Discrimination Act 1995,
Race Relations Act 1976,
Sex Discrimination Act 1975 & 1986,
Care Standards Act 2000.
* Health and Safety at Work Act (1974) should be learnt and practiced too.
* Rules and regulations should be implemented to ensure, safety, confidentiality and equal rights to staff and service users alike.
* Policies and procedures should be kept on display and followed.
* There are very good charities that work hard for the rights of the service user, trying to constantly improve their way of living.
What difficulties or tensions might arise between the rights and responsibilities in a care setting such as Queenslands?
* Although the service users at Queenslands have the right to privacy, the care staff does need to keep a constant vigil to ensure the service users safety. The care staff should respect the service users privacy and knock at their door before entering. Though there will be occasions that the carer needs to enter the service users room quickly, if he or she is genuinely worried about the service user.
* The service user has a right to choice. They should be allowed to choose not to shower if they like but the carer must try to encourage a decent standard of personal hygiene for their own health and the comfort of others. They may choose not to eat, or eat little but the carer has a responsibility to ensure good health to the service user, by ensuring they are eating a varied diet of healthy foods.
* If the workforce in Queenslands was much more diverse (male and female, and different races, cultures etc.) this would cover their responsibility to provide a more empathetic environment for the service users. This would assist in exercising their rights to be understood and have their cultures, religions etc. respected. They would also be able to refuse to be cared for by the opposite sex, as this can be extremely uncomfortable for some people, and the choice should be available to them.
* If the service user wants to make a complaint about any member of staff, (as did the gentleman in the wheelchair after having his buzzer ignored all night) they should be able to do this without any victimisation. Naturally the staff will want to stick together on some situations, but they have a huge responsibility towards the service user and this must never be pushed aside. There are procedures that must be followed. The complaint must be acknowledged and investigated.
Give practical examples of how Queenslands could balance the rights and responsibilities of its service users to provide quality care.
* Queenslands can competently balance the rights and responsibilities with fairness and firmness. They will encounter problems, but need to be well enough educated and trained in behaviour management to deal with any challenging behaviour. They need to always consider themselves and other members of the residence.
* I think the last words should be dedicated to advocacy because this is a very supportive profession that are there especially for people like the service users at Queenslands. Advocacy means to speak up for someone. An advocate would ensure that the service user got the best care possible. It is based on the belief that we are all citizens with the same rights, responsibilities and potential for growth.
They believe there is a need to challenge the exclusion and discrimination that can be experienced by people with learning disabilities by enabling them to access their human and legal rights, and ensuring that they are not ignored. It is of real importance that there are caring professionals working hard to empower the service users in Queenslands and assisting them to reach their full potential and have the best quality of life that is possible.